Ukraine Emergency Appeal
Situation Report
On February 24, the Russian military attacked Ukraine. Millions of persons have already sought refuge outside of Ukraine. Others have remained in the country but are displaced from their homes. The humanitarian crisis is accelerating in Ukraine and in neighboring countries as the violence escalates and the number of people on the move multiplies.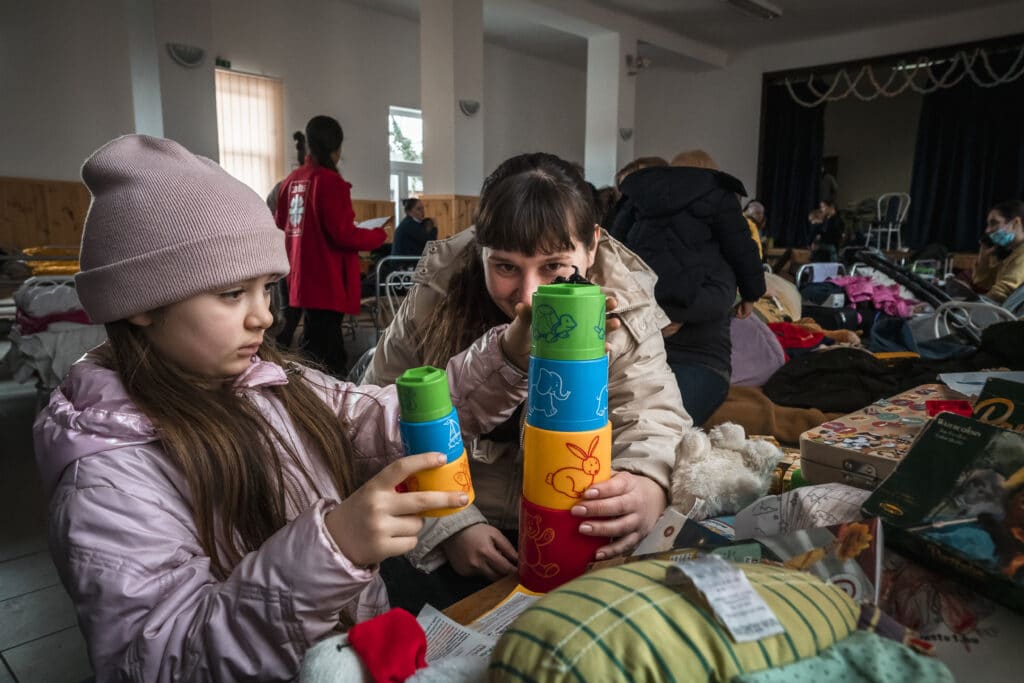 UCC Response
The United Church of Christ is appealing for support for refugees who have fled Ukraine to neighboring countries and for elderly and other vulnerable people who are displaced within Ukraine and unable to leave. As a member of the ACT Alliance, UCC support is being targeted to people most in need through humanitarian relief partners with a history of working in the region.
For example, Hungarian Interchurch Aid has been working along the Hungary-Ukraine border for years. It is focusing its war relief in Ukraine to two border cities. In a 10-day span early in the conflict, it trucked 278 metric tons of food and non-food items into Ukraine for relief efforts there.
"We have 24-hour-a-day help on the Ukrainian side for people waiting to cross," reported HIA communicators Daniel Fekete and Kristof Gancs. "The queue of cars waiting to cross into Hungary has at times reached 5-6 kilometers long. Some 200,000 refugees already have crossed into Hungary, and many more are expected.
"It's a rapidly changing situation. The number of people needing help will grow. We just heard of a place near Romania that needs help. We'll go there," they said.
Aid also is being extended through Hungarian Reformed Church Aid, the relief agency of the Reformed Church in Hungary. The UCC's long-term relationship with the Reformed Church in Hungary is held through the Europe and the Middle East Office of Global Ministries.
Gifts made to UCC Ukraine Relief Fund will provide shelter, food, and other care to war refugees and internally displaced people. It also will help refugees and asylum seekers from African, Middle Eastern and other countries who had sought refugee in Ukraine and now are twice displaced, as well as citizens of more than 125 other countries living in Ukraine.
Uniting in prayer, action, and giving, we stand as a people of faith in love and compassion with the people of Ukraine and all who are affected, and with our global partners who are welcoming those driven from their homes.
Updates in UCC News and UCC Disaster Updates
February 24, 2022 – UCC officers share prayer for Ukraine
February 24, 2022 – SWC Conference Minister mourns 'the trauma of war' in Ukraine
March 1, 2022 – UCC issues appeal for Ukraine, calls on U.S. to provide humanitarian aid
March 15, 2022 – Massachusetts congregation bakes for Ukraine
March 19, 2022 – As concern for Ukraine grows, so do donations and prayers
March 24, 2022 – Church leaders mourn Russian invasion of Ukraine, urge de-escalation
March 24, 2022 – UCC minister: Illinois church supports Ukraine appeal on behalf of one of its own
March 28, 2022 – UCC appeal helps provide safe spaces for Ukraine women and children
March 30, 2022 – UCC churches 'stand for peace until there is peace' in Ukraine
April 7, 2022 – UCC appeal tops $1 million to help Ukrainians find safety, inside and away from their country
All donations will be deposited into the International Disasters fund designated for "Ukraine Relief." Your generous financial support will be used by our partners in the areas of greatest need. One can also mail a check made payable to the United Church of Christ PO BOX 71957 Cleveland, OH 44194. Please be sure to note "Ukraine Relief Fund" on your check in the memo section.
UCC officers share prayer for Ukraine – United Church of Christ
Banner photo: Arrival of Ukrainian refugees at the Polish-Ukrainian border crossing Medyka. Here the refugees are provided with warm food and clothing. From here, they are transferred by bus to major cities and collective shelters. Photo copyright Christoph Püschner/Diakonie Katastrophenhilfe, used with permission.