Volunteer Ministries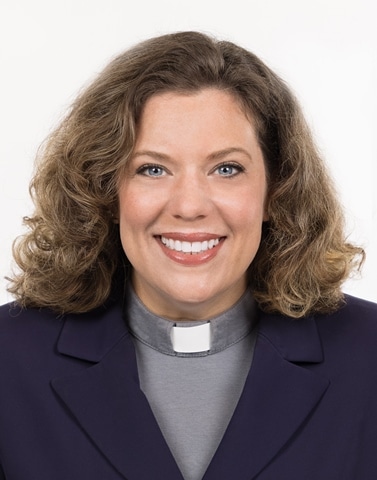 "Volunteers are leaders who connect the energy of the church with the needs of the world." – The Rev. Elena Larssen, Minister for Volunteer Engagement
UCC Volunteer Engagement is part of the Global H.O.P.E. Team of UCC Wider Church Ministries. Groups and individuals can connect with U.S. host sites and access preparation and post-service commitment materials. Contact Elena Larssen – larssene@ucc.org for more information. Read Rev. Larssen's appointment story.
Recent Volunteer Ministries achievements include "Special Support to General Synod 33" – a unique campaign to engage and empower virtual volunteers and National Staff support to the historic online Synod of 2021. More than 100 people gave more than 2,000 hours of special support as Zoom Ushers in meetings and committees, as advisors to the Youth and Young Adult Program, and other essential roles that made our first virtual Synod a memorable success.
Meet some of our General Synod 33 Special Support Staff and Volunteers:
For additional recent information, click here for safety suggestions and Guidelines for Volunteering During COVID.
UCC Volunteer Engagement opportunities include:
The UCC's historic Partners in Service program coordinates a volunteer, non-profit site of service, and the National Setting as a three-part engagement in service. The program increases the service capacity of the partner host organizations, provides leadership development and the opportunity for volunteers to use gifts and skills.  Volunteers serve part or full time for periods of 1 – 12 months with a site host and participate in networking activities with other Partners in Service volunteers. Open for adults of all ages, including couples.

Authorized Ministers seeking non-parish externships due to COVID-19 should contact Rev. Larssen directly at larssene@ucc.org.
Current Partners in Service openings are listed at UCC Ministry Opportunities, with a link to apply.

UCC Disaster Response and Recovery collaborates with multi-denominational sites that help people rebuild their physical homes. Volunteering is an act of presence that demonstrates the commitment to walk beside people as they seek to rebuild their lives. Serve as a group or as an individual. Email Lesli Remaly, Minister for Disaster Recovery at Remalyl@ucc.org about current projects like the Eastwick neighborhood of Philadelphia, Pa. (Tropical Storm Isaias 2020).

The following programs are temporarily on hiatus due to COVID-19. Applications are being accepted for eight one-time booster grants for hosts of Young Adult Service Learning ministries. Full information here. Please contact the Rev. Larssen for additional updates.
Summer Service Learning Fellowship for Young Adults is a leadership program for young adults aged 19 and above. It focuses on intersecting faith communities, service, and justice advocacy. Closed due to COVID-19, this program is under reconstruction with an anticipated June 2022 re-opening.

Young Adult Service Fellowships are 11-month leadership programs for young adults aged 21-35. They are unique opportunities to live in an intentional community with others who share a commitment to service and social justice. Housing, food, a stipend and health insurance are provided. Closed due to COVID-19, this program is being evaluated by an Advisory Team for a Fall 2022 re-launch.

Mission Trip Opportunities Traditionally, United Church of Christ national setting reviews sites within the United States that host mission opportunities for groups. These host sites are rooted in local communities and utilize volunteer groups in their on-going service within those places. Volunteers experience God's presence among new people and in new places. UCC Mission Trip Opportunities are short-term, lasting up to a week. Explore Disaster Recovery Mission Trips, Service Learning Mission Trips, and Justice Immersion Experiences.
"Why do I volunteer? That's what I was taught to do. I was taught to respect all people, regardless of their current status in life. Everyone is just as important as the person wearing the suit." – Gail McAfee, North Carolina