Daily Devotional
The Daily Devotional is a spiritually deep well, to which thousands of readers are drawn each day. The overall voice of the Daily Devotional is tended by the Stillspeaking Writers' Group and supported by the staff of The Pilgrim Press.
Permissions: Local Churches, Conferences, Associations, and other ministry settings of the United Church of Christ may use these reflections for any not-for-profit use by any medium, so long as credit is given to the reflection's author and its content is not altered in any way. For other uses and permissions questions, email the team of The Pilgrim Press: permissions (at) thepilgrimpress (dot) com.
Use the search box below to find past Daily Devotionals. You can search by keyword (i.e. love, justice, etc.) or author name.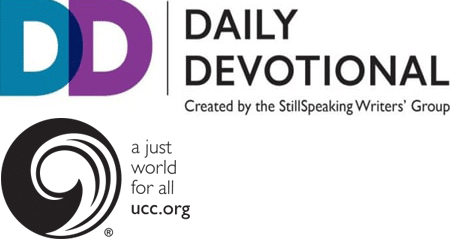 Though the Lord may give you the bread of adversity and the water of affliction, yet your...
Read More
Faith comes from what is heard, and what is heard comes through the Word of Christ. - Romans...
Read More
Again, though I say to the wicked, "You shall surely die," yet if they turn from their sin...
Read More
One of them, when he saw that he had been healed, returned and praised God with a loud voice....
Read More
Discussion Questions When has a long wait been rewarded with joyous wonder? What scenes...
Read More
If it is possible, as far as it depends on you, live at peace with everyone. - Romans 12:18...
Read More
Whoever believes in me, as Scripture has said, "rivers of living water will flow from...
Read More
Sign up for the Daily Devotional