Daily Devotional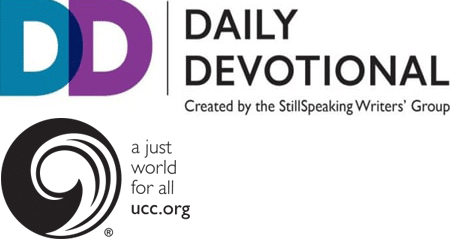 The Daily Devotional is a spiritually deep and refreshing well, to which thousands of readers are drawn each day. The overall vision and voice of the Daily Devotional is tended by the Stillspeaking Writers' Group and supported by the staff of The Pilgrim Press.
Use the search box below to find past Daily Devotionals. You can search by keyword (i.e. love, justice, etc.) or author name.
God has sent me...to proclaim liberty to the captives, and release to the...
Read More
Discussion Questions Read Psalm 128. What images resonate for you?What feels fruitful...
Read More
Your wife will be like a fruitful vine within your house; your children will be...
Read More
Jesus' disciples were again in the house, and Thomas was with them. Although the doors...
Read More
All we like sheep have gone astray; we have all turned to our own way. –...
Read More
In the beginning was the Word, and the Word was with God, and the Word was...
Read More
They shall be like a tree planted by water, sending out its roots by the stream. It...
Read More
Discussion Questions How has the recent Covid-19 resurgence affected your...
Read More
Sign Up For Our Newsletter