Daily Devotional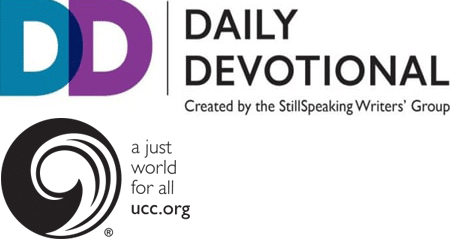 The Daily Devotional is a spiritually deep and refreshing well, to which thousands of readers are drawn each day. The overall vision and voice of the Daily Devotional is tended by the Stillspeaking Writers' Group and supported by the staff of The Pilgrim Press.
Permissions: Local Churches, Conferences, Associations, and other ministry settings of the United Church of Christ may use these reflections for any not-for-profit use by any medium, so long as credit is given to the reflection's author and its content is not altered in any way. For other uses and permissions questions, email the team of The Pilgrim Press: permissions (at) thepilgrimpress (dot) com.
Use the search box below to find past Daily Devotionals. You can search by keyword (i.e. love, justice, etc.) or author name.
Christ died for our sins in accordance with the scriptures. - 1 Corinthians 15:3...
Read More
Discussion Questions Do you regularly pray for the nation? If so, what do you pray...
Read More
I urge that supplications, prayers, intercessions, and thanksgivings be made for everyone, for...
Read More
I planted, Apollos watered, but God made it grow. Because of this, neither the one who plants...
Read More
Jesus called the twelve together and gave them power and authority over all demons and to cure...
Read More
Now concerning spiritual gifts, [siblings], I do not want you to be uninformed. - 1...
Read More
King Manasseh did what was evil in the sight of Yahweh. He built altars for all the host of...
Read More
But he said, "Lord, first let me go and bury my father." But Jesus said to him, "Let the...
Read More
Discussion Questions 1. The writer recalls thinking that "be careful" was the opposite...
Read More
Sign up for the Daily Devotional