Daily Devotional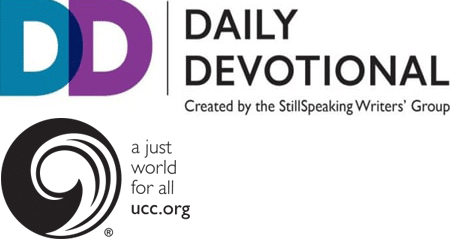 The Daily Devotional is a spiritually deep and refreshing well, to which thousands of readers are drawn each day. The overall vision and voice of the Daily Devotional is tended by the Stillspeaking Writers' Group and supported by the staff of The Pilgrim Press.
Permissions: Local Churches, Conferences, Associations, and other ministry settings of the United Church of Christ may use these reflections for any not-for-profit use by any medium, so long as credit is given to the reflection's author and its content is not altered in any way. For other uses and permissions questions, email the team of The Pilgrim Press: permissions (at) thepilgrimpress (dot) com.
Use the search box below to find past Daily Devotionals. You can search by keyword (i.e. love, justice, etc.) or author name.
Jesus said, "The thief comes only to steal and kill and destroy. I came that they may have...
Read More
Discussion Questions Have you ever questioned how God can permit such terrible...
Read More
Trust God from the bottom of your heart; don't try to figure out everything on your...
Read More
Fools think their own way is right, but the wise listen to advice. - Proverbs 12:15...
Read More
Then Jesus said to Zacchaeus, "Today salvation has come to this house." - Luke 19:9...
Read More
So the churches were strengthened in the faith and increased in numbers daily. - Acts 16:5...
Read More
[The woman and man] heard the sound of the Lord God walking in the garden at the time of the...
Read More
Now the apostles and the believers who were in Judea heard that the Gentiles had also accepted...
Read More
Discussion Questions How often have you offered help that was not needed or wanted? When...
Read More
Sign up for the Daily Devotional