Daily Devotional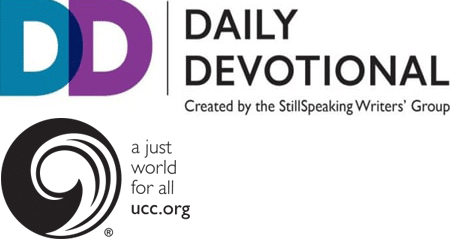 The Daily Devotional is a spiritually deep well, to which thousands of readers are drawn each day. The overall voice of the Daily Devotional is tended by the Stillspeaking Writers' Group and supported by the staff of The Pilgrim Press.
Permissions: Local Churches, Conferences, Associations, and other ministry settings of the United Church of Christ may use these reflections for any not-for-profit use by any medium, so long as credit is given to the reflection's author and its content is not altered in any way. For other uses and permissions questions, email the team of The Pilgrim Press: permissions (at) thepilgrimpress (dot) com.
Use the search box below to find past Daily Devotionals. You can search by keyword (i.e. love, justice, etc.) or author name.
What is the way to the abode of light? And where does darkness reside? Can you take them...
Read More
But who indeed are you, a human being, to argue with God? Will what is molded say to the one...
Read More
Count yourself lucky, how happy you must be—you get a fresh start, your slate's wiped...
Read More
"You stiff-necked people, uncircumcised in heart and ears, you are forever opposing the Holy...
Read More
Discussion Questions 1. Who are the people who've supported you in defying the status...
Read More
Then Jesus said to the crowds and to his disciples, "The scribes do all their deeds to be...
Read More
Therefore, since we are surrounded by so great a cloud of witnesses … let us run with...
Read More
What's in Your Closet? Phiwa Langeni Above all, clothe yourselves with...
Read More
But to all who received him, who believed in his name, he gave power to become children of...
Read More
Sign up for the Daily Devotional