Daily Devotional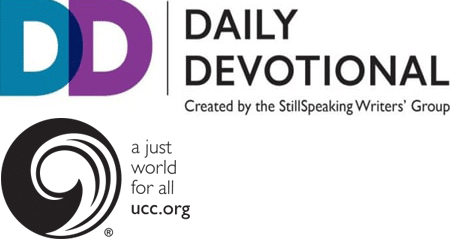 The Daily Devotional is a spiritually deep well, to which thousands of readers are drawn each day. The overall voice of the Daily Devotional is tended by the Stillspeaking Writers' Group and supported by the staff of The Pilgrim Press.
Permissions: Local Churches, Conferences, Associations, and other ministry settings of the United Church of Christ may use these reflections for any not-for-profit use by any medium, so long as credit is given to the reflection's author and its content is not altered in any way. For other uses and permissions questions, email the team of The Pilgrim Press: permissions (at) thepilgrimpress (dot) com.
Use the search box below to find past Daily Devotionals. You can search by keyword (i.e. love, justice, etc.) or author name.
Therefore if anyone be in Christ, that person is a new creature. - 2 Corinthians 5:17...
Read More
Moses's father-in-law said to him, "What you are doing is not good. You will surely wear...
Read More
Questions for Discussion: Does worship have any impact on your disposition and...
Read More
Why am I discouraged? Why is my heart so sad? I will put my trust in God! I will praise him...
Read More
"Do not judge, and you will not be judged; do not condemn, and you will not be condemned....
Read More
But as for you, continue in what you have learned and firmly believed, knowing from whom you...
Read More
The Israelites came into the wilderness of Zin. Now there was no water for the [people], so...
Read More
Make me to know your ways, O LORD; teach me your paths. - Psalm 25:4 (NRSV) Ugh. I feel...
Read More
One thing I asked of the Lord, that will I seek after: to live in the house of the Lord all...
Read More
Sign up for the Daily Devotional