Daily Devotional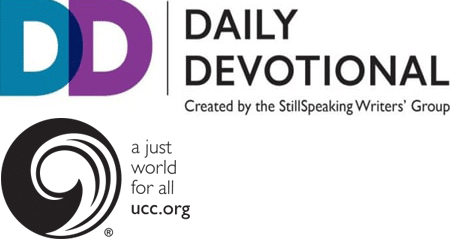 The Daily Devotional is a spiritually deep and refreshing well, to which thousands of readers are drawn each day. The overall vision and voice of the Daily Devotional is tended by the Stillspeaking Writers' Group and supported by the staff of The Pilgrim Press.
Use the search box below to find past Daily Devotionals. You can search by keyword (i.e. love, justice, etc.) or author name.
"Uncalled, unrobed, unanointed, she let her great heart beat in their presence. When warm...
Read More
Praise God with tambourine and dance, with strings and pipes. - Psalm 150:4 (NRSV) I have...
Read More
Likewise the Spirit helps us in our weakness; for we do not know how to pray as we ought, but...
Read More
Now the day before Saul came [to the town], the Lord had revealed to Samuel: "Tomorrow about...
Read More
Moses and Aaron brought together all the elders of the Israelites, and Aaron told them...
Read More
Discussion Questions How do you answer the question, "Does God get mad?" Whose actions...
Read More
For we are consumed by your anger; by your wrath we are overwhelmed. You have set our...
Read More
"And how is it that we hear, each of us, in our own native language"? - Acts 2:8...
Read More
And they said, "What is the guilt offering that we shall return to the LORD?" They...
Read More
Sign Up For Our Newsletter