Daily Devotional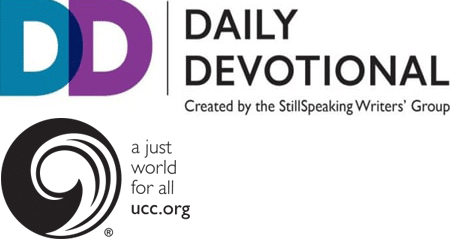 The Daily Devotional is a spiritually deep and refreshing well, to which thousands of readers are drawn each day. The overall vision and voice of the Daily Devotional is tended by the Stillspeaking Writers' Group and supported by the staff of The Pilgrim Press.
Permissions: Local Churches, Conferences, Associations, and other ministry settings of the United Church of Christ may use these reflections for any not-for-profit use by any medium, so long as credit is given to the reflection's author and its content is not altered in any way. For other uses and permissions questions, email the team of The Pilgrim Press: permissions (at) thepilgrimpress (dot) com.
Use the search box below to find past Daily Devotionals. You can search by keyword (i.e. love, justice, etc.) or author name.
Discussion Questions What religious or civic laws do you think adequately serve...
Read More
I will never forget your commandments, for by them you give me life. - Psalm 119:93...
Read More
If the whole body were an eye, where would the hearing be? If the whole body were hearing,...
Read More
From that time, Jesus began to proclaim, "Repent, for the kingdom of heaven has come...
Read More
"To be truly visionary we have to root our imagination in our concrete reality while...
Read More
The manna ceased on the day they ate the produce of the land, and the Israelites no longer had...
Read More
Jesus told them this parable: "No one pours new wine into old wineskins. Otherwise, the new...
Read More
Sign up for the Daily Devotional