Daily Devotional
The Daily Devotional is a spiritually deep well, to which thousands of readers are drawn each day. The overall voice of the Daily Devotional is tended by the Stillspeaking Writers' Group and supported by the staff of The Pilgrim Press.
Permissions: Local Churches, Conferences, Associations, and other ministry settings of the United Church of Christ may use these reflections for any not-for-profit use by any medium, so long as credit is given to the reflection's author and its content is not altered in any way. For other uses and permissions questions, email the team of The Pilgrim Press: permissions (at) thepilgrimpress (dot) com.
Use the search box below to find past Daily Devotionals. You can search by keyword (i.e. love, justice, etc.) or author name.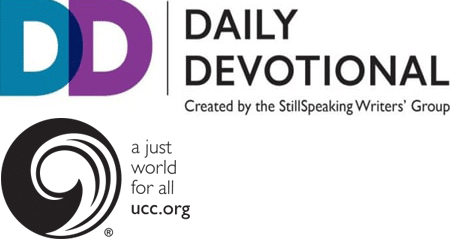 Discussion Questions Read the full Magnificat text, found in Luke 1:46-55. What...
Read More
God has helped God's own child, Israel, a memorial to God's mercy, just as God said to our...
Read More
"The voice of one crying out in the wilderness: 'Prepare the way of the Lord; make his...
Read More
While Zechariah was in the sanctuary, an angel of the Lord appeared to him and said:...
Read More
And I will give thee the treasures of darkness, and hidden riches of secret places, that thou...
Read More
The poor and homeless are desperate for water, their tongues parched and no water to be found....
Read More
You have given him his heart's desire and have not withheld the request of his lips. For you...
Read More
Discussion Questions When did you make a decision out of fear? How do...
Read More
Do not fear, woman, for you will not be ashamed woman; do not feel humiliated woman for you...
Read More
Sign up for the Daily Devotional