As concern for Ukraine grows, so do donations and prayers
Prayer vigils, fundraisers, an Easter egg raffle, the growing UCC emergency appeal. The people of Ukraine, under siege in Russia's war, remain top of mind in United Church of Christ congregations.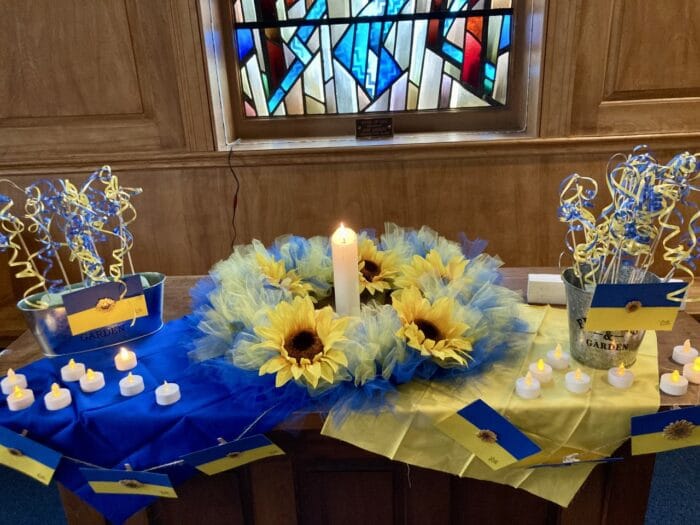 The people of Storrs Congregational Church, UCC, came together in the Waggoner Chapel on the church campus for "A Peace Prayer for Ukraine" on Thursday, March 17, to send out prayers for peace through poems and music. During the well-attended lunchtime vigil, initially planned as a gathering around the Connecticut church's Peace Pole but moved inside because of rain, participants sang a chant for the protection of mothers and children.
"As a Just Peace Church, our congregants are committed to advocating for and acting upon issues of peace and justice in our community and beyond," said the Rev. Debbie Pallatto-Fontaine, interim senior minister.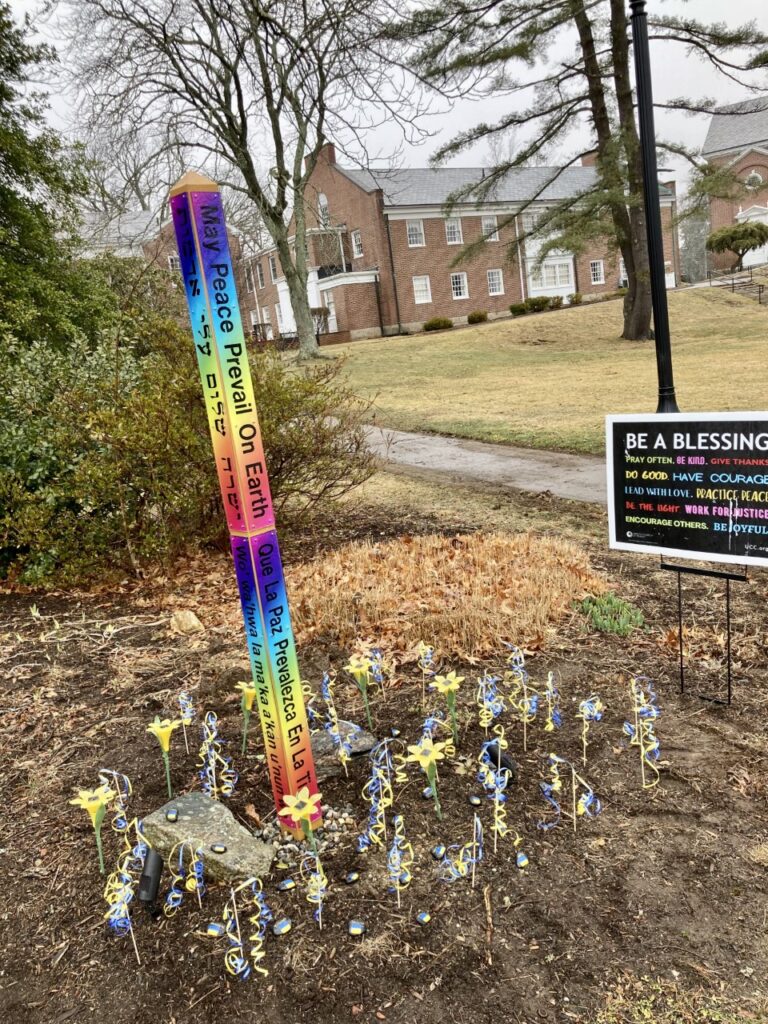 "We cannot just listen to and read about the current suffering in Ukraine and all who are opposing war in that country. We must use our voice to speak out for peace, not war; love and compassion, not hate."
Supporting Polish partners
The First Church of Marlborough (Congregational), UCC, in Massachusetts, has sent $9,000 to the Diakonia of the Evangelical Lutheran Church in Poland to assist refugees from Ukraine. The assistance comes, in part, from 12 UCC congregations in the Southern New England, Vermont and Maine Conferences.
The Rev. Kazimierz Bem, First Church pastor, is leading the regional effort to support several shelters at Lutheran and Reformed churches in Poland. He writes, in a letter to churches published by the Southern New England Conference, of the assistance being offered to 1.8 million refugees in Poland, mainly women and children.
Bern noted that "over half of the Reformed and Lutheran congregations in Poland (140 of them) have taken in refugees and housed them, with most of the others organizing relief and collecting goods."
Ukranian Easter egg raffle
The pastor of St. Martin's United Church of Christ in Dittmer, Mo., is holding a raffle of Ukrainian Easter eggs to raise money for the Ukraine Emergency Appeal launched through the UCC and Global Ministries.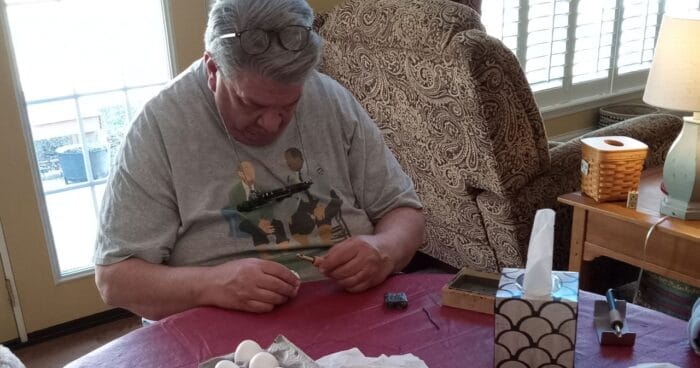 "We are a justice church and this is our way of standing with the Ukrainians," said the Rev. Scott Lohse.
The decorated egg is a symbol of Christ and his resurrection, and the rebirth of new life in spring.
The pastor learned the ancient art called psanky – to write — in honor of his wife Lin's family, who immigrated from Ukraine. He's been practicing the craft for decades and passed the tradition on to his family.
A detailed art
Creating the eggs is a painstaking process. Lohse said it takes him three hours to do one egg. They are decorated with dyes and melted beeswax using a stylus called a kistka, a small metal funnel at the end that applies the wax.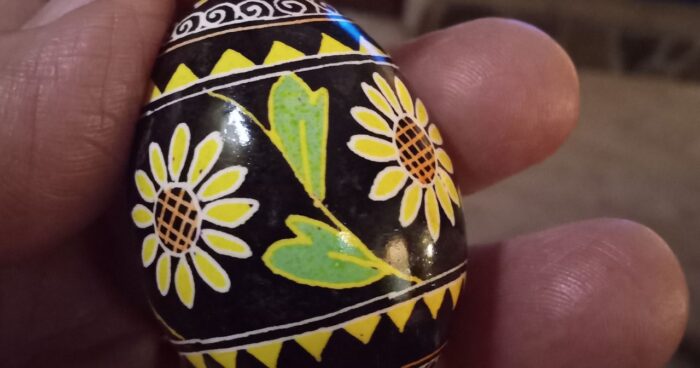 With his son, son-in-law, daughter and granddaughter, Lohse has created 10 eggs, decorated with the sunflower symbol of Ukraine. They plan to give them away through the raffle, set up as a GoFundMe page, which runs until Easter.
"We had an idea that we could do this to make a difference … we have a special connection to because of my wife's family," Lohse said.
Ukrainian family
His wife Lin said her grandmother came to the United States with most of her family. Her sister, Lin's great aunt Anastasia, stayed behind.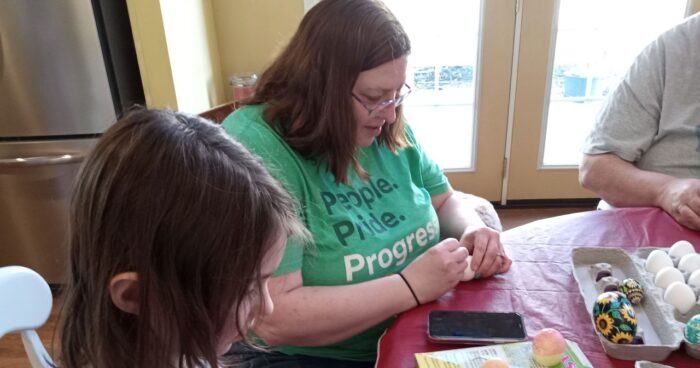 Lin remembered her grandmother Julia as a hard worker, cleaning offices to support herself and her daughter after being widowed at a young age. "She did not always have an easy life, but was grateful for the opportunity to live in America."
"When I hear the Ukrainian people speaking, their accent reminds me of my grandmother's," Lin Lohse said. "One of her sisters stayed behind when they immigrated, and though I've never met that part of my family I feel a very real pain wondering if they're okay these days. I can't imagine what they're going through and I pray for them and all their people daily."
"Like so many people in the world right now, we are supporting Ukraine with our thoughts and prayers. However, with our family connection to the area, we felt compelled to do more, which is why we organized this fundraiser," said Lohse's daughter Julie Rickert. "We hope it will do some good in helping the people of Ukraine to fight and to rebuild their beautiful country."
Everyone who donates at least $10 through the raffle that supports the UCC's Ukraine appeal for refugee relief will be eligible to win one of the eggs as a thank-you gift.
Robust UCC appeal
The UCC emergency appeal, launched to assist refugees through the ACT Alliance, a Global Ministries partner, is providing food, blankets and basic hygiene items to people trying to cross into Hungary from Ukraine. Hungarian Reformed Church Aid set up a refugee support point on Feb. 27 and is working on both sides of the border to help people find temporary accommodations away from danger, working with local churches and host families to get refugees the food and shelter they need.
As of March 15, $378,000 has been received from more than 1,900 donors across the wider church.
"We are heartened by the overwhelming response of individuals and churches of the United Church of Christ for the Ukraine appeal," said the Rev. Kent Siladi, director of philanthropy. "Our partners on the ground are working closely to help those in deepest need because of the terrible war in Ukraine. We are grateful for this unprecedented outpouring of generosity from all of you."
"I hope the funds we're able to raise through this effort will be able to help in some way. We all felt we needed to do something in response to what we're seeing," Lin Lohse said. "I pray that someday peace will again come to their region."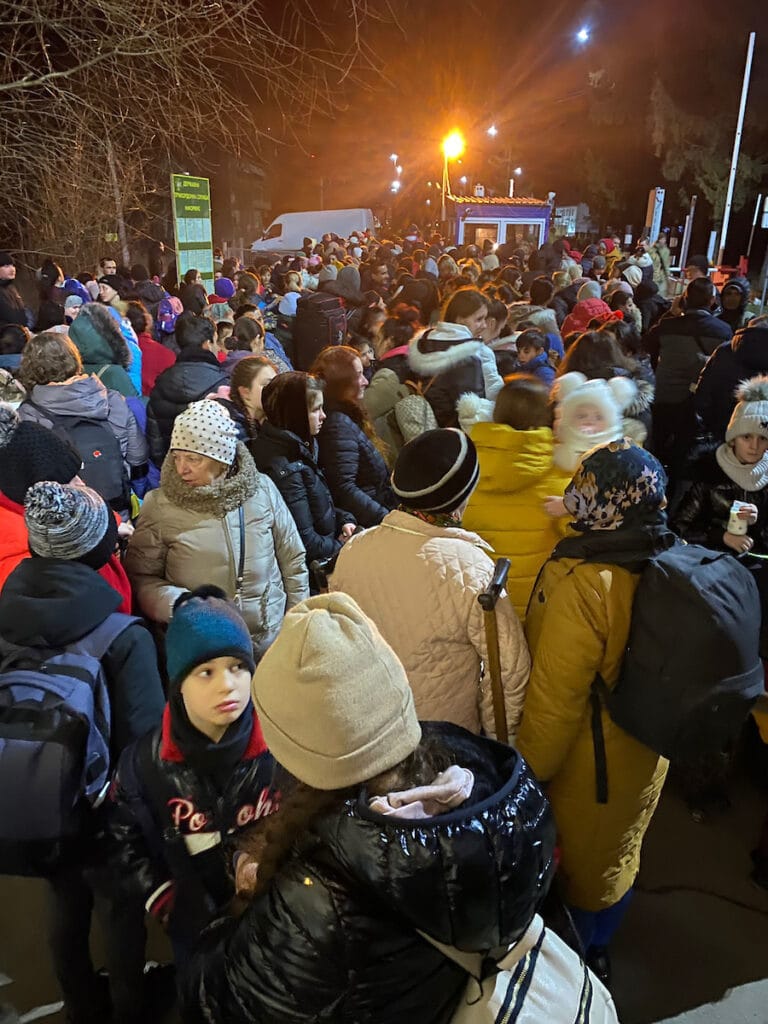 Donate to the UCC Ukraine relief effort here. Reach out to the Biden administration to encourage support of Ukrainians in the U.S. and abroad here.
---
Content on ucc.org is copyrighted by the National Setting of the United Church of Christ and may be only shared according to the guidelines outlined here.
---
Related News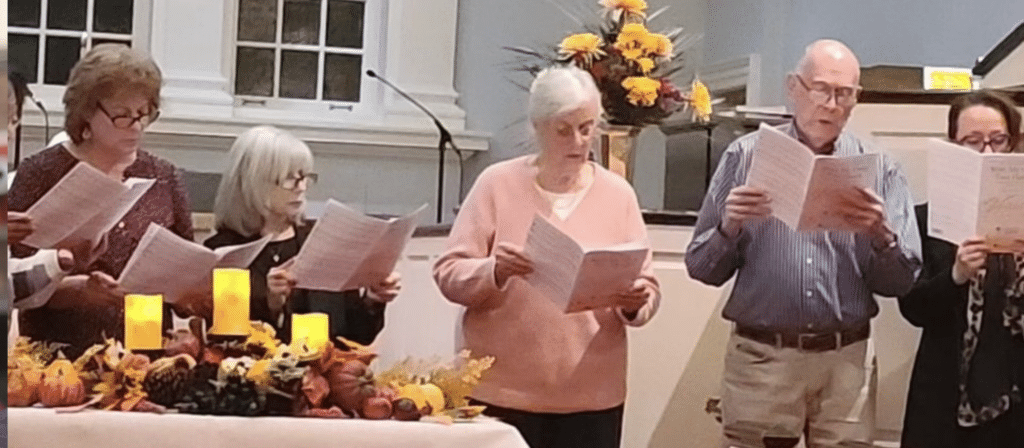 Many United Church of Christ congregations across the country participated in interfaith...
Read More