Disaster Ministries to assist victims of deadly California storms
United Church of Christ Disaster Ministries is tracking a series of deadly storms surging up the California coast, leaving behind a wake of destruction and displaced residents. Twenty-one million people from San Diego to San Francisco were under flood alerts as of Tuesday evening, Jan. 10, and the weather is slated to get worse as the storm moves north.
Several inches of rain deluged Central California on Monday, Jan. 9, fueling mudslides, creating sinkholes and forcing evacuations of 100,000 people north of Los Angeles. As of Tuesday morning, 220,000 power customers were in the dark, and hundreds of schools are closed. At least 17 people have died in the downpours since late December.
"Residents are bracing for another 'enormous' cyclone to slam into the Pacific coast on Wednesday, forecasters have predicted," said UCC Disaster Minister Lesli Remaly, citing Newsweek reports. "According to the latest short-range forecast from the National Weather Service, this 'rapidly intensifying' weather system will impact areas from northern California and up the coast into the Pacific Northwest. It anticipates that the total precipitation over the coming days will range between 3 and 7 inches."
The West Coast has been battered by a series of atmospheric river storms since late December, and California has taken the brunt of it – with rainwater totals between 400 and 600 percent of historic averages, the National Weather Service said on Tuesday. That means flash floods, rock and mudslides exacerbated by drought conditions in the state.
Remaly has been in contact with the Rev. Davena Jones, the Northern California Nevada Conference Disaster Coordinator, but said it's too early to know much about immediate needs. Jones, who is also currently serving as the Bridge Conference Minister, hopes to learn more this week as she meets with pastors at their annual ministry retreat. Remaly said while many reported flooding and devastation as they traveled to the gathering, it was too early to report impact to UCC churches.
"Jones and the Conference Disaster Team led by Kenneth Moore are conducting welfare checks with each congregation and are assessing ways to assist UCC churches for emergency needs this week and next," Remaly said.
As Disaster Minister for Response and Recovery on the Global H.O.P.E team, Remaly is supporting the local outreach efforts. She has also been in touch with UCC partners at Church World Service and the Northern California Voluntary Organizations Active in Disaster (NCAVOAD) and will participate in an initial call with communities and organizations on Thursday.
Global H.O.P.E. will use gifts to the Emergency USA Fund to support the California Conferences through this crisis. Disaster Ministries also plans to connect emerging needs with resources — like CWS Emergency Kits and Clean up Buckets, and coordinate assistance efforts through partners like VOAD.
"It is too early to know the full extent of impact – and therefore to know the extent of support that will be needed," said the Rev. Josh Baird, Global H.O.P.E team leader. "We are highly engaged in the response, as Lesli will be on the coordinating calls and she is working with Davena and the conference disaster team to complete an outreach to all UCC congregations."
"We will look to assist these groups and their emotional and spiritual care needs as well as support the longer process of repairing and rebuilding homes," Remaly said. "Long-term funding will be necessary as the UCC is a leader in helping communities organize for recovery, repair and rebuild. Volunteers will also be needed, and churches should consider organizing teams to help in this process when they are needed and for the long haul, bringing hope and healing to devastated communities."
The national setting is also offering prayers for the Californians and communities in need of support.
"Holy One, as storms rage and waters rise, our hearts are with those caught in the path of devastation. And so we pray for your peace to settle on those who are affected, your comfort to rest upon all who grieve, your protection to surround any who are at risk and those risking themselves for the safety of others. We pray, too, for a redistribution of rain and of resources to places where they are sorely needed. Stir us by your Spirit to answer your call to respond, to be the Church which is present for survivors and works against systems driving a raging climate. Like a bridge that spans disasters, may we too commit to share our time, our talents, our financial support for those who are navigating troubled waters. You have equipped us as well with kindness, compassion, and love: now join the coordinated outreach of conferences, churches, and response leaders with the caring efforts of ecumenical and interfaith partners so that your gifts may be multiplied. Please accept our heartfelt prayers and lead us as we support communities who are in the midst of this devastation. May we bring this hope, through your grace. Amen."
In addition to prayer, here's how to help:
---
Content on ucc.org is copyrighted by the National Setting of the United Church of Christ and may be only shared according to the guidelines outlined here.
---
Related News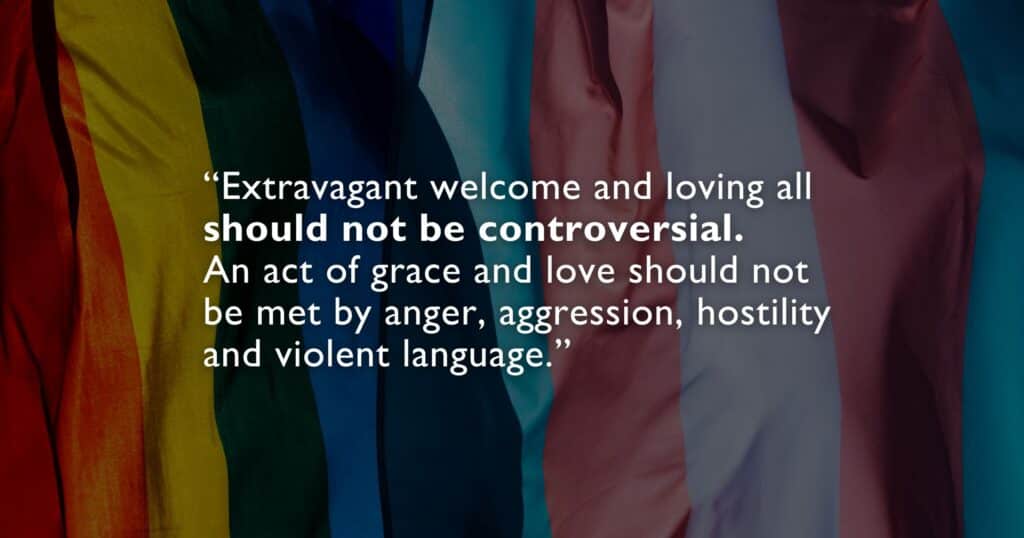 The United Church of Christ National Officers and the Conference Minister of the South Central...
Read More