The UCC Fight for Reproductive Justice
United Church of Christ has long advocated for reproductive justice and bodily autonomy for all. Since before Roe, and continued through today, UCC advocates have come alongside those needing reproductive healthcare services and have tirelessly advocated for protections to safe and legal abortion access. This timeline offers a look at our continued engagement.
1962
UCC pastor, Rev. Joan Bates Forsberg offered testimony that allowed Griswold to pursue the Supreme Court case Griswold v. Connecticut. The case ruled that the Constitution protected the right of marital privacy against state restrictions on contraception. Learn more.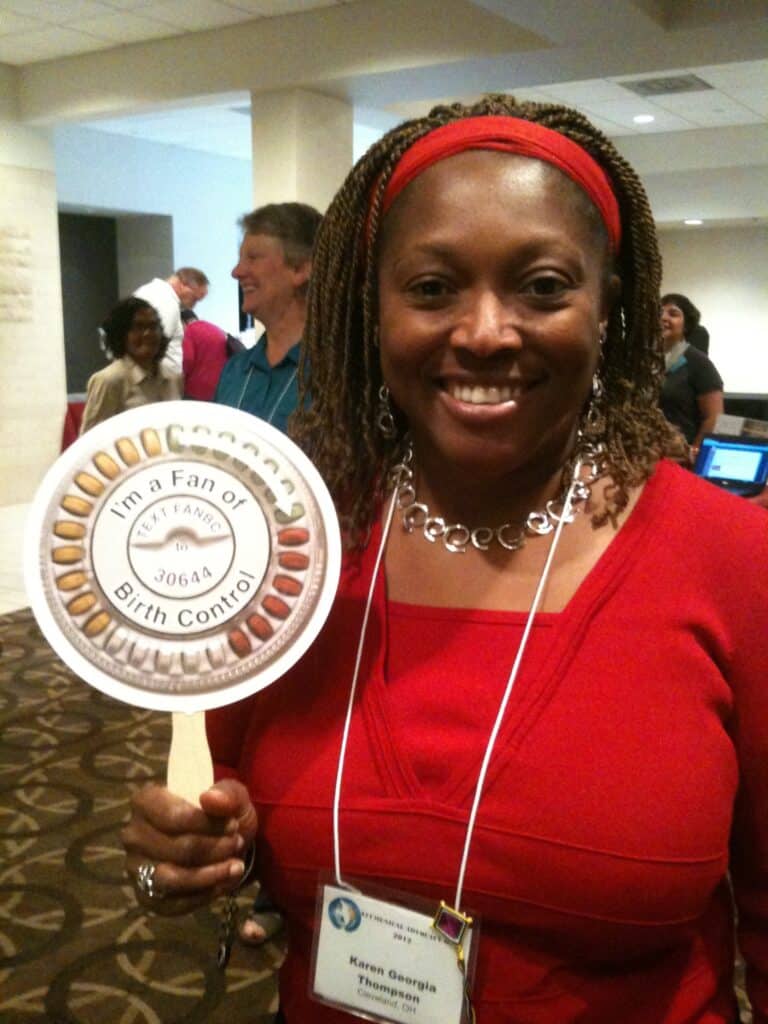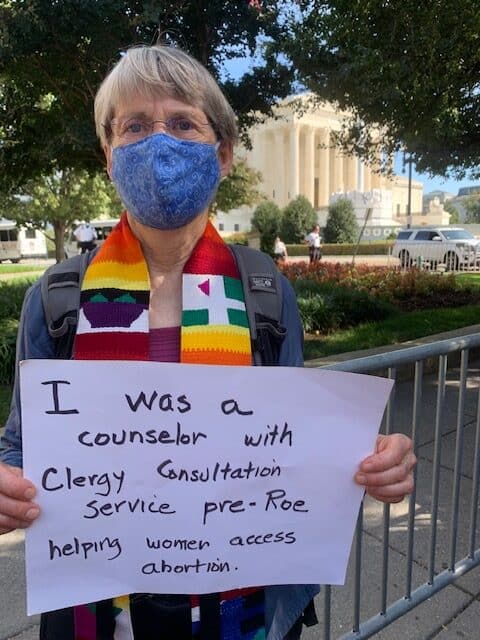 1971
June 29, 1971 – Freedom of Choice Concerning Abortion: A Proposal for Action Adopted by the Eighth General Synod
1973
January 22, 1973 – U.S. Supreme Court issued their ruling in Roe v. Wade, a landmark decision affirming abortion as a constitutional right.
General Synod 9 "proposed that the intentions incorporated in alternative I on the Abortion Issue be referred to the United Church Board for Homeland Ministries, as it was."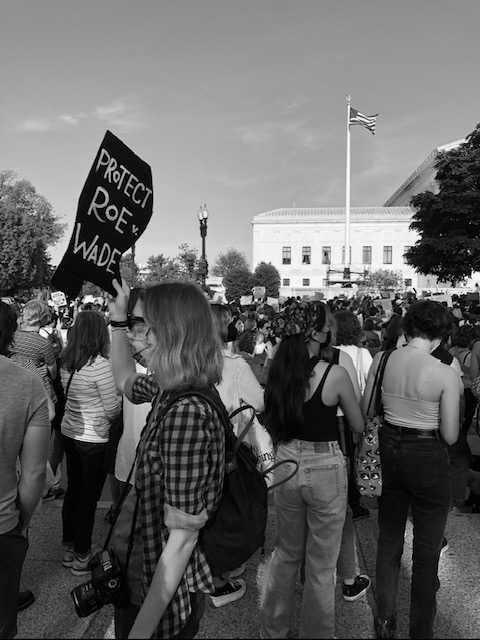 1976
September 30, 1976 – The Hyde Amendment is passed, federally blocking Medicaid funding for abortion services, even when a patient's health is at risk and abortion recommended by a doctor.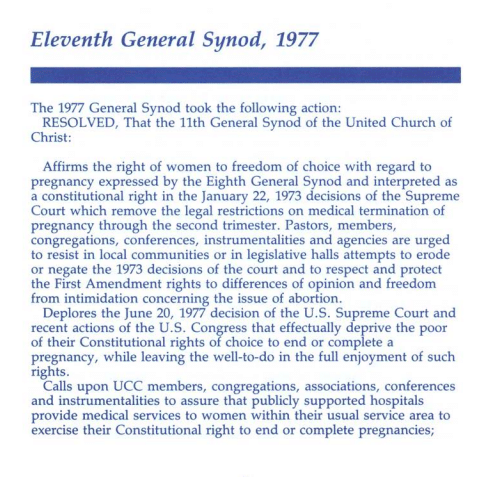 1977
General Synod 11 – "Affirms the right of women to freedom of choice with regard to pregnancy expressed by the Eighth General Synod and interpreted as a constitutional right in the January 2, 1973 decisions of the Supreme Court…"
1989
July 3, 1989 – General Synod 17 – Reaffirmation of UCC Support for Freedom of Choice, adopted by the Seventeenth General Synod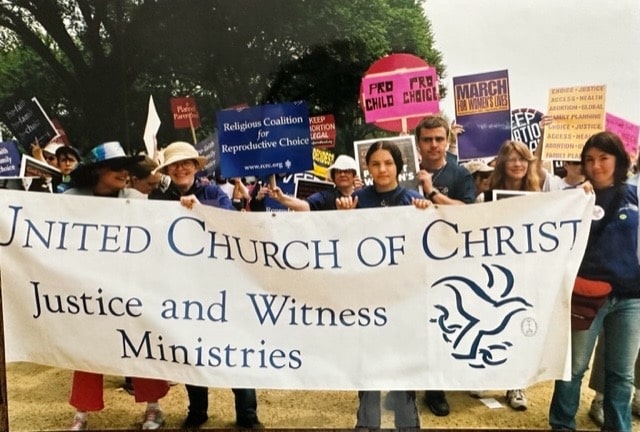 2000
UCC leaders participated with the Religious Coalition for Reproductive Choice (RCRC) in witnesses held outside the Democratic and Republican nominating conventions.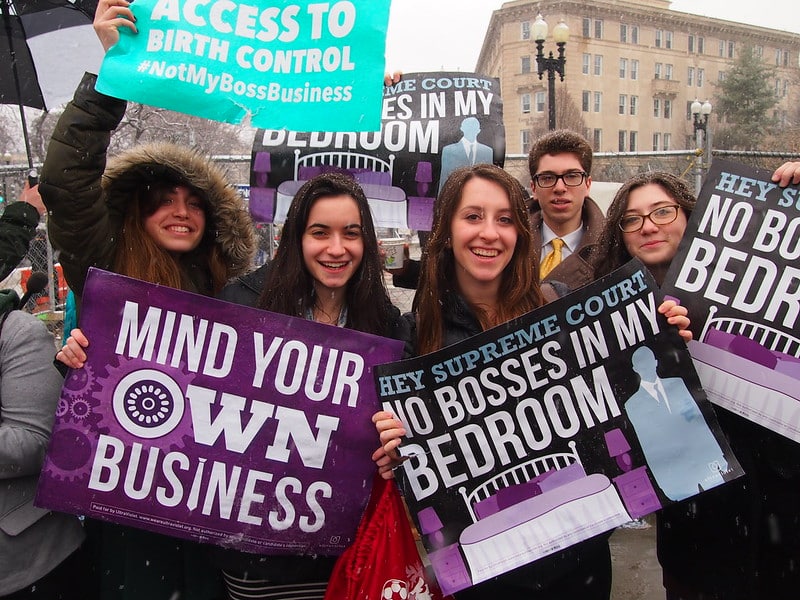 2014
The UCC was vocal in advocating against the ruling in Burwell v. Hobby Lobby which allowed employers to block employee access to birth control. Hobby Lobby bosses claimed it violated their religious beliefs to allow employees access to birth control.
2016
UCC advocates celebrate SCOTUS ruling in Whole Woman's Health v. Hellerstedt (court struck down a Texas law that would have closed the majority of the state's abortion clinics)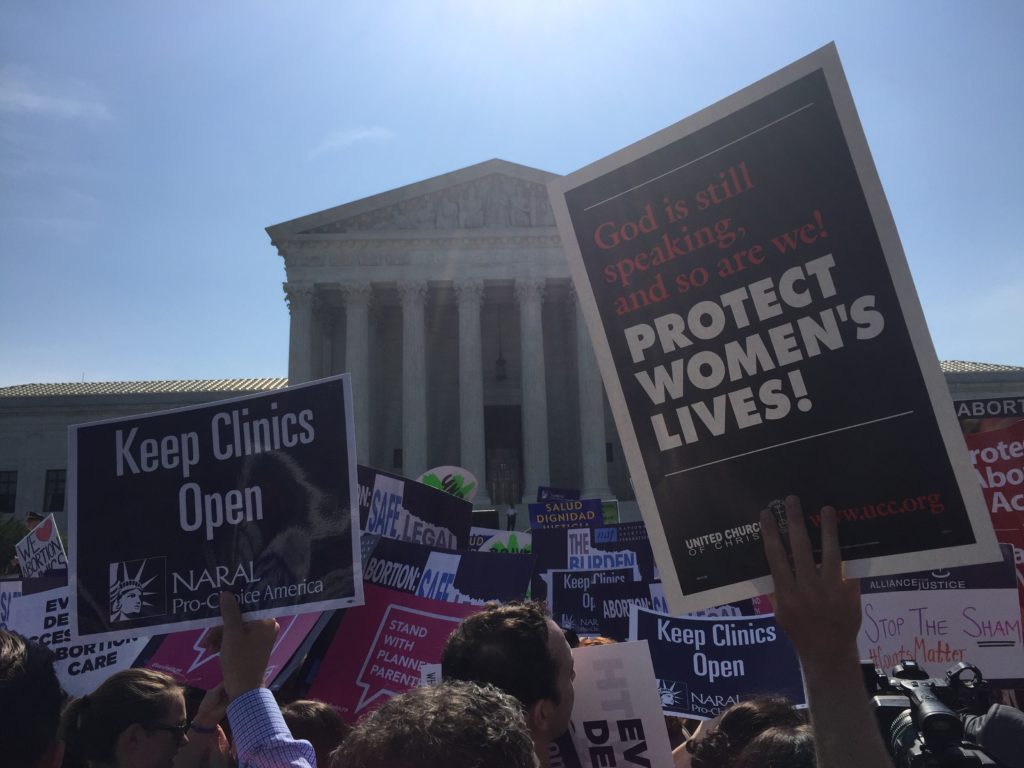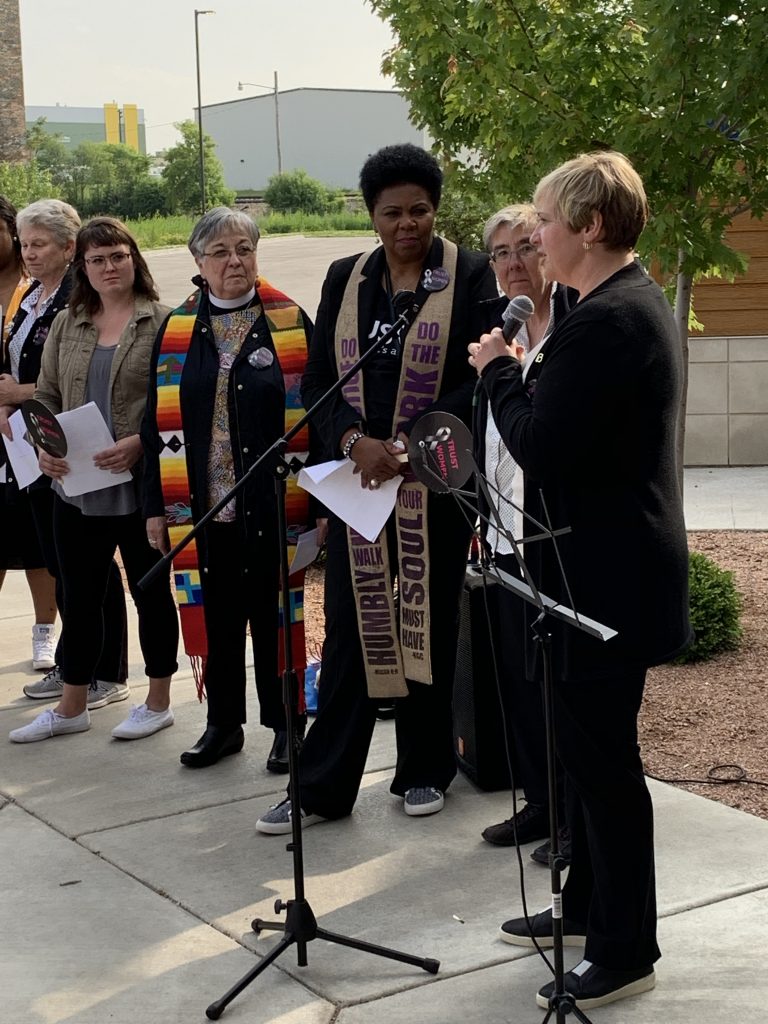 2019
On June 23, 2019, UCC clergy and lay people join together in a witness at the 32nd General Synod offering a blessing at a Planned Parenthood clinic in Milwaukee.
2022
June 1, 2022 – General Minister and President, Rev. John Dorhauer meets with President and Vice President staff at White House to discuss defending reproductive rights.
June 24, 2022 – U.S. Supreme Court issues a decision in Dobbs v. Jackson Women's Health Organization, effectively overturning Roe and revoking the constitutional right to abortion.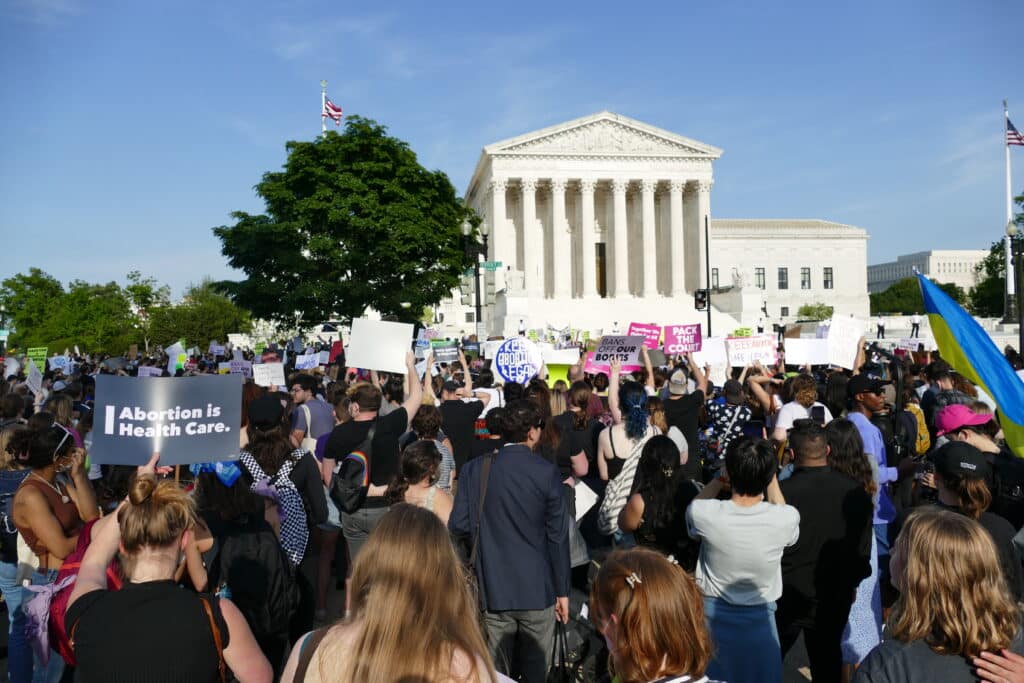 2023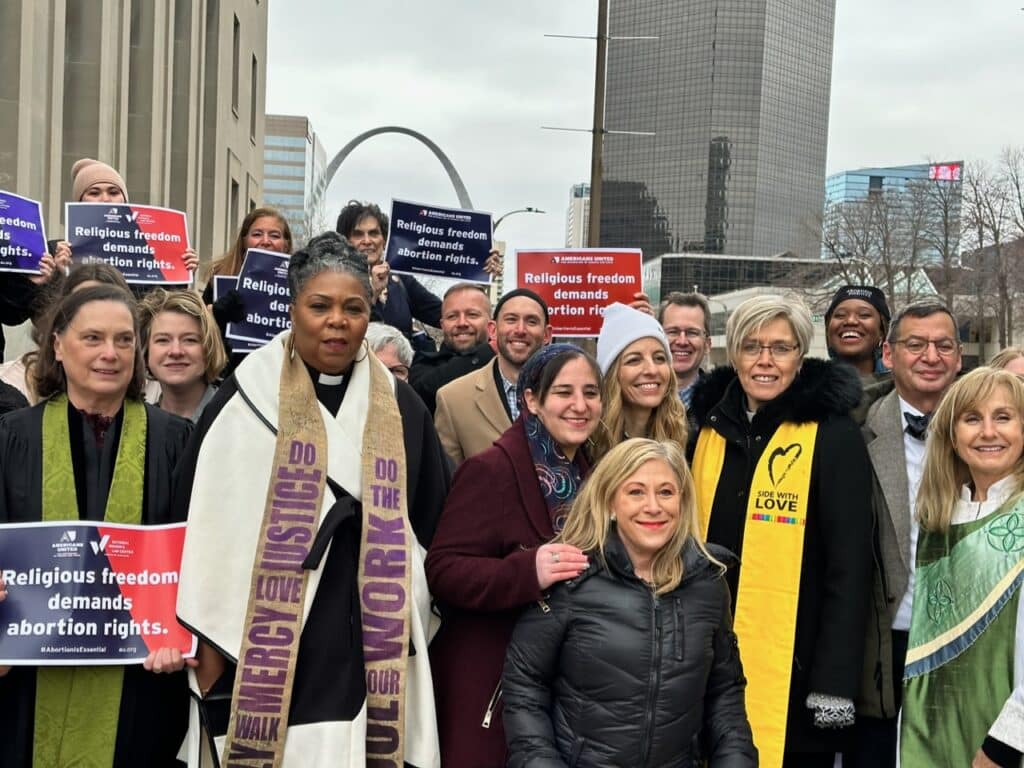 January 19, 2023 – Four UCC clergy, including Associate General Minister, the Rev. Traci Blackmon, join 13 interfaith plaintiffs in filing a lawsuit against the Missouri abortion ban. The lawsuit is called Rev. Traci Blackmon v. State of Missouri.