'Our work does not end here': As SCOTUS erases abortion rights, UCC leaders offer prayer, resources, presence
"Moral outrage." Those two words from General Minister and President John Dorhauer echoed the feeling of many in the United Church of Christ after the U.S. Supreme Court erased one's constitutional right to an abortion on Friday, June 24.
The justices voted 5-4 to uphold a restrictive Mississippi law in Dobbs v. Jackson Women's Health. They also took an additional step to overturn Roe v. Wade, the landmark 1973 decision that made abortion legal nationwide, and Planned Parenthood v. Casey, which reaffirmed abortion rights in 1992.
"Roe was egregiously wrong from the start," Justice Samuel A. Alito Jr. wrote. "Its reasoning was exceptionally weak, and the decision has had damaging consequences. And far from bringing about a national settlement of the abortion issue, Roe and Casey have enflamed debate and deepened division."
What will change
"This is a moral outrage," Dorhauer said. "The Court has signaled they are beholden to religious zealots with a clear minority status over the rights of women. I fear what awaits us, now that this court has shown its willingness to represent that religious minority and cast aside constitutionally protected human rights. As a Christian leader I want to clearly state that their use of religion to end these rights for women is neither Christian nor defensible and threatens to undermine the establishment clause that underpins our democracy."
President Joe Biden was also quick to condemn the court's action.
"It's a sad day for the court and for the country," Biden said from the White House just a few hours after the ruling was announced. " … The Court has done what it has never done before: expressly take away a constitutional right that is so fundamental to so many Americans … . It stuns me."
"I believe Roe v. Wade the right decision for privacy, for liberty, for family and for personal autonomy," he said.
Without Roe, the right to an abortion will quickly change in the U.S. Thirteen states with "trigger laws" written to take effect as soon as Roe is overturned will ban abortion within 30 days. In several other states where antiabortion laws were blocked by the courts, legislation is expected to resurface.
Resources from the UCC
The UCC has supported reproductive justice issues since the 1960's through statements and General Synod resolutions. That history of supporting abortion access for all who need it continues:
Love and justice
"Our work in the area of human rights and support for choice does not end here," said Dorhauer, who recently went to the White House to ask "what next" with other religious leaders.
"We must band together with critical allies and imagine pathways to protecting one's rights for the full array of reproductive options. And we must continue to be diligent in our efforts to maintain other rights we know might now be vulnerable. Let us continue through the grief and the outrage to work to show the world that love will always win and that God's justice will come."
As Biden was quick to point out, "This decision must not be the final word."
"The only way we can secure a woman's right to choose and the balance that existed is for Congress to restore the protections of Roe v. Wade as federal law," he said. "This fall, Roe is on the ballot. Personal freedoms are on the ballot. The right to privacy, liberty, equality, they're all on the ballot. … And with your vote, you can act. You can have the final word. This is not over."
Pastoral words
Blackmon shared these pastoral words of encouragement to those impacted by the Supreme Court's monumental decision, turning back 50 years of precedent:
We offer our prayers.
We grieve and pray with families whose medical choices regarding reproductive health care are no longer informed by their private discernment and the wisdom of their physicians.
We offer our presence.
We know that no Supreme Court decision, no state law, and no public shaming will stop abortions, but what such actions will do is limit the availability of safe, medically supervised abortions. What it will do is unjustly burden those with limited resources and limited access to travel to other states or expend resources for private, discreet care. What it will do is make the most vulnerable more vulnerable, and we commit to walking with you until justice comes. We will not turn away. We will not forget those who must be reminded that you, too, are beloved by God and you are not alone.
We offer our promise.
We will be here, standing with you, and reminding us all that we are endowed by the Creator with certain inalienable rights, without which all liberty is at stake. The Supreme Court has been corrected before and they will be again, and we will be here in this fight with you until that day comes. 

"It is important to note that the Supreme Court's decision today comes on the heels of more than a year of voting rights restrictions and the failure to fully address gun violence and gender-based violence," said Sandy Sorensen, director of the D.C. Office of Policy and Advocacy. "It means that the full range of reproductive health care for women, including cancer screenings, pre and post-natal care and other health services will be severely limited. We have come to a point where young girls and women are in more danger than their mothers and grandmothers. As a life-long justice advocate, it is truly a sad day."
---
Content on ucc.org is copyrighted by the National Setting of the United Church of Christ and may be only shared according to the guidelines outlined here.
---
Related News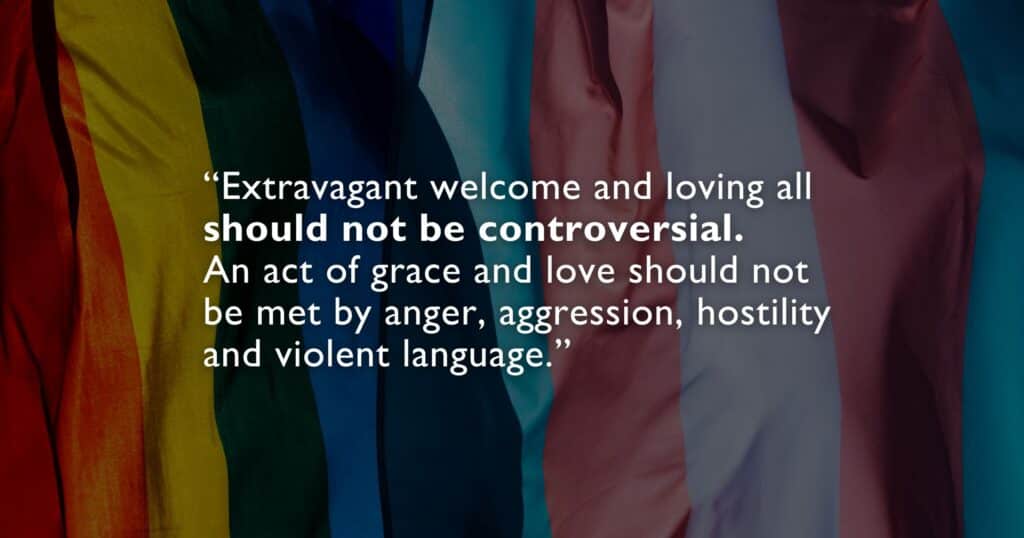 The United Church of Christ National Officers and the Conference Minister of the South Central...
Read More