Missouri church celebrates freedom with Alex Garcia
For the first time in 1,252 days, a Missouri father of five will spend the night under the same roof as his wife and his youngest children. Not remarkable for many of us. But a true blessing for Alex Garcia.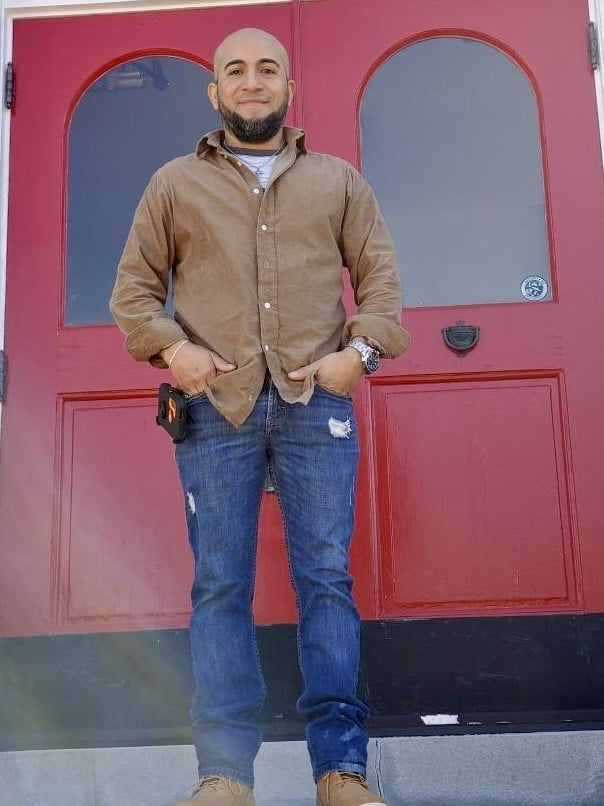 Wednesday, Feb. 24, after three and a half years in sanctuary, Rene Alexander "Alex" Garcia Maldonado was finally free to leave Christ Church, United Church of Christ, in the St. Louis suburb of Maplewood.
As his allies cheered, Garcia stepped out onto the church steps with his family. He's able to go home without fear of deportation to Honduras because of new enforcement priorities from President Joe Biden. Unless a non-citizen is a national security threat, a recent border crosser or a felon, Immigration and Customs Enforcement needs permission to act.
ICE has now decided that Garcia is no longer a priority. According to a release from the IFCLA, "The agency has unequivocally stated it will not be pursuing Alex's detention or removal."
'Hearts overflowing'
"The hearts of all of us at Christ Church are overflowing today. God has answered our prayers," said church pastor, the Rev. Rebecca Turner. "Alex is a part of our church family and we will continue to advocate for him until he has a pathway to full citizenship."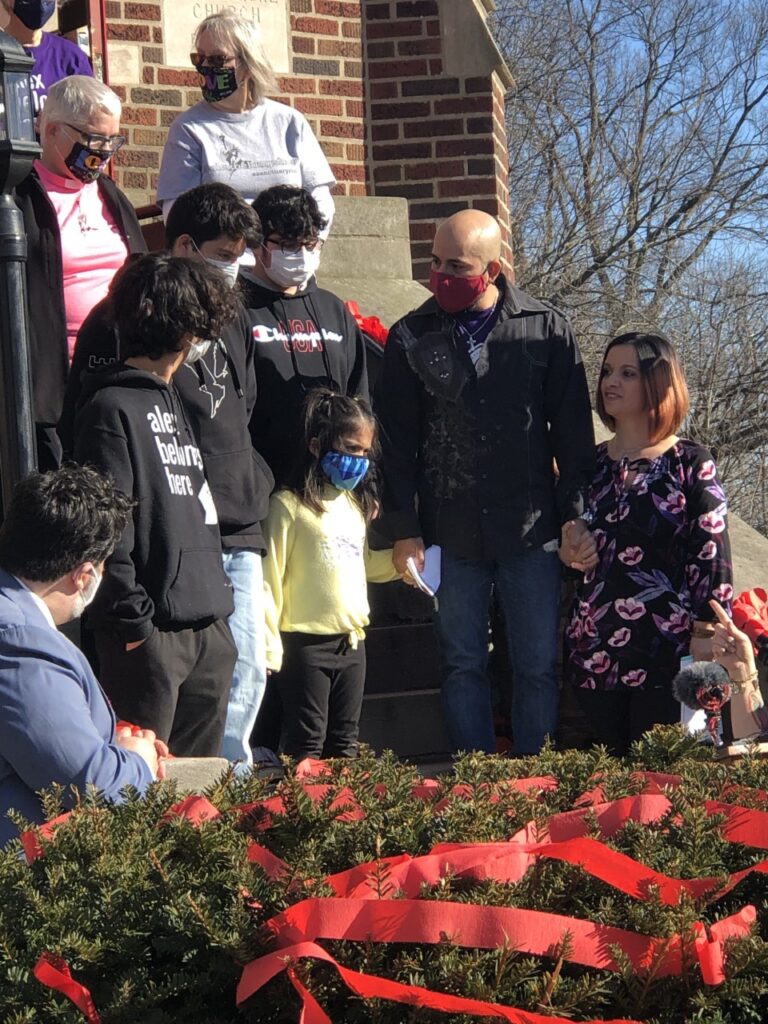 That church family lined the sidewalks out in front of the building on a beautiful February afternoon. Every member who has been directly involved in advocating for Garcia was invited to share the family's joy. Wearing masks and physically distanced, they joined with other community supporters who came together to wish Garcia, his wife, Carly, and the children well.
"I imagined this day, a huge day of celebration, with the sanctuary being crammed for worship," said Turner, "with lots of hugs and kisses. We can't do that. But as Alex said, we'll just have to do that later."
"Because of all of your support and the new administration, ICE made a promise that I am no longer a priority for deportation," Garcia told the group. "We are not done yet. There is so much work to be done and I look forward to being able to join you all out there in the community and continue to fight for my permanent protection.
"Thank you very much. I'm now going to go home and enjoy my family."
Relentless advocacy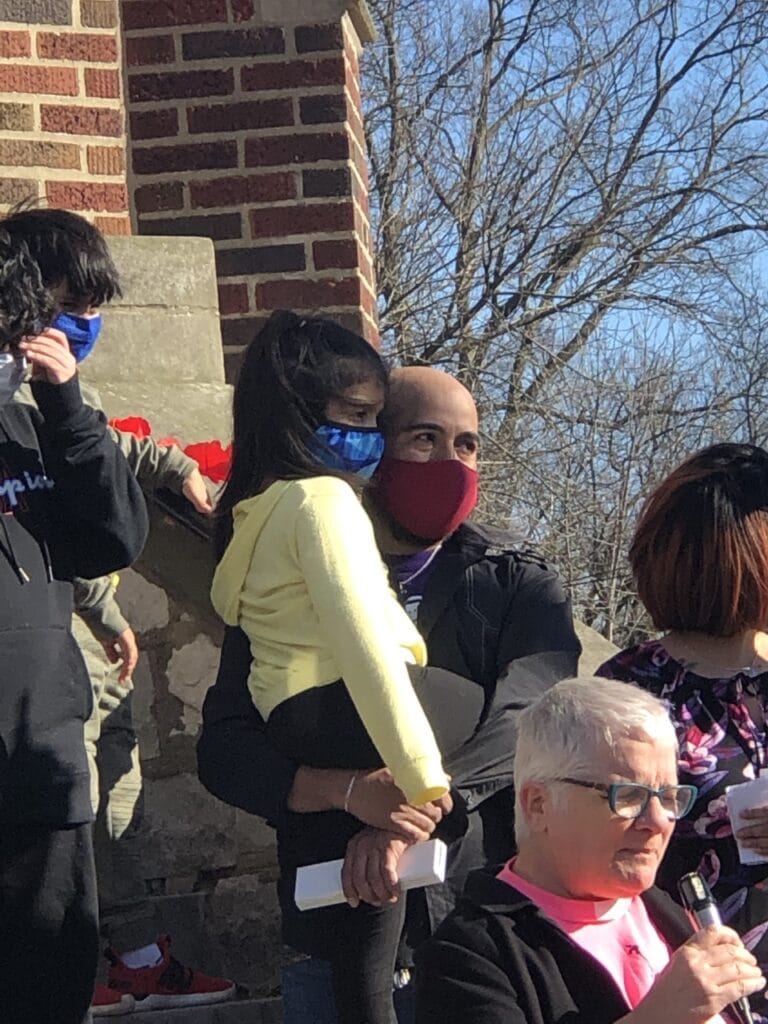 Since October 2017, Christ Church members have been Garcia's staunchest allies. The congregation has prayed with Garcia, housed and fed him, written and called elected leaders, marched on the ICE office, held protests and sit-ins that resulted in a number of people being arrested, organized vigils and educated the public, and even gone to Washington, D.C.
On Monday, U.S. Rep. Cori Bush, a freshman democrat from St. Louis, brought a private bill before Congress that could give Garcia permanent residency. Her predecessor, William Lacy Clay, also tried to pass legislation on behalf of Garcia, but was not successful.
"These last years have been very difficult and traumatizing for us," Carly said. "The private bill, HR 1209, that Congresswoman Cori Bush introduced will grant Alex the protection he desperately needs — that we as a family desperately need."
"Alex was able to go home today because of the tireless work of his family, organizers, faith leaders, lawyers, Christ Church UCC and community members who fought tooth and nail for years to make this day a reality," said Bush. "In Congress, I will continue championing the private bill to grant Alex permanent residency, which is the surest way to guarantee permanent unity for his family."
Alex's journey
Garcia was picked up by the Border Patrol when he first tried to enter the U.S. in 2000. He returned in 2004, eventually making a home in Poplar Bluff, Mo., with his wife and blended family. Carly and all five of his children are U.S. citizens.
In 2015, Garcia came to the attention of ICE when he went with his sister to a check-in, and agents linked him to an earlier deportation order. He was granted a stay of deportation in 2015 and 2016, but with a new administration, the rules changed. In 2017, ICE revoked the previous decisions and gave Garcia two weeks to turn himself in for deportation. Since then a team of people has pursued a number of avenues to keep the family together.
"Our church understands now that prayers are never enough. We have to put feet to our prayers and advocate for those in need of support," Turner continued. "We have to make a lot of noise and bring attention to injustice. We have to be so bothered by injustice that we do not rest until justice comes."
Changing the system
One of Biden's first acts as president was to promise sweeping changes to the U.S. immigration system. His administration outlined the U.S. Citizenship Act of 2021 at the time of the inauguration. The president has already signed several executive orders aimed at reversing the policies of the previous administration.
On Feb. 18, the White House announced that its immigration reform bill outlines an eight-year path to citizenship for millions of immigrants already in the U.S. It offers a faster track for undocumented immigrants brought here as children.
"It is encouraging to see ICE return to more humane and priority-based enforcement," said Javad Khazaeli, Garcia's attorney and former ICE prosecutor. "I am encouraged by the steps the president and progressive leaders like Rep. Bush have taken to move us toward an immigration system that works."
Guest as teacher
Turner and church advocates have learned much about the immigration system in the last three years. She said they also have learned much from Alex.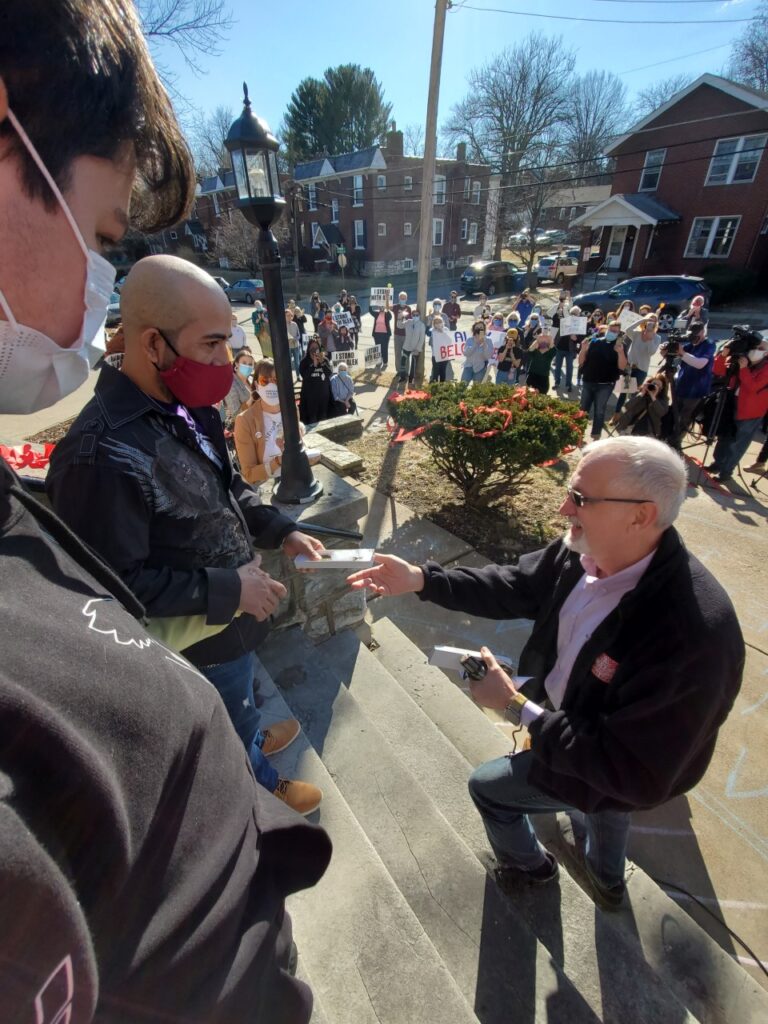 "I've watched as Alex gave away his food to families who came to the church door, as he set up beds for the unhoused on winter nights, and as he would take care of church members who needed something fixed or built," Turner said. "Alex, the guest, became Alex, the host."
"Just as Deuteronomy provides God's instructions to the Israelites in how they were to live faithfully as a people, God has guided Christ Church and the Garcia family in how to authentically love one another in such a difficult time of unrest," said the Rev. Ginny Brown Daniel, Missouri Mid-South Conference Minister. "We know that the struggle is not over, and we will express our love by advocating for the permanent residency of Alex Garcia as well as so many undocumented neighbors. We must continue to stand as allies until there are no more walls that separate us, only God's love that unites us."
Today that love was apparent in Maplewood. Among Garcia's supporters was Mayor Barry Greenberg, who "proclaiming freedom and justice for all," presented him with keys to the city and named him an honorary citizen of Maplewood.
More await freedom
Garcia is the second immigrant this month who has been able to walk free from a UCC church after years in sanctuary.
On Feb. 10, Saheeda Nadeem was freed from First Congregational Church UCC in Kalamazoo, Mich., with an order of supervision from ICE. The 65-year-old mother, known to her church community as "Auntie Saheeda," spent nearly three years living in sanctuary, afraid of being deported to Pakistan.
Two others, in sanctuary in UCC churches since Oct. 2017, have petitioned the Biden administration for their release. Eliseo Jimenez, a father of two, has been living in Umstead Park UCC in Raleigh, N.C., to keep from being deported to Mexico. Lucio Perez, in sanctuary at First Congregational Church, UCC, of Amherst, Mass., is fighting deportation to Guatemala. The father of three has lived in this country for 20 years.
Sara John, executive director of the St. Louis Inter-Faith Committee on Latin America, acknowledged that "Alex and millions of families like his are fighting for permanent solutions and the ability to live united." She promised to "continue to work alongside them to secure humane legislative reforms that honor the dignity of all people, prioritize family unity and end the criminalization of all immigrants and communities of color."
"No family should go through what Alex and Carly have," Turner said. "They have taught our church what love really means. They've taught us courage, persistence, community, compassion and faith."
---
Related News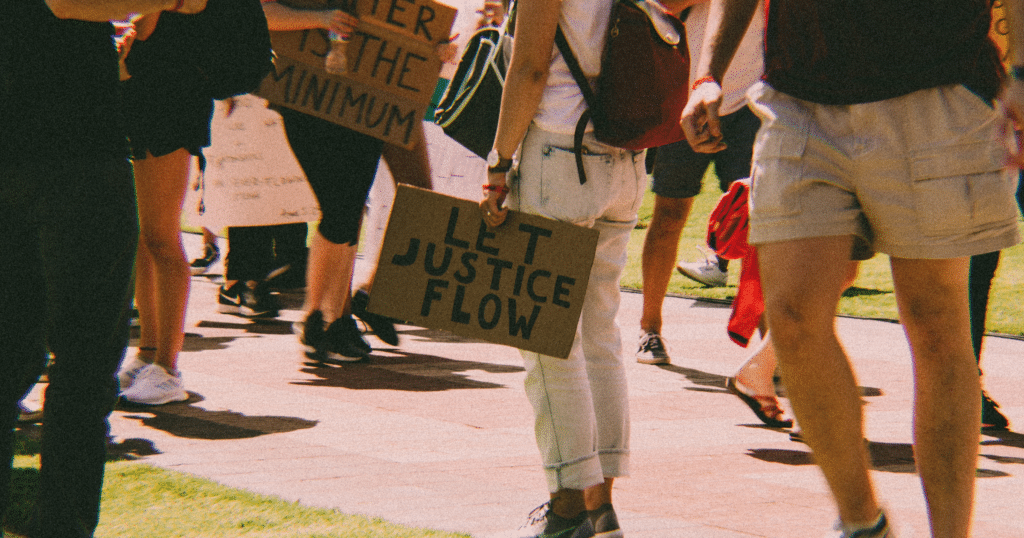 United Church of Christ leaders, in a letter to Georgia law enforcement, are condemning the...
Read More