Raleigh church offers sanctuary to father of four
A North Carolina father of four entered sanctuary offered by a Raleigh United Church of Christ congregation on Tuesday, just eight days after Winston Salem mother of three was able to leave the protection of a UCC church in Greensboro and resume a normal life.
39 year-old Eliseo Jimenez, the fourth undocumented immigrant to enter sanctuary in North Carolina, will be living at Umstead Park United Church of Christ for the foreseeable future. His wife Gabriela, and their two children, 5 year-old Allison and 4 year-old Christopher, who live, work and go to school in Greensboro, will reside with him there on weekends and whenever possible.
"Offering refuge to a family caught in the crosshairs of the system we live in and benefit from is a spiritual act," explains the Rev. Douglas Long, minister at Umstead Park UCC. "It is about practicing our belief in the equal humanity of all. Providing sanctuary gives their lawyers time to follow due process and their advocates an opportunity to lobby legislators to pass laws that actually make sense – laws that reflect the economic and social reality that we have lived in all our lives."
Jimenez came to the United States at 17 from Mexico, in fear for his life, more than two decades ago. The father of four U.S. citizens, two of them grown, he has provided for all of them financially and emotionally. He is currently the primary breadwinner for his wife, and two young children. His lawyers are trying to reverse a deportation order, which told him to leave the country July 31.
During a press conference at the church Oct. 10, Jimenez said he is doing what he must to protect his family.
"I can't give up. I have to fight. My family needs me. I believe that any loving, responsible father would do what I'm doing."
Jimenez first came to the attention of Immigration and Customs Enforcement (ICE) in 2007, after being pulled over and arrested for driving without a license. He was deported, but returned that same year to take care of his now-grown children, supporting his family by working in construction. In 2013, again stopped and charged with driving without a license, he was served with an order of removal, but had applied for and been granted a stay on the order annually, until this year. 
According to the Pew Research Council, there are presently more than eight million undocumented adults like Jimenez working in the U.S. They compose 15 percent of our construction industry and 25 percent of our agricultural workers. Most have lived in this country longer than a decade.
The Umstead Park congregation, which voted overwhelmingly on Sept. 24 to take in a family, has the support of the North Carolina Council of Churches, ecumenical support of seven churches in the Raleigh/Durham area, as well as other UCC churches in the state. Volunteers from those congregations will be with Jimenez round the clock so he feels safe.
"We could never have been ready to welcome a family this quickly had we not leaned heavily on the fantastic work of Pastor Julie Peeples, Paul Davis and the fine folks at Congregational UCC in Greensboro," Long said. "They not only inspired us but, with permission, we lifted their materials and procedures with great liberality! They paved a wide path for us to follow."
Congregational UCC provided sanctuary to Minerva Garcia and her two young sons for just over 100 days, until her deportation order was cancelled by a federal judge on Oct. 2.
Jimenez's family and supporters request that ICE stay his deportation, and continue granting him deferrals until the government creates a way for him to obtain legal status. Long said the church has assurances from his lawyers that Jimenez has a winnable case.
"What makes me feel hopeful is that we are seeing that sanctuary does work to give people time to remain with their family and get a fair trial, and also I am hopeful that we are seeing more churches across the state opening up their doors to people in need," said the Rev. Jennie Belle, program director for Farmworker & Immigrant Rights, N.C. Council of Churches. "I think that sanctuary is something where once a church sees another church providing this type of physical space and hospitality, including all the blessings that come with that, then they are more able to overcome the risks that they face and do the same."
 
---
Related News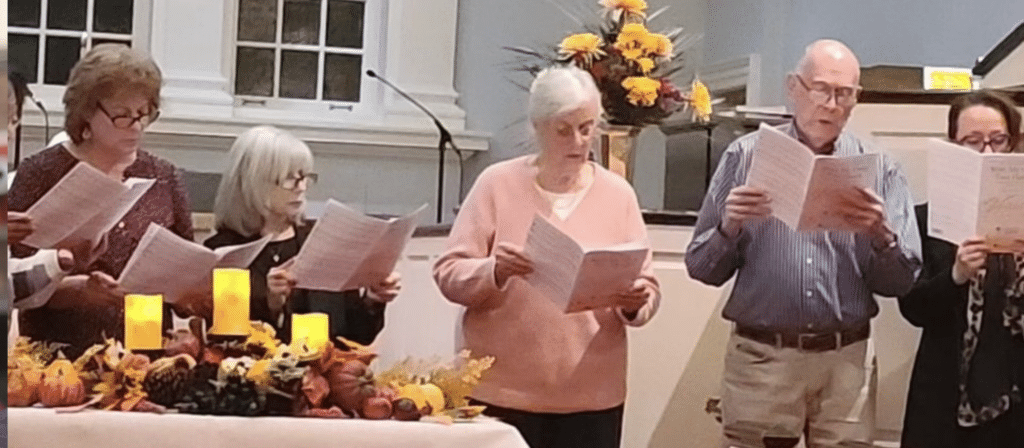 Many United Church of Christ congregations across the country participated in interfaith...
Read More