JPANet June 2018 Newsletter
Getting to the Root of It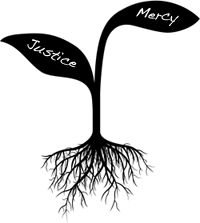 We've asked UCC advocates to help us unpack the complex justice issues that we're working on. This month Jason Carson Wilson, our current UCC Justice and Peace Fellow, offers a reflection for Pride.
Oppression Makes Feeling Pride Difficult


June is Pride month. We often hear proclamations of support and welcome for the LGBTQIA community during this time. Like all of our Creator's children, those fabulous creations of God should be openly affirmed, but saying we're all created in the image of God and living into that declaration are entirely different. (Read more.)
---
Justice Events


Global Day of Prayer to End Famine – June 10
More people face famine today than at any time in modern history. Twenty million people in Yemen, South Sudan, Somalia, and Nigeria are living on the brink of famine. Join churches worldwide to pray and act to end famine. 
49 Bells to Remember Pulse
On Sunday, June 12, 2016, 49 people lost their lives and 68 people were physically injured following the shooting in Pulse Night Club during Pride on Latin Night. Last year the mothers of many of the victims asked that we remember their children by ringing our church bells once for each life lost at noon (local time). This year we are invited by The One Orlando Alliance, on behalf of the many wailing mothers whose children were taken way too soon, to ring our church bells once again. Register your congregation.
World Refugee Day – June 20
World Refugee Day is a day to lift up refugees displaced by war, civil unrest and persecution, all of which tear away at the fabric of human community. This World Refugee Day explore the many ways your congregation or community can reach out to welcome the stranger.
Join Us for the Poor People's Campaign Mass Rally, June 23 in Washington, DC
The Poor Peoples Campaign: A National Call for Moral Revival is uniting tens of thousands of people across the country to challenge the evils of systemic racism, poverty, the war economy and ecological devastation. The June 23 mass rally on the National Mall in Washington, DC will celebrate the culmination of 40 Days of Action and empower advocates for the work ahead. Join us on Saturday, June 23 at 10 am on the National Mall between 7th Street and 9th Street for words of inspiration, spirit-filled music and the chance to connect and strategize with advocates from around the country. The UCC Washington DC office will be hosting a pre-rally gathering for UCC members attending the rally. Please register if you are planning to come, and we will send updated details on the UCC gathering and rally.
Reimagining Faith
The United Church of Christ is a co-sponsor of the Reimagining Interfaith event July 29-August 1st in Washington, D.C. This event is an opportunity to engage in skill-building, networking, and organizing with grassroots activists and interfaith peace builders from around the world. Learn more and register.
---
Justice in Action

Join our Team! Apply for our UCC Justice and Peace Fellowship
Our Washington, DC team is now accepting applications for our Justice and Peace Fellowship. This 1-2 year position is a perfect opportunity for young leaders who are seeking to learn and work at the intersection of our faith, government, and our call to work for a just world for all. Applications are due by August 15. Apply now and help us spread the word!
Work for LGBTQ inclusion during Pride! Here are three ways to engage:
Successful Climate Action: A Webinar for Faith Communities
For this month's Creation Justice Webinar, the UCC has teamed up with 350.org and the Unitarian Universalist Ministry for Earth. Masada Disenhouse from 350.org will share about how faith communities can make a difference on climate through local campaigns. She will talk about inspiring past successes as well as current efforts to transition our society away from fossil fuels. Sign-up today for this webinar!
Keep Families Together!
Earlier this month it became official US policy to separate children from their parents at our border. Hundreds of children have been ripped from their families: 658 kids in first 13 days of the program alone.
We need your feedback!
The UCC Board has begun the renomination process for Rev. John Dorhauer as UCC General Minister and President, and is looking to the wider church for input on his leadership. Share your feedback.
---
Justice Resources

Summer: A great time to take an OWL training!
Are you hoping to start or continue an Our Whole Lives ministry? Are you looking for ways to work for justice and meaningfully address the concerns of the #MeToo movement? To give vital information to youth and families to counteract negative messages in our society about gender and harassment?  There are more than 20 OWL Trainings available all across the country between June and August. Check it out. Questions? Contact Amy Johnson, UCC OWL Coordinator: owl@ucc.org
June is Torture Awareness Month
The United Church has long partnered with the National Religious Campaign Against Torture to lift up human rights and ban the use of torture around the world. This June, call attention to the need to end torture in U.S. prisons and around the world in your worship service or at community events. Ideas and resources at nrcat.org/tam
Witness for Justice
Looking for up-to-date social justice commentary? Check out Witness for Justice, a weekly editorial opinion column written by the staff of Justice and Witness Ministries. 
Featured topics:
Another One Bites the Dust | Winnie Madikizela-Mandela: A Movement of Her Own | The Ongoing Nakba | Shining a Light on Abuses Against Immigrants
---
Related News
On October 13th, a delegation of UCC laity and clergy are scheduled to deliver more than 7,000...
Read More