Disaster Ministries assess damage caused by unprecedented California storms
United Church of Christ congregations and the Disaster Ministries team have been assessing the damage from the unprecedented barrage of storms that recently soaked Southern and Central California. Record levels of rainfall saturated the ground, causing nearly 700 landslides across the state, toppling trees and mud onto roads, with piles of debris reaching up to 40 feet in some locations.
Twenty-two people died and thousands of homes were damaged due to the extreme weather, which began after Christmas and continued through mid-January.
Greater needs for food
In the remote mountain community of Los Gatos, the Rev. Melanie Weiner, pastor of Skyland Community Church UCC, said the water caused significant mudslides and fallen trees, blocking roads from travel.
"A lot of people had to be out there digging out roads," Weiner said. "The county has to dig out the more populated places first so a lot of the digging of mudslides across roads, and trees across roads, actually happens by neighbors helping each other."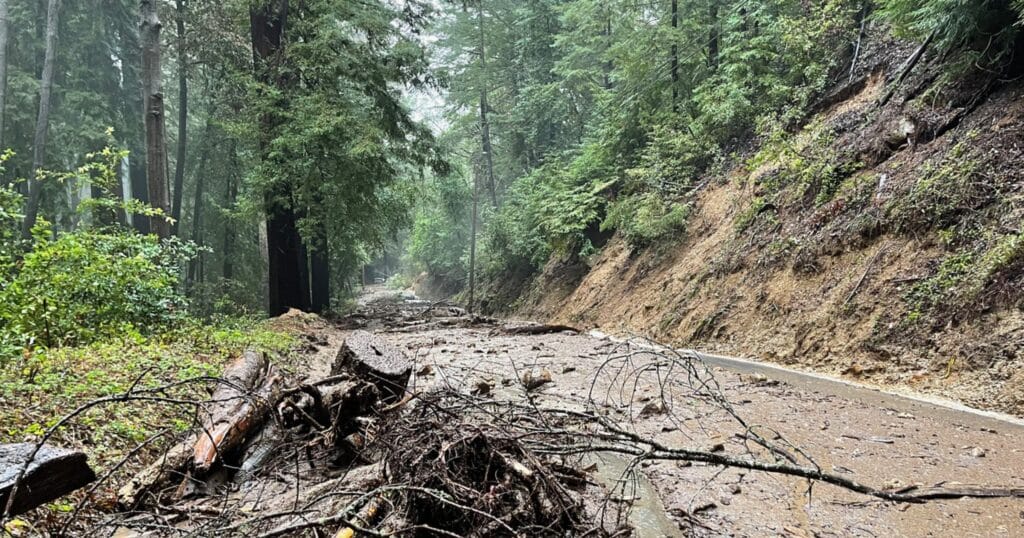 Impassible roads and power outages limited the functioning of the church's food distribution ministry. The program, which Weiner said typically offers about 1,000 meals each month through shelf stable and fresh foods, has an outdoor pantry open 24/7 to anyone needing food. More than 50 volunteers from the church and surrounding community typically restock the six fridges anywhere from one to three times each day.
"The greater needs because of the storm matched up with more difficulty getting food from down in either the valley or Santa Cruz," Weiner said. "The main effect was the power being out and our refrigerators and freezers not being able to stay cold. And our volunteers were not able to get to the church to keep restocking it. Plus so many neighbors couldn't get out of the neighborhood to get to stores that they needed more food than they usually would. We were running our cabinets and refrigerators empty more often than usual."
After the rain stopped, a wind storm took out the electricity again.
The church has plans to install a permanently mounted generator to keep their refrigerators running during future power outages. Members are discerning their support needs and have been in touch with the Northern California Nevada Conference Disaster Team.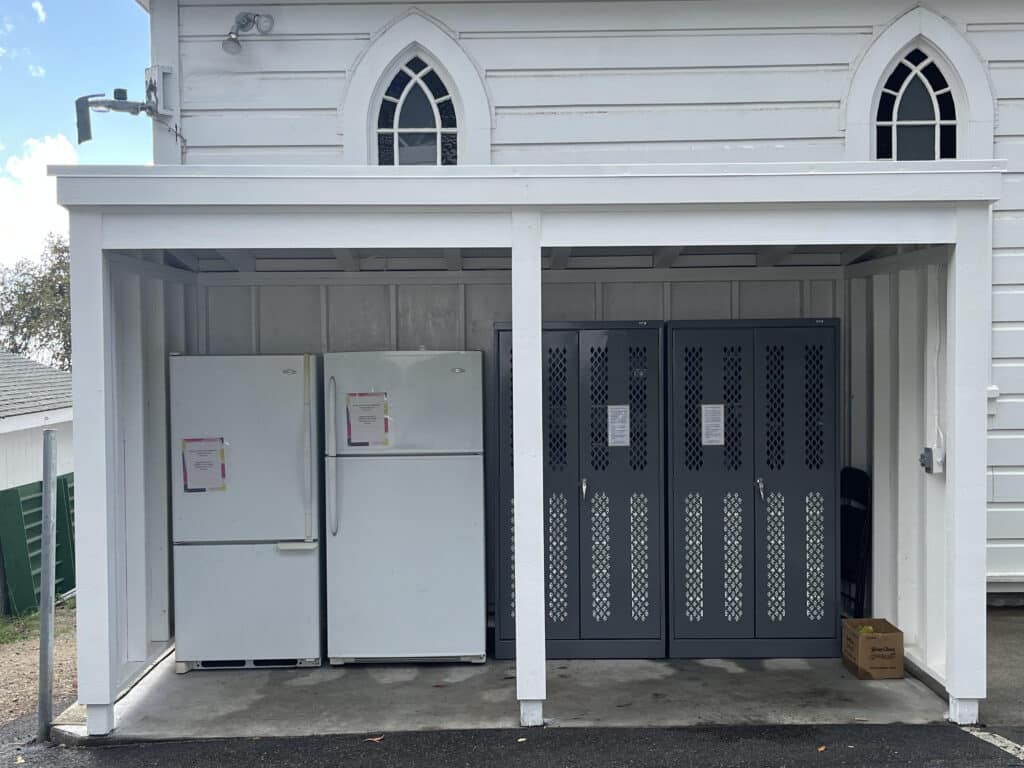 Weiner said the church is well known in the community and has received a few small assistance requests following the storms. Most of the neighborhoods in this area are organized to help each other and have equipment to do so, given the remote landscape, but this barrage of bad weather was beyond their capacity, she said. "There are people still making repairs, digging their way out. I think economically this will impact people in the area. I suspect our food ministry will have, at least for a time, some greater demand."
Sandbags for the community
In Sunol, storm water flooded the Sinbad Creek beside the Little Brown Church of Sunol. The creek had been dry for two years, but floodwaters ran so high the pastor, the Rev. Mary Conant, estimates it came within six inches of compromising the church building. Just downstream, the storm surge flooded the local elementary school.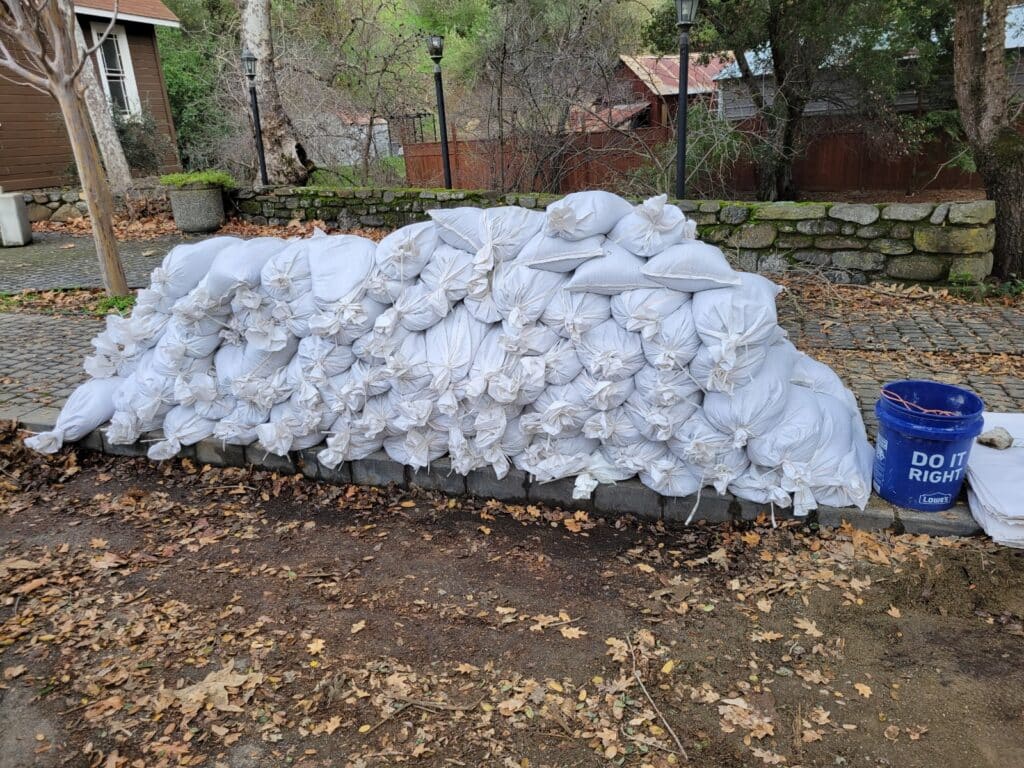 The Little Brown Church is located on a canyon road in a watershed area with many homes on hillsides. "The land was so soggy that it gave way around culverts, people's driveways and bridges. It created mudslides, which knocked down trees and left debris in the roads and creek," Conant said.
In preparation for the storm, the church parking lot became a community sandbag site. The county poured large piles of sand there, and volunteers from around the area showed up to create sandbags – over 450 of them by Conant's count.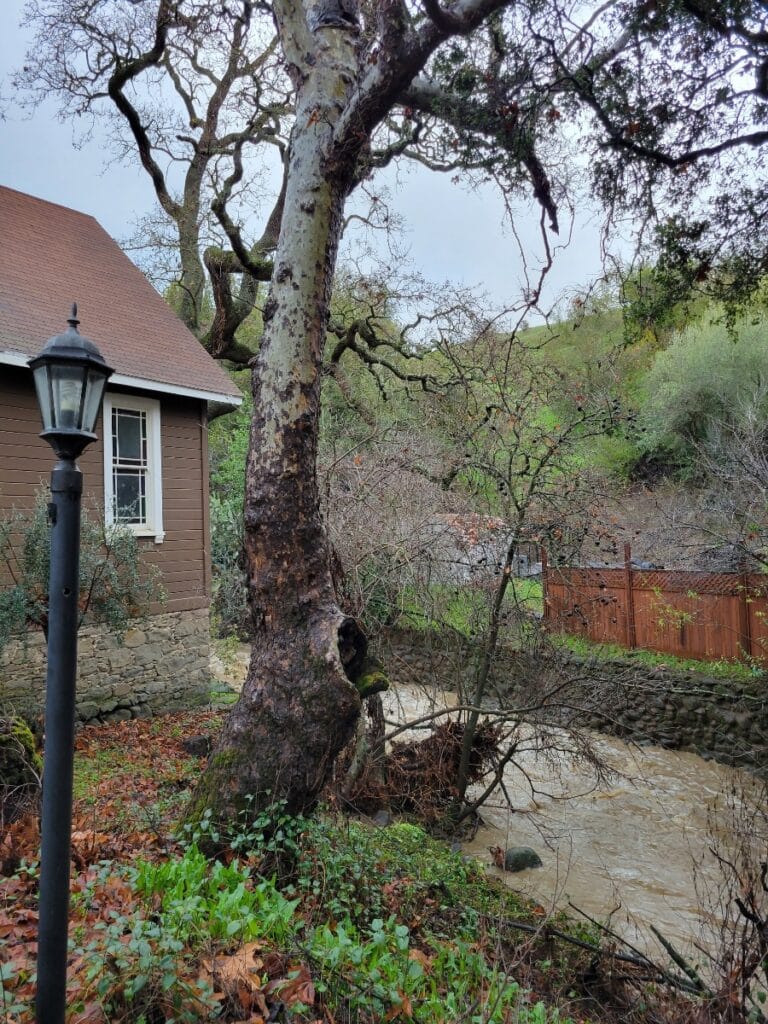 While the town went days without electricity, she said that many church members had generators and helped each other out. "Upstream people were helping each other out big time – shoveling boulders out people's driveways, using chainsaws on their hands and knees to try and clear trees from under the bridges that were causing water to back up."
The Little Brown Church did not meet during the first weeks in January because so many people were unable to get past mudslides on the roads. Conant said that there are mudslides yet to be cleared and they've caused a lot of expensive damage around the area. "When you get a mudslide that hits your house, that's almost worse than water," she said.
'Massive increases in need'
In Sonoma, the First Congregational Church of Sonoma is repairing buildings. Its pastor, the Rev. Curran Reichert, said the church had some roofing issues on storage sheds and auxiliary buildings. "The water just built up faster than we had anticipated and caused damage to already compromised structures."
Reichert said that their neighbors to the north in the Boyes Hot Springs area saw much greater destruction and are left with profound needs. The church is seeking to join forces with organizations already involved in outreach to meet needs in these surrounding communities.
"Road closures, power outages and cancelled school days mean a greater burden on already struggling families," she said. "We are grateful for our ongoing partnership with Redwood Empire Food Bank who comes to our campus twice a week. All food security agencies in Sonoma County are experiencing massive increases in the need to supply groceries and basic home supplies."
Disaster response
UCC Disaster Response teams are encouraging congregations to apply for grants and gift cards that are available through the Conference to address immediate needs.
Lesli Remaly, who serves as disaster minister for response and recovery on the Global H.O.P.E team, is supporting disaster response in Northern California Nevada Conference and Southern California Nevada Conference. She has been monitoring the updates of the California Voluntary Organizations Active in Disaster to track efforts of federal, state and other nonprofit and faith-based disaster organizations.
"We are deeply concerned about the communities most at risk and unable to navigate the processes of rebuilding from the impact of this devastating event without assistance," said Remaly. "UCC Disaster Ministries is focused on long term recovery and emotional and spiritual care as our primary mission.
"We encourage our members across the country to donate funds through the UCC's Emergency USA Fund, assemble kits for ongoing disasters, join the Willing to Respond network to prepare for disasters locally or build a volunteer team to help rebuild homes and lives."
---
Content on ucc.org is copyrighted by the National Setting of the United Church of Christ and may be only shared according to the guidelines outlined here.
---
Related News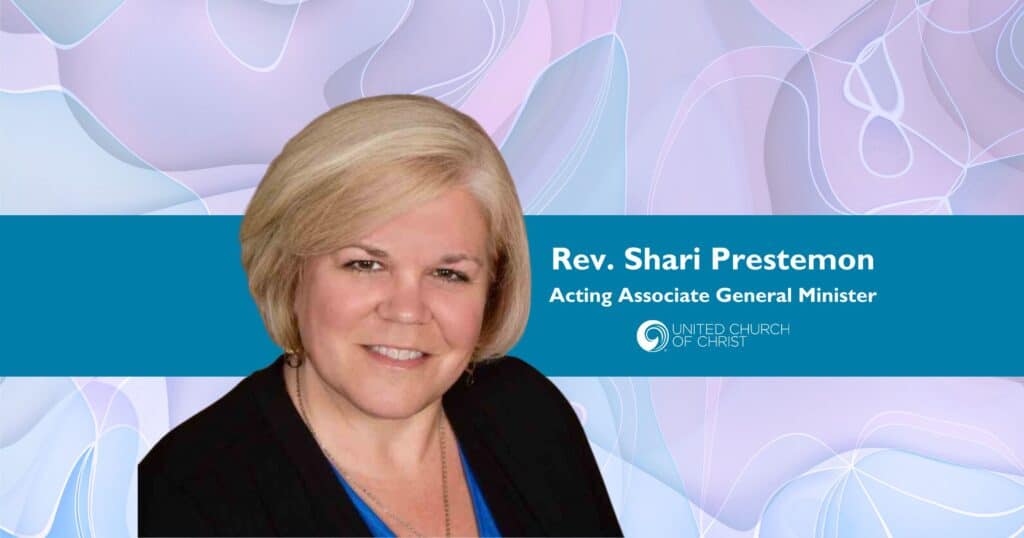 A new United Church of Christ national leader has been called. The UCC Board voted in a...
Read More