UCC winds down 2 years of medical debt relief with $33M Ohio buy
With a $33 million purchase in Ohio, the United Church of Christ's campaign to relieve medical debt has just exceeded $104 million — and is now winding down.
Showing some Valentine's Day love for its headquarters state, the UCC announced Feb. 14 that 10,757 households in 70 Ohio counties had received letters telling them their medical debt had been abolished.
The debt buy was the latest in an effort the UCC has been waging for more than two years with the help of New York-based RIP Medical Debt. This one used $200,000 from a UCC Giving Tuesday campaign. As with all buys in the series, the UCC sent the money to RIP, which bought the debt for pennies on the dollar.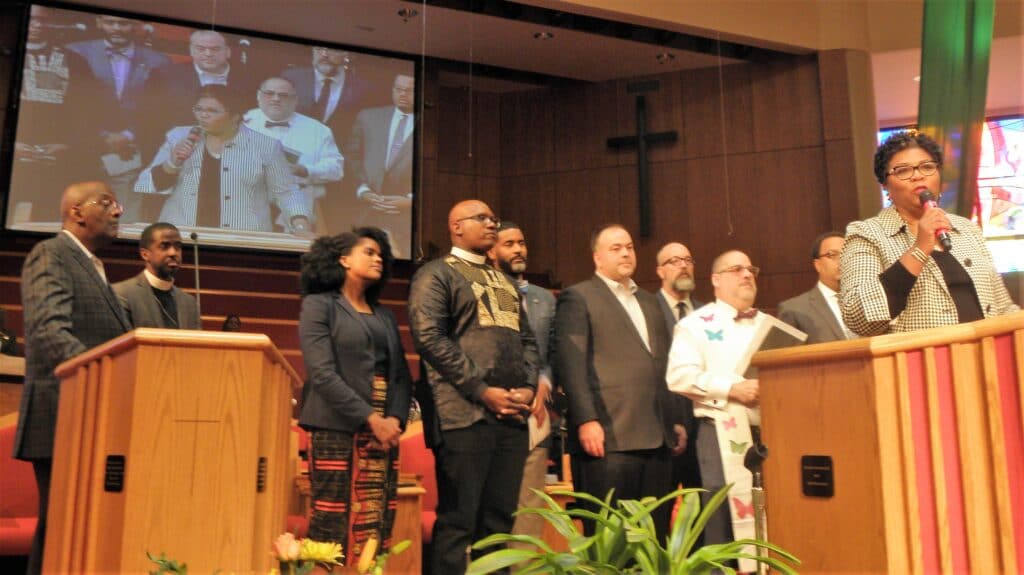 New campaign takes baton
The $200,000 also counts as a lead gift toward a new $5 million campaign, "A Nation that Cares," that RIP is extending across denominations and geography. In it, "communities of faith across the country have formed a coalition to relieve medical debt throughout the United States, regardless of where the patient lives," the campaign's website said.
"This effort was formed to expand their impact beyond small, regional communities so that families struggling with medical debt anywhere can benefit."
So, with the UCC wrapping up the collaborative national campaign, local churches interested in gifts toward debt relief still have options. The Rev. Traci Blackmon, associate general minister for Justice and Local Church Ministries, noted that they can give to A Nation that Cares. Or they can work directly with RIP.
Fighting injustice was the point
But the point all along, she said, has been even bigger than bringing "some measure of relief to tens of thousands of families unjustly burdened with medical debt."
"As we close this campaign by abolishing all the debt available to us in the state of Ohio, we urge you to remember charity and celebrations were never the goal of this initiative," Blackmon said. "Advocacy was.
"The public nature of our campaign helped us amplify the embedded injustices of our health care systems, the targeting of those least positioned to fight back, and the absurd profitability of sickness in this nation, all issues most media outlets are reticent about on their own merit."
'Overjoyed' in Ohio
The UCC buy in Ohio was largely concentrated on the state's eastern border, in Belmont County. There the church eliminated $23.6 million in debt for 7,628 families. Neighboring Jefferson County was next, with more than $6.6 million in debt abolished for 2,102 households. A complete statewide list is here.
Because RIP uses a confidential debt-buying process, the families that benefit from it are anonymous to the church. They received letters saying simply, "The funds that abolished this debt were generously provided by the United Church of Christ. No matter who you are or where you are on life's journey, you are welcome in our churches. You are beloved by God and your debt has been forgiven."
To a recipient in Woodfield, Ohio, the news seemed too good to be true.
"To be honest I thought it was a scam at first," said the beneficiary, who identified himself to RIP as Chris A. "Nobody does this. You never hear of this happening. I have to blame it on what I did for a living. I worked in a prison my whole life. Whenever someone says something to you, you have to ask what their angle is. Well, I couldn't find your angle. I had to quit being so cynical. I was overjoyed and shocked that someone could do something so nice for me."
Campaign results since 2019
This is the 11th time the UCC has teamed up with RIP Medical Debt. Previously:
UCC churches in Chicago kicked off the medical debt buy initiative in late 2019, in collaboration with the denomination's national ministries. That first buy abolished $5.3 million in debt for 5,888 families on the city's South Side.
The collaborative efforts continued in 2020, with the Deaconess Foundation and several congregations in St. Louis abolishing $12.9 million; with nine churches in California's East Bay area eliminating $7.4 million; 122 churches and individuals in the Southern New England Conference wiped out $26 million; and 20 churches in the Kansas-Oklahoma Conference forgave $5.2 million.
In April 2021, eight UCC congregations in the Washington, D.C., area teamed up with the national setting and the Potomac Association of the Central Atlantic Conference to abolish more than $9 million in medical debt in Delaware, Maryland, New Jersey and West Virginia, changing the lives of more than 7,800 families.
In June 2021, the national setting sent $15,000, money from First Congregational United Church of Christ, Lake Worth Fla., and from a Giving Tuesday 2019 campaign, to wipe out more than $1.3 million in medical debt for 815 families in Florida, Louisiana and Texas.
In July 2021, eleven churches of the Southwest Conference abolished $3.6 million in debt in eight Arizona counties, benefiting an additional 1,559 families.
In December 2021, 20 churches of the UCC's St. Louis-based Missouri Mid-South Conference, plus one national ministry, abolished $3.9 million in debt in Arkansas and Tennessee.
On Feb. 13, 2022, First Congregational UCC in Appleton, Wis., announced that its members' 2021 gifts of just over $17,000, brought up to a total of $20,000 by a contribution from the national UCC, had abolished more than $866,000 in medical debt for 657 West Virginia families.
'Too poor to be well'
As pledged from the start of the campaign, the UCC has touched families in every region of the country in which it serves. The buys have used the same criteria each time: Qualifying debtors were those earning less than two times the federal poverty level; in financial hardship, with out-of-pocket expenses that are 5 percent or more of their annual income; or facing insolvency, with debts greater than assets.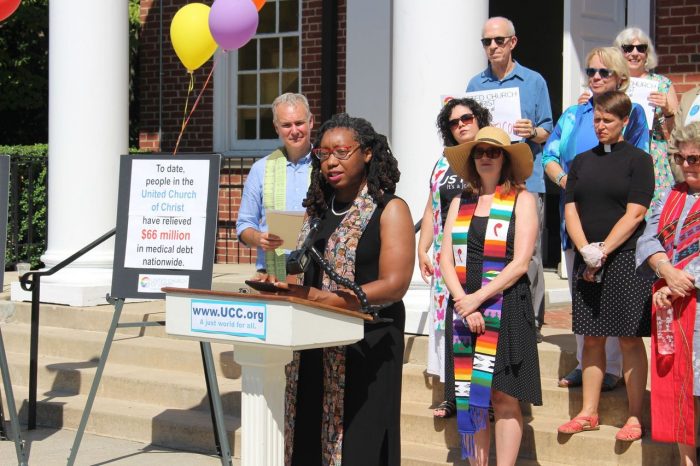 The Rev. Sekinah Hamlin, UCC minister for economic justice, said the amount of debt the church relieved with RIP's help illustrates why the church's national ministries are pushing for changes in social policy. These include Medicaid expansion and certain health-care provisions from the federal proposal known as Build Back Better.
"Medical debt still is the leading cause of U.S. bankruptcies and aggressive debt collection," Hamlin said. "This reality leads to decisions that cut people off from needed health care. Health care is a human right, and no one should be penalized because they are too poor to be well."
'Policy work continues'
In making the Valentine's Day announcement, Blackmon said: "Our public collective efforts amplified the multi-tiered urgency of health-care reform amidst the cacophony of needs that inundate us daily. We are thankful for that, and for the greater access to decision makers and policy reform collaborations this initiative has afforded our economic justice ministries. Although the national setting is no longer accepting donations for this campaign, the policy work continues.
"On this day set aside to ponder love, I am reminded of the words of Paul to the church of Philippi: 'If you've gotten anything at all out of following Christ, if his love has made any difference in your life, if being in a community of the Spirit means anything to you, if you have a heart, if you care—then do me a favor…Forget yourselves long enough to lend a helping hand' (Philippians 2:1-4). Thank you all for lending a hand."
---
Fact sheets on medical debt's impact are here. People interested in donating to — or raising fund for — "A Nation That Cares" can do so here.
---
Related News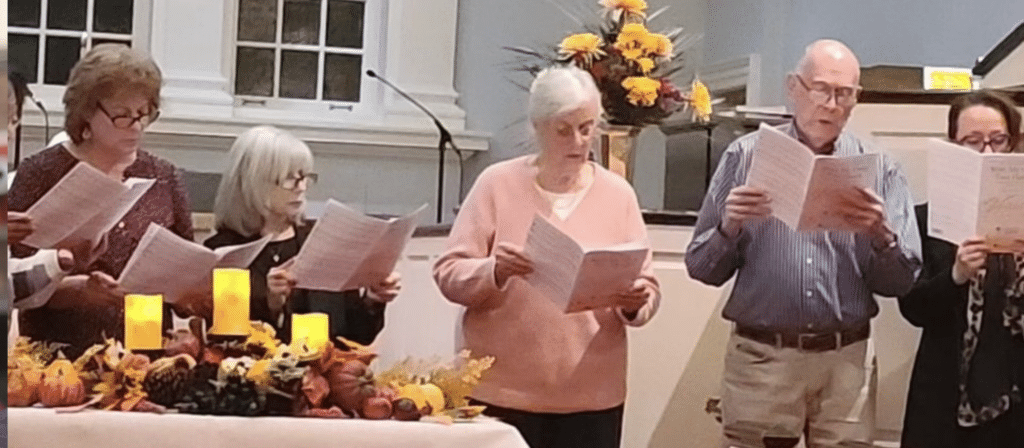 Many United Church of Christ congregations across the country participated in interfaith...
Read More