UCC celebrates ministry of medical debt abolishment – $67.6 million and counting
The United Church of Christ marked the power of the collective during Synod's evening of celebration on Thursday, July 15.
The Rev. Sekinah Hamlin, minister of economic justice, was joined by Associate General Minister Traci Blackmon in a video presentation to share monumental news about the UCC effort to wipe out medical debt. Blackmon, at the close of General Synod 32 in Milwaukee, pledged to abolish that debt in every one of the six regions in which the UCC serves.
And 'We' did!
Acting as one church, a total of 195 congregations, nine Conferences, five UCC partner organizations and more than 800 Giving Tuesday donors joined the national setting in abolishing more than $67.6 million dollars in medical debt. Over the last two years, 51,720 families around the country have been helped by this effort, which commenced after the 2019 Synod.
'Why medical debt?'
Through a partnership with the New York-based nonprofit RIP Medical Debt, the church has been buying up debt for pennies on the dollar in every one of the UCC's six geographical regions.
And those numbers will continue to grow. The denominational effort currently has two buys in progress that should close in late July.
"Why medical debt?" said Hamlin. "Because health care is a human right, and no one should be penalized because they are too poor to be well.
"In the absence of universal health coverage, lives are ruined by the astronomical cost of health care. Just one hospitalization can be enough to put those already living on the edge over the edge."
"We have walked together with God humbly in so many ways," Hamlin said. "Together, we have lifted a weight for some, too heavy to carry. We were also able to call attention to inequities of our health care system at every single level."
It started in 2019
The UCC's medical debt project began in Chicago in the fall of 2019, where church donations abolished $5.3 million in debt for 5,888 families on the city's South Side.
In January 2020, the effort moved to St. Louis, where $12.9 million in medical debt was eliminated for 11,108 households in that city and St. Louis County.
Last June, nine California congregations in the East Bay Area wiped out $7.4 million in medical debt for 3,539 households across the state.
In October, a collaborative effort by 122 UCC congregations, four Associations, and more than 100 households in the Southern New England Conference abolished $26.2 million in medical debt in two separate buys. Recipients were families in seven states in and around New England and first responders across the country who benefit from RIP's "Helping COVID Heroes" Fund.
In November, gifts from 20 UCC congregations in the denomination's Kansas-Oklahoma Conference, plus several individuals and church bodies, abolished $5.2 million in medical debt in those two states. More than 3,200 households benefited from that buy.
Effort continues in 2021
In April, eight UCC congregations in the Washington, D.C., area teamed up with the UCC national setting and the Potomac Association of the Central Atlantic Conference to abolish more than $9 million in medical debt in Delaware, Maryland, New Jersey and West Virginia, changing the lives of more than 7,800 families.
In late June, the national setting sent $15,000, money from the First Congregational UCC, Lake Worth Fla., and from a Giving Tuesday 2019 campaign, to wipe out more than $1.3 million in medical debt for 815 families in three states.
Later this month, households in 32 Florida counties, 31 parishes in Louisiana and 28 counties in Texas will receive letters telling them that their medical debt has been forgiven.
An eighth buy is in progress in the Southwest Conference UCC, with the ninth buy coming from the Penn West Conference.
Thanking donors
The presentation acknowledged, by name, every church, Conference and organization that had contributed to the effort by July 1.
And as Blackmon said, "We are still going!" She announced plans to use reserve funds "to continue contributing to every abolishment made by any UCC entity through the end of this year."
She also is working with RIP Medical Debt to fund a buy for families living at or below the poverty level in rural areas across the country.
"Together," Hamlin said, "We can do great things."
---
Related News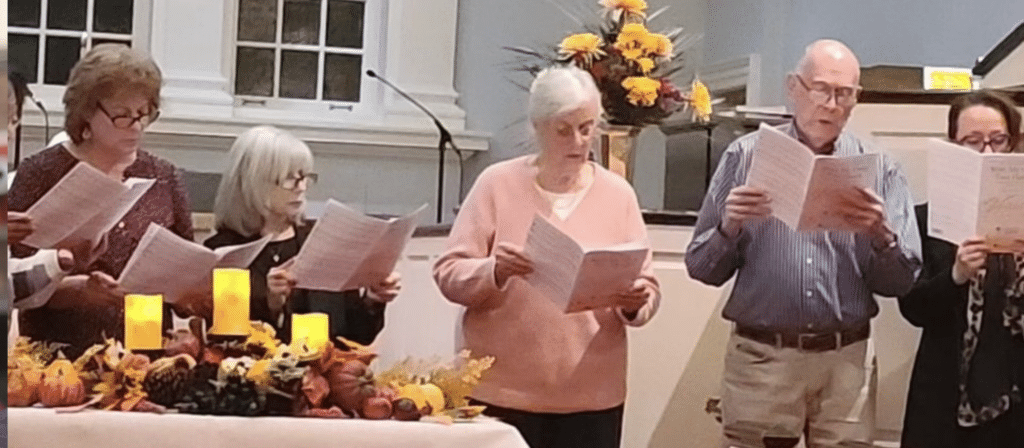 Many United Church of Christ congregations across the country participated in interfaith...
Read More