UCC offers serious input at national summit on climate justice
"The climate is the Lord's, and the fullness thereof."
That slight modification of Psalm 24:1, spoken by the Rev. Benjamin F. Chavis Jr., kicked off a national forum on faith and the environment April 27.
It was part of the larger, three-day American Climate Leadership Summit. And the speech by Chavis was just one of several ways the United Church of Christ showed up.
The annual ecoAmerica event aims to prompt action on Earth's climate crisis. Its participants come from the worlds of faith, health, education and business. As ecoAmerica puts it, leaders in those disciplines — working together — "have the power to inspire tens of millions of Americans on climate change."
The UCC was one of three co-hosts of the 2021 event — and an honoree.
Pray, work, 'raise fists' together
Chavis' prayer and brief keynote launched an afternoon devoted to faith and climate. As a UCC minister, his work for environmental justice dates back to protests against toxic waste dumping in 1982. He led the UCC's Commission for Racial Justice in issuing a landmark report, Toxic Wastes and Race in the United States, and organizing the first National People of Color Environmental Leadership Summit.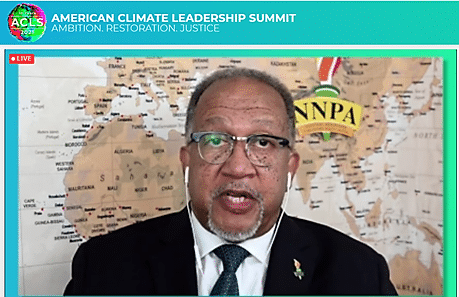 Chavis said he was glad to see the U.S. rejoin the 2015 Paris Climate Agreement after withdrawing in 2020. Countries must cooperate to arrest big global problems, whether the COVID-19 pandemic or climate breakdown, he said.
"We need a global climate-justice movement" of many races, cultures and languages, he said — including the poor and marginalized. "Unfortunately, there are a lot of communities who are voiceless, who are not normally heard from on climate justice. Diversity and inclusion will strengthen the movement, not weaken it."
He urged people of diverse faiths to lead the movement. "We need to pray together, work together, and, yes, sometimes raise our fists and protest together against the offenders of the climate."
Climate, racial, economic justice
Hearing from affected people is part of the way Chicago's Trinity UCC has gone green. The Rev. Otis Moss III described three of the church's local climate projects. All are stories of economic and racial justice as well. Before tackling any of them, he said, "we had to cast a vision."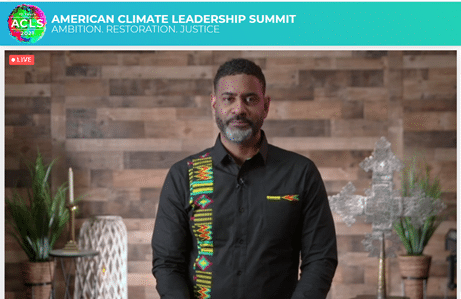 "We met with elders in our community," Moss said. "We wanted them to tell us what they thought were the imminent needs in our community. This partnership, knowing that people in the community know what best to do — this is how we began to shape our vision."
This led Trinity to take on:
A 2017 "green renovation" of its building, with live plants on the roof and other energy-saving features. The church used "architects, contractors and subcontractors from our community — Black women and men," Moss said. The project also gave jobs and training to "individuals coming out of the mass-incarceration system — we call them returning citizens."
A successful fight to renovate the city's crumbling Carter G. Woodson Regional Library in 2018. Through political pressure and its own community development arm, the church got public dollars invested in the project. It got local firms employed, too. And, again, after listening to neighbors, it saw to it that community-health features became part of the library.
The creation of Imani Village, just a little over a mile from the church. Trinity bought 27 acres to build a village that, as Moss put it, "will take care of community from cradle to grave. You could live on the land, grow your food on the land." Being designed and built in phases, it will include a five-acre farm, housing, community health and athletic centers and more.
Trinity's conviction, Moss said, is that "climate justice and racial equity are inextricably bound together."
'Need to activate everyone'
Among other UCC participants were:
The Rev. Michael Malcom of Birmingham, Ala. A UCC minister who heads the People's Justice Council, he spoke on a panel April 28 on climate as a justice issue, highlighting the experiences of Black, Indigenous and other people-of-color communities.
The Rev. Jenny Shultz-Thomas, senior minister of Denver's First Plymouth Congregational UCC, a "Creation Justice Church" recently honored by Interfaith Power & Light for reducing energy use. She was on an April 28 panel that touched on local goals across the U.S. They ranged from addressing food deserts, to political organizing, to getting churches themselves to "net zero emissions" by 2030.
The People's Justice Council and the UCC's national Environmental Justice Ministries. During an American Climate Leadership Awards ceremony, presenters honored them — as joint finalists — for their work on climate justice. They received $10,000. The contest winner was the Giniw Collective, an Indigenous justice movement. Runner-up was Youth vs. Apocalypse, led by young people of color and of the working class.
The urgency of climate breakdown means the summit must be about more than inspiration, said Anita Fête Crews, program director of Blessed Tomorrow, ecoAmerica's faith-specific project. "We have the relationships and the people to do the work," she said. "But we need to activate everyone quickly."
---
Related News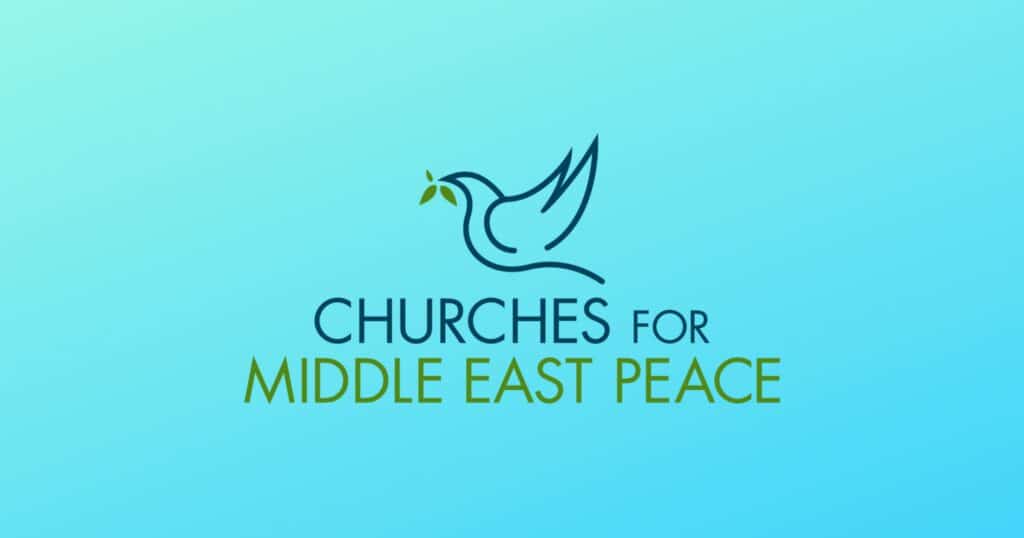 The following statement was issued Dec. 2 by Churches for Middle East Peace (CMEP), of which...
Read More