Support for women coffee growers in Brazil
These women in Brazil are producing a specialty organic coffee, which is helping them improve their lives.
Oikocredit partner Cooperativa dos Agricultores Familiares de Poço Fundo e Região (Coopfam) is a Brazilian coffee cooperative which is helping to empower women by supporting the production of a specialty organic coffee. What makes Café Feminino so special? The organic coffee is produced exclusively by women.
Coopfam has long been something of a pioneer in organic and fair trade coffee, being the first one to produce it in Brazil.
Oikocredit funding is being used to enable cooperative farmer-members to gain access to local, national and international markets. It is supported by One Great Hour of Sharing.
---
Related News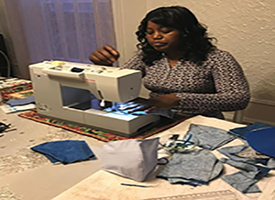 Refugees like Sandra are making the best of a difficult time by caring for others. They made...
Read More