Some recent UCC Disaster MInistries international grants
Here are some recent international grants approved by UCC Disaster Ministries:
 
$20,000 to Global Ministries' partner Fund for Development, Culture and Dialogue to assist vulnerable Syrian families to combat the harsh winter with winterization items, including thermal blankets, shoes and warm clothing for children, and heaters.
 
$12,000 through Global Ministries' partner Near East Council of Churches to respond to emergency health and psychological problems in Gaza among Palestinian children, mothers and other women in an area targeted by recent Israeli bombardment that killed close to three dozen and injured more than 100.

$5,000 through Global Ministries to Disciples of Christ Church of Congo in Brazzaville for its assistance to the D'impfondo community, which in November was heavily impacted by heavy rains and flooding of hurricane proportions. Aid includes food, temporary shelter, clothes and sanitary items.
---
Related News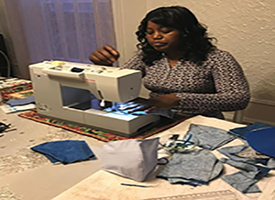 "It's so good making masks because it helps the community," said Sandra, a Congolese refugee...
Read More