Association lends a helping hand to Sisattanak children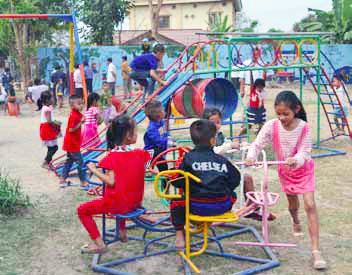 Nearly 20 percent of children in Sisattanak district, Vientiane, Laos do not attend school because their families are poor. They lack public support to obtain access to education.
An Association named Dongsavath Children and Youth Development Association (DCYDA) based in Dongsavath village, in Laos has gotten involved to help improve the circumstances for the children and their families.
The group works with four primary schools in Vientiane, namely Dongsavath Primary School, Donkoi School, Nahay School, and Udomphone School. Their aim is to ensure poor children and adolescents have an opportunity to participate in the educational process including after school activities.
DCYDA promotes children's basic learning and gives them access to vocational training. In addition, several social issues that particularly impact children from lower economic levels are addressed. Drug abuse and dropping out of school are especially high among economically depressed youth. But through the proper encouragement children and young people are learning to participate in helping their families and communities, socially and economically.
The association created a small scholarship fund of 30 million kip ($3,500 US) a year for 35 children and young people in very difficult circumstances to cover educational materials and term fees. Their families are given emergency medical assistance and counseling services needed to help the children stay in the program.
Mr. Phonexay Inthaleuxay, head of DCYDA said the association was founded to help children develop their full potential and to protect them from harm. "We provide life-skills training and an annual summer camp. It is our aim to give children a feeling of security and being cared for. Through education, children and young people are learning to solve their problems and gain valuable life-skills, get advice, or gain access to any further assistance they need."
Story written by Phetphoxay Sengpaseuth, Dongsavath Times, modified for this post.
---
Related News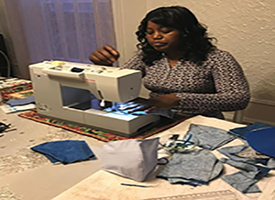 "It's so good making masks because it helps the community," said Sandra, a Congolese refugee...
Read More