The Challenge to Respond with a Mindset of Urgency
 Photo: UNICEF
Across East Africa, one can easily witness the distress on people, livestock and the entire natural environment. Water wells have dried up, and food is scarce.
On the faces of adults, hopelessness, fatigue, frustration, and signs of desperation are all common signs to notice. The situation gets worse with every passing day.
And, the crisis remains critically underfunded…
A large percentage of the population are "extremely food insecure", meaning that people do not know when and how they will have their next meal.
The needs are huge, but for $166 you can help a family of 6 with water, food, and medical assistance.
The challenge here is to raise $50,000 by the end of the day, Sunday, May 21, a day declared by the World Council of Churches (WCC) as the Global Day of Prayer to End Famine!
Resources
WCC Main Message
WCC Fact Sheet
WCC Order of Prayer to End Famine
UCC Appeal Announcement
---
Related News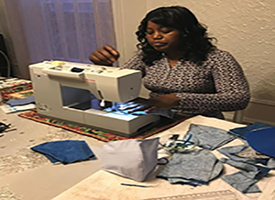 "It's so good making masks because it helps the community," said Sandra, a Congolese refugee...
Read More