Extravagant Welcome
The United Church of Christ is known for our commitment to extravagant welcome.  We live this out in many ways, including through partners extending that extravagance in the most disrupted situations and among the most vulnerable people in the world.  Thank you for donating to disaster relief and recovery through the United Church of Christ.  We encourage you now to consider a gift to the One Great Hour of Sharing Offering that allows the United Church of Christ to respond immediately and in a long-term systematic way to disaster, refugee, and sustainable development situations throughout the world.  Through your participation in One Great Hour of Sharing – YOU are part of making that extravagant welcome reality in people's lives.   We invite you to consider your generous 2014 participation.Gifts may be made through your local UCC congregation or online at www.ucc.org/oghs.
Through OGHS you are present with the Republic of Congo as the Church of Christ, a partner of UCC/Disciples Global Ministries, as children experience care, receive shoes and attend school.  The nearby nation of the Central African Republic experiences human rights abuses and widespread violence that has escalated during the fall of 2013 during controversies about political leadership.  Children are especially vulnerable as recruitment into armed groups is prevalent.   Almost a million people in the Central African Republic have been displaced.  Many have found their way across national borders into the Republic of Congo.  The Church of Christ in the Congo has been extravagant in the midst of their own challenges, caring for over 275 children, providing classroom space, teachers, and materials. In the midst of the disrupting experience of fleeing from violence and from your home, the "normalcy" of school not only provides formal education but the possibility to feel safe and accepted.  Because of your participation in One Great Hour of Sharing, YOU are there with sisters and brothers of the Congo as they exercise their faith, extending this extravagant welcome.
Back in the United States, the town of Joplin, Missouri experienced massive destruction from a May 2011 tornado, creating homelessness and disrupting the town's community and economic life.  People whose homes were destroyed found their way to the homes of relatives and friends to stay while their lives could get put back together.  Mission teams from around the country responded with the desire to share time and energy, construction skills and financial resources with neighbors they had never before met in this small town in southern Missouri.  But where to stay – without burdening the town's infrastructure already disrupted and without just showing up to actually be more in the way than helpful?  South Joplin Christian Church received damage to their sanctuary during the tornado, but not to the Quonset hut sitting nearby on their property slated for its own demolition before the tornado.  Your participation in One Great Hour of Sharing allowed South Joplin Christian Church to share that building, outfitting it to provide comfortable accommodations for groups arriving from all over the country and offering a place to call 'home' after a long day of helping the local long-term recovery organization  (called Rebuild Joplin) repair and rebuild the homes of others. Groups have been experiencing this hospitality for over two years as the UCC and Christian Church (Disciples of Christ) live out a commitment to long-term recovery.  Perhaps, you have been part of one of these mission teams working on-site in Joplin or are on the schedule before the projects wind down in August of 2014.  Perhaps, you have kept the people of Joplin in prayer as they have rebuilt their homes and community.  Certainly, through One Great Hour of Sharing YOU share in this extravagant welcome.        
*****************
OGHS is one of the All-Church Offerings of the United Church of Christ.  Your congregation can be 5 for 5 by participating in the One Great Hour of Sharing, Strengthen the Church, Neighbors in Need, and Christmas Fund offerings and through generous support of Our Church's Wider Mission (OCWM).
The establishment of an OGHS Endowment is coming soon.  Help provide long-term stability for the UCC's systemic and relational participation in disaster recovery, sustainable development and refugee relief.
Sharing in God's Love,
Mary
Rev. Mary Schaller Blaufuss, Ph.D
UCC Global Sharing of Resources Team Leader
---
Related News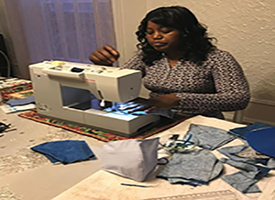 "It's so good making masks because it helps the community," said Sandra, a Congolese refugee...
Read More