Pennsylvania couple lives out commitment to others through OGHS, Disaster Ministries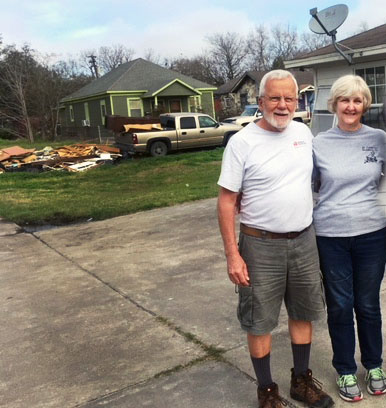 Meet Bill (William) and Ellen Matten of St. John's United Church of Christ in Boalsburg, Pennsylvania, two volunteers who consistently put their faith in action. They are very committed to making the world a better place by pitching in to help where they feel called to serve.
The Mattens are wonderful ambassadors for the One Great Hour of Sharing Endowment Fund, which extends the work and the scope of the OGHS offering. "We have been blessed to be able to go on two One Great Hour of Sharing Educational Trips: one was to the Middle East (Jordan, Palestine, Israel, Egypt, and Morocco) and the second to Ghana, Africa," said Ellen. "We were really touched by the young women in each country who are being empowered by the programs funded by OGHS." 
The Mattens are also committed to helping communities recover from disasters, and have served as UCC Conference Disaster Coordinators for almost 20 years. "We have met many amazing and caring people from around the United States who volunteer their time, talents and resources to help others recover, said the Mattens.
"Ever since I can remember, both Bill and Ellen have attended and volunteered their time in the Wider Church Ministries booth, greeting visitors and sharing information at General Synod. This summer they will be there again," said Phyllis Richards, Program Associate for the Humanitarian and Developments Ministries Team of the United Church of Christ.
"Read their story. If you are coming to General Synod 32 in Milwaukee, stop by the booth and help us thank Bill and Ellen for their service to the United Church of Christ.
---
Related News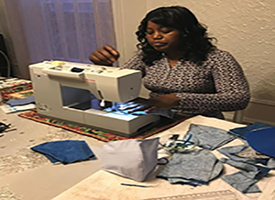 "It's so good making masks because it helps the community," said Sandra, a Congolese refugee...
Read More