Hopes and Dreams: Eve Gym for Women
"I tried many times to follow a weight-loss program,
but none of them were long term", said Tamam, a 42 year-old female participant in a health education workshop on obesity offered in 2014.
"Most weight-loss programs focus on a rigid regimen for a short period of time utilizing a list of allowed and forbidden foods. The 2014 workshop was different and I lost 15 pounds."
Tamam later completed the physical education program at the YWCA of Palestine. She decided to start a weight loss program for women. Her husband supported her decision because she told him she would be able to contribute to their family financially.
Tamam joined forces with another woman from the class, Futoun, age 30. This mother of four was determined to work hard to make their dreams of starting a gym come true. Together they rented the third floor of the Women's Center at the Jalazoune Refugee Camp which was already equipped with
workout machines and tools. They named their workout space Eve Gym for Women. It was wildly successful because the women of the camp were eager to have a safe place to go and work out.
The YWCA of Palestine supports women's rights to economic justice through its vocational training programs offered by local associations. The YWCA has been providing training and educational programs to refugee women and children at the Jalazoune Refugee Camp and Aqbet Jaber Camp for over 50 years. One Great Hour of Sharing supports YWCA and its life skills and training opportunities for women.
---
Related News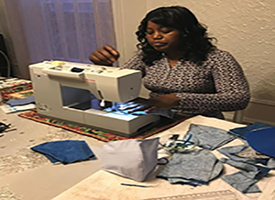 "It's so good making masks because it helps the community," said Sandra, a Congolese refugee...
Read More