Mudslide in Sierra Leone Takes Toll on Community
 Photo Credit: CNN
On Monday, August 14, a chunk of mountain came down under the force of rain, onto the houses that hugged the slopes of Mount Sugar Loaf about five miles outside the capital Freetown, Sierra Leone, according to government officials and aid agencies.
The number of people killed in the wake of the mudslide rose from 205 to 245. Hundreds of people are still missing according to Abu Bakarr, spokesperson for the Red Cross in Sierra Leone, as the search continues for more survivors.
Mrs. Ebun James, general secretary of the Council of Churches in Sierra Leone, spoke about the devastation Freetown experienced over the weekend with heavy rains and flooding. "As you can imagine, everyone is shocked. It feels to them that they have barely recovered from the Ebola epidemic and now this disaster", said the Rev. Marco Cable, executive for the Africa Office of Global Ministries (United Church of Christ and Christian Church Disciples of Christ).
The Council has partnered with local and international organizations to provide shelter, food, clothes, and the medical assistance for displaced families who lost their homes in the mudslide.
Mrs. James explained that currently they are addressing the immediate needs, but once the situation is secure and assessments can be made, they will have to prepare to address the longer term response needs.
It is rainy season in Sierra Leone and this year has been particularly wet, with Freetown receiving more than 27 inches of rain between July 1 and August 13 – more than double the average of 11.8 inches, according to the US National Weather Service's Climate Prediction Center.
Prayers and support are needed as the situation continues to unfold.
---
Related News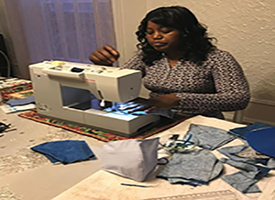 "It's so good making masks because it helps the community," said Sandra, a Congolese refugee...
Read More