Lucio Perez leaves sanctuary of Massachusetts church after 3 ½ years
"Oh happy day! Oh happy day! This is what it looks like when love wins!"
Those were the first words of the Rev. Vicki Kemper as Lucio Perez walked out the front porch of First Congregational Church on March 13. The Guatemalan immigrant had been living in sanctuary at the Amherst, Mass., United Church of Christ congregation for 3 ½ years. The father of four is now free to return home to his family in Springfield, legally protected by a stay of deportation.
"This is what it looks like when prayers are answered. This is what it looks like when we get even a taste of justice. This is what is it looks like when we get even a glimpse of the realm of God," the First Church Amherst pastor continued. "Oh happy day."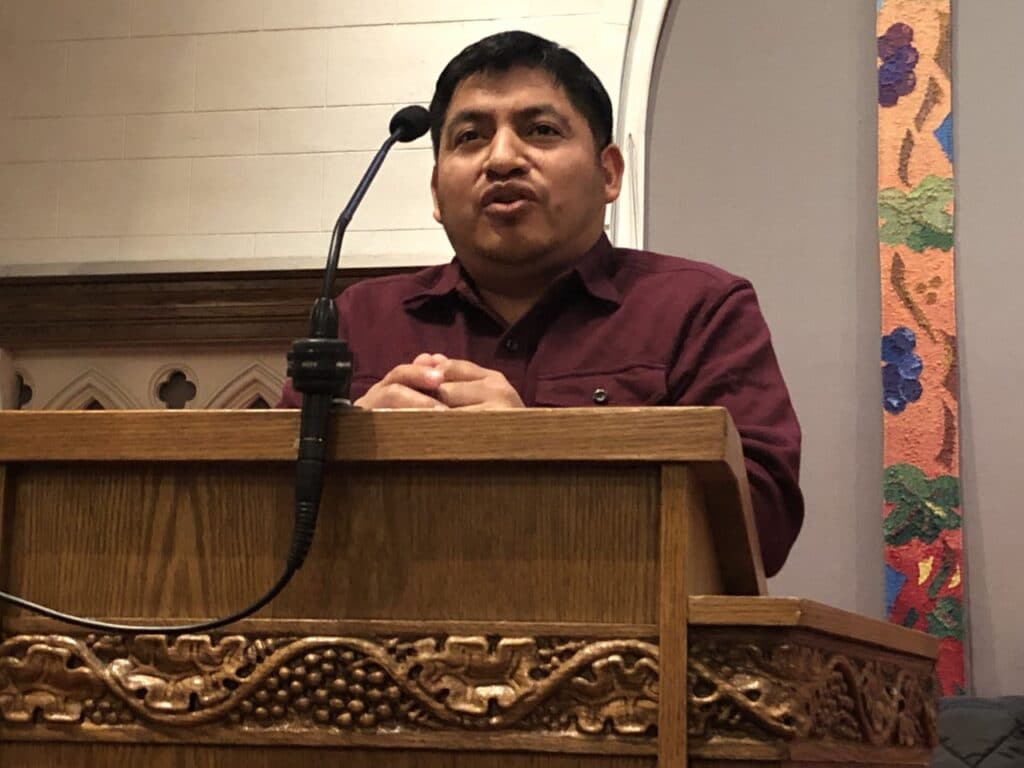 Perez came to the church on Oct. 18, 2017, not long after the congregation decided to study the idea of providing sanctuary to a neighbor in need. He quickly became part of the community, teaching Spanish classes and building connections with over 1,000 church members and other neighbors who worked for his freedom and safety.
'There really aren't words'
On a chilly Saturday afternoon, during the only gathering at First Church Amherst in over a year, members of that congregation and the community came out to celebrate the end of sanctuary for Perez and the beginning of a more secure life for him and his family.
After a great round of applause, Perez spoke to the group in Spanish. His words were translated for the crowd.
"I want to thank you all for being here today, for helping me and my family, to bring us to this great moment of victory," he said. "There really aren't words for all you have done for me and my family. God will give each and every one of you a new window, a new door because of all you have done to help in this difficult time.
"You all have never left me; you have been there for me, even if I haven't seen you every day. You have been there with me each and every step of the way."
Rejoining his family
Perez also spoke of the difficulty of family separation and pledged to continue to work to help people still in sanctuary or waiting for freedom. "I want you all to know that God is with you every step of the way to make sure you have the strength and fortitude to get through it," he said.
Kemper recognized Perez's family during the celebration, noting that his mother and mother-in-law were in attendance. Perez's mother, in from Guatemala for the occasion, had been to the U.S. once before in 2019.
His wife, Dora Gonzalez, speaking in Spanish, stepped up to thank the crowd, those in person and those who couldn't be present, and asked God to bless them. She thanked Kemper for allowing the family to stay together. She also acknowledged the many other families who are living in the same type of difficult circumstances, and said there is hope for change. "We have to keep the pressure on so other families can experience freedom like my family."
Perez's son Tony stepped up with a huge smile, "to thank you all for never leaving our side. All the people who've given us rides, who provided food, who just helped … I'm just happy to say my dad is coming home. Thank you, everybody. We love you all."
Journey since 1999
Lucio Perez came to the United States in 1999 at 17. He first worked in poultry factories in Delaware and later found work as a landscaper. He and Dora moved to Springfield, Mass., in 2008 with three of their children, all U.S. citizens.
In 2009, he came to the attention of Immigration and Customs Enforcement. After that, Perez started regular ICE check-ins and annual appeals for stays of deportation, all which were granted – until 2017.
That year, in September, ICE ordered Perez during his check-in to report back on the following Thursday with an airline ticket to Guatemala. While he kept that appointment and showed ICE agents a ticket for Oct. 19, Perez decided to take sanctuary after his request for a stay was denied at the last minute.
This year on March 5, after congressional intervention, ICE finally granted Perez a stay of deportation.
Third to leave UCC sanctuary
Under the Biden administration, which has pledged a review and overhaul of the U.S. immigration system, Perez has become the third immigrant to leave the sanctuary of a UCC church in the last few weeks.
On Feb. 24, after three and a half years in sanctuary, Rene Alexander "Alex" Garcia Maldonado was finally free to leave Christ Church, United Church of Christ, in the St. Louis suburb of Maplewood, Mo. The father of five U.S citizens faced deportation to Honduras.
On Feb. 10, Saheeda Nadeem was granted her freedom after almost three years in sanctuary at First Congregational Church United Church of Christ in Kalamazoo, Mich. "Auntie Saheeda," as she was known by her church community, faced deportation to Pakistan, a country in which she hasn't lived for almost 40 years.
Perez, protected from deportation for a year, will continue to work with his attorney to secure a future in the U.S. with his family. Massachusetts Congressman Jim McGovern has also introduced a private bill in a effort to provide him that legal protection.
"I wish I could come out there and hug every single one of you," Perez said, "because you will always be part of my family."
---
Related News
On a recent trip to Palestine and Israel, the Rev. Allie Perry was part of a delegation that...
Read More