Extreme weather, historic buildings: Congregations recover from, respond to storm damage
It has been a summer of strong storms that have carried deluges of water, strong winds and lightning to areas across the country. In some areas, this has damaged some of the long-established church buildings within the United Church of Christ.
Bethany Church was among many homes and businesses in the Montpelier, Vt., area impacted by catastrophic flooding in July. The month's rainfall in the city passed 12 inches, setting a record all-time high.
Water filled the church's entire basement and came into the first-floor level, causing over $500,000 worth of damage. Volunteers have helped the 200-year-old congregation to clean out water-logged areas in the building.
"As a result of the flooding, we lost everything in the lower level of the building," said Bethany's pastor, the Rev. Amy Pitton. This damage included "our Fellowship Hall, which was about to be utilized as a low-barrier emergency shelter for 20 unhoused individuals, our commercial kitchen which was used weekly for our free community meal — including a 10-burner stove, five refrigerators and freezers and all the food supplies — as well as our heating, plumbing and some of our electrical systems."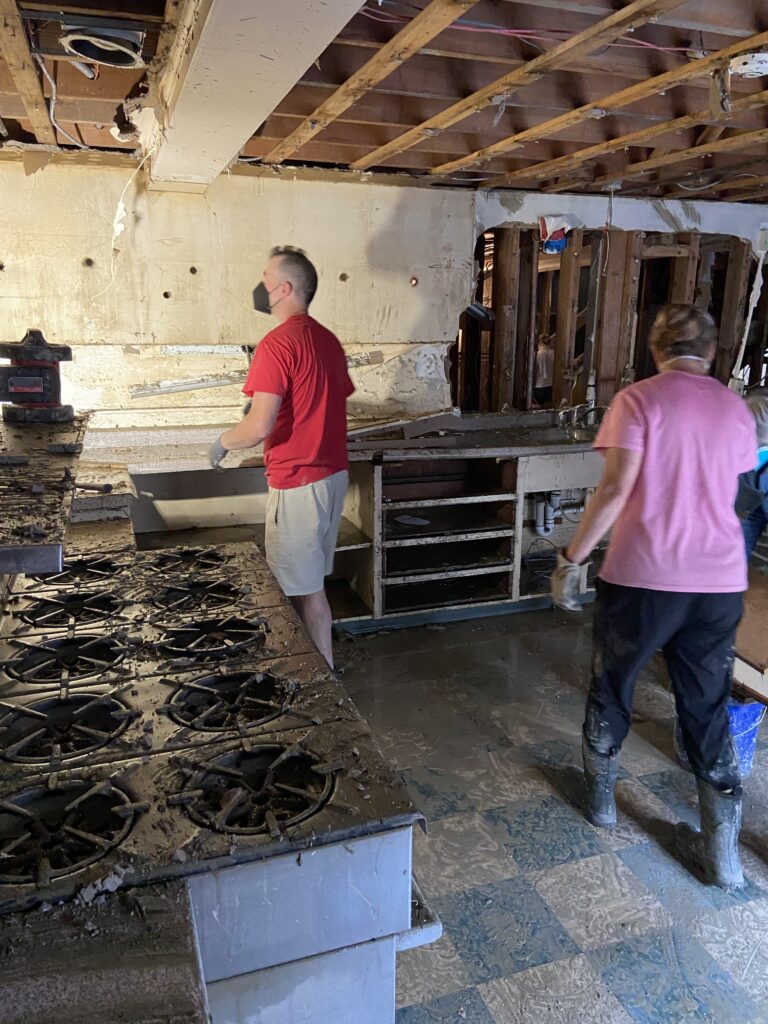 The congregation is working on cleaning and mitigating mold in the bottom level and restoring utilities by relocating the plumbing, heating and electricity to higher floors, above the flood plain.
'Adapt and change'
Noting that the church has flooded three times in the past 30 years, Pitton explained that "it seems imprudent to rebuild below ground level in this time of climate change. This will mean that our ministries, as well as our building, will have to adapt and change, and we will have to think of our ministries in new ways."
Pitton said they are hopeful to get back in the building for worship in October. Since the flood, they have worshipped with three other nearby UCC churches — Barre Congregational Church, First Congregational Church of Berlin and Old Meeting House in East Montpelier.
"We are grateful for their welcome and support," Pitton added.
'Present in solidarity'
To help with the recovery, Bethany Church received a solidarity grant from UCC Disaster Ministries. The Vermont Conference and the congregation have also created raised funds to address flood damage.
Solidarity grants are typically coordinated through the Conference disaster coordinator, said the Rev. Josh Baird, team leader for Wider Church Ministries' Global H.O.P.E.
"The Global H.O.P.E. team works with the amazing network of Conference disaster coordinators to support congregations, conferences and communities before and after disaster," said Baird. "Our collective experience and relationships enables the channeling of generous gifts from across the United Church of Christ to be present in solidarity when there is opportunity to help."
Severe storm in Illinois
In Johannisburg, Ill., St. John's UCC also experienced a severe July storm that tore off the steeple and damaged most of the roof.
The church property includes a former school house that was not damaged; the congregation is currently worshipping in that space while coordinating insurance adjustors and engineer reports.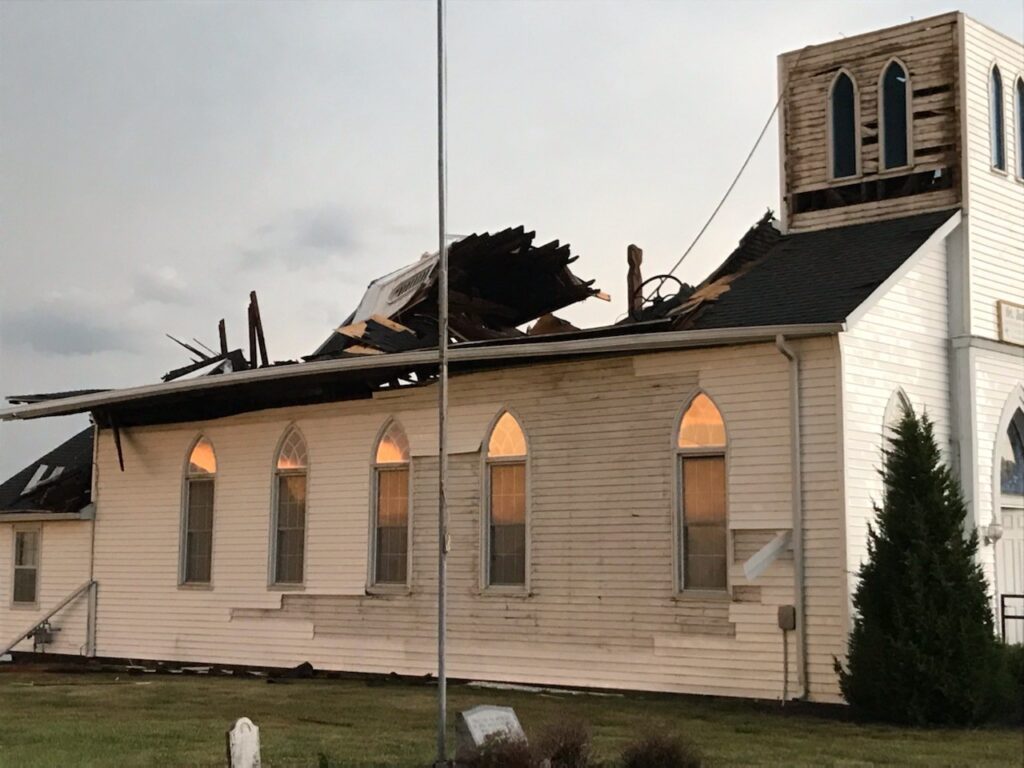 The surrounding community has been supportive in the wake of the damage, said the congregation's pastor, the Rev. Bill Groennert. Theirs is the oldest church in the county.
"Having recently celebrated our 185th anniversary, there is strength and confidence in knowing where we have been, where we are presently and where the Holy Spirit is leading us," Groennert said. "The congregation is very resilient. Our worshiping group is a demographic mix of young families with children and retired. They have had and continue to have a positive experience in their church life which gives them courage, confidence and strength."
'Mutual care and support'
Several churches have experienced fire damage caused by lightning strikes.
First Congregational Church of Spencer, Mass., was destroyed by fire, likely due to a lightning strike to the steeple in June. The 160-year-old church building was built after the original church building, erected in 1740, also burned down.
The congregation has since been worshipping with the nearby First Congregational Church of Leicester. The two churches share an interim pastor, the Rev. Bruce MacLeod, and have held joint worship services previously.
"When the fire struck the Spencer meetinghouse, we didn't have to worry about where we would worship. We knew," MacLeod wrote in a message to the Southern New England Conference. "It's almost as though God knew that we would need each other and drew us together for mutual support and care. It's almost as though God knew something we didn't. (Of course God knew.)"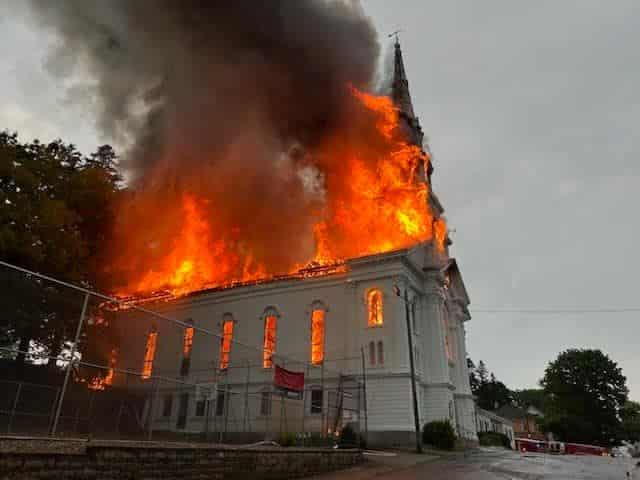 MacLeod expressed gratitude for support from the Conference and a broader outpouring of support as they assess how to move forward.
"I recognize that our meetinghouses are 'arks of the Covenant,' repositories of people's encounters with the holy," MacLeod wrote. "I care about this community, these people. I grieve for this ark of the Covenant, and those whose sacred moments lay in its safety. And I trust that God cares for them now."
Lightning strike in Indiana
St. Peter's UCC in Carmel, Ind., experienced a fire in late July. Like the Spencer church, the local fire department believes it was caused by a lightning strike from a storm that moved through the area.
While the fire was contained to the preschool storage area, much of the building sustained damage from smoke and soot. There is also damage from water and holes cut by firefighters in the process of containing the fire.
"First, what a blessing it is that no one was injured. Second, a prayer of thanks that our music director happened to be stopping by the church at exactly the right time to notice the fire, just as it began, so that she could call in the alarm," wrote the Rev. Dakota Roberts in a message to the Indiana-Kentucky Conference. "Giving thanks to God for safety and for our dedicated volunteers who have already begun working on best next steps."
The building will be closed while cleaning, restoration and remodeling work is addressed, with an operating goal of returning in a year, according to updates from Jon Kroehler, the building and grounds team leader.
The church has since held worship in a local event center and middle school.
National Preparedness Month
Baird recommends that congregations engage with Disaster Ministries' resources on preparedness. The Insurance Board also offers resources on severe weather.
Baird also noted that September is National Preparedness Month. This, he added, is am opportune time for churches to consider putting disaster preparations in place.
---
Content on ucc.org is copyrighted by the National Setting of the United Church of Christ and may be only shared according to the guidelines outlined here.
---
Related News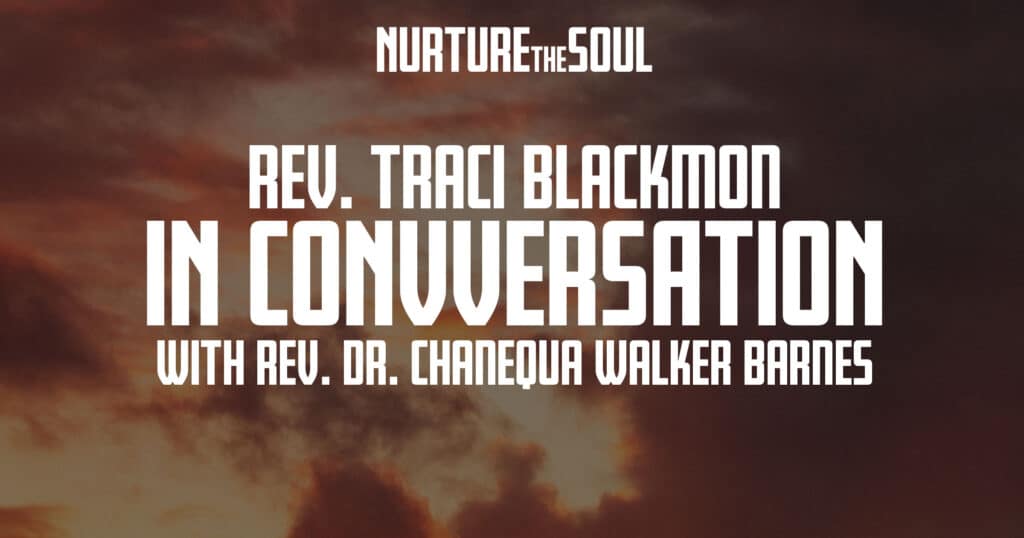 The impact of trauma and the need for self-care are vital -- and sacred -- topics for the...
Read More