Emancipation to freedom: UCC leaders commemorate failure, success and survival for Juneteenth
The United Church of Christ held its annual celebration and commemoration of Juneteenth virtually through reflections, music and spoken word poetry.
Leaders from across the UCC and beyond addressed themes inspired by the final chapters of Ibram Kendi's How to Be an Antiracist — failure, success and survival. The book has been the focus of the UCC's All Church Read.
The Rev. Velda Love, UCC minister for racial justice and Join the Movement lead, opened the virtual event describing Juneteenth as "both a cause for celebration and a call to action." She emphasized the webinar as part of the latter.  
"My blessing for our time together is to honor the lives of our ancestors of African descent who labored on plantations, suffered indignities and dehumanizing violence, yet fought for their liberation and believed their emancipation would sustain each generation," she said. "I pray they are peering through the veil for this, our commitment to remain faithful educators, storytellers, griots and courageous emancipators."
'Peel back the layers'
Renee Harrison, JTM resident historian and associate professor of African American and U.S. religious history at Howard University, moderated the event. She invited listeners to reconsider the "the popular single-story narrative" of Juneteenth that depicts the white Union Gen. Gordon Granger and his troops riding into Galveston, Texas, around June 19, 1865, and informing the enslaved people there that they were free. This centering of "valiant white men riding into town to free unaware Black people," Harrison explained, conceals the "hidden and egregious" aspects of slavery and the knowledge of Black people.
"Antiracism fails when we choose not to reexamine history to understand better how race and racism function from a place of power," she said. "We fuel that power when we retell and buy into an unexamined story."
Harrison invited people to instead "peel back the layers of the story."
"The fact is that most Black folks knew they were free and had yearned for freedom for years," she said. "They had been yearning for freedom and fighting towards freedom decades and centuries before the general read the order. Many had joined the abolitionist cause, served on the Underground Railroad, escaped and risked their lives to help others run, sued their owners, poisoned their owners, paid for their freedom and purchased their loved ones, and they even fought in the Civil War.
"In this process, did they foresee the possibility of an equitable and antiracist world?"
'We have to be willing to do more'
Speakers responded to themes of failure and success through sharing compelling quotes, recognizing ancestors and sharing personal experiences.
The Rev. Darrell Goodwin, Southern New England Conference minister, reflected on his experience becoming the first African-American, openly LGBT executive Conference minister in the SNEC and the first African-American executive Conference minister in the UCC. He honored the ancestors who "walked before" him and drew attention to Kendi's description of success being reliant on "what we are willing to do."  
"In the United Church of Christ, we have to be willing to do more than hire or call 'the first,'" he said. "We have to be willing to do more than center those things which make us comfortable — and center the reality of all of God's people. We have to be willing to de-center whiteness and center those who are on the margins and those who we deem to be minoritized. We must see my call as the first executive Conference minister of the Southern New England Conference not as a success and a privilege to me, but as a privilege that my ancestors have gifted to this church."
'The prophetic call to thrive'
The Rev. Danielle Buhuro, executive director and founder of Sankofa CPE Center, described Kendi's suggestion to treat racism "in the same way we treat cancer" with measures such as "chemotherapy or immunotherapy of anti-racist policies that shrink the tumors of racial injustice, that kill undetectable cancer cells."
But she emphasized the importance of moving beyond survival to thriving.
"We have been surviving for so long; what about thriving?" Buhuro said. "I wonder, isn't it time for us to do more than simply survive? What does it look like for us to thrive? What does it mean for us to courageously enter into the prophetic call to thrive?
"Maybe it means deconstructing our desires to want to work for white supremacy institutions," she continued. "Maybe thriving looks like spiritual entrepreneurship. Maybe thriving says I won't think that the golden carrot waved in front of me is just to work at the Fortune 500 company, but maybe thriving looks like the prophetic call to be executive director of a social service organization. Maybe thriving looks like starting a business for us, by us. Maybe thriving means doing ministry fresh and anew.
"What does thriving look like for you?"
Speakers who brought offerings to the Juneteenth event also included:
All Church Read
The Juneteenth event served as the culmination of the UCC's All Church Read. Materials, including a faith-based discussion guide and videos by Harrison that offer historical framing for Kendi's How to Be an Antiracist, remain available by registering here.
Kendi will keynote JTM's fundraising dinner at General Synod 34 on Friday, June 30 in Indianapolis.
---
Content on ucc.org is copyrighted by the National Setting of the United Church of Christ and may be only shared according to the guidelines outlined here.
---
Related News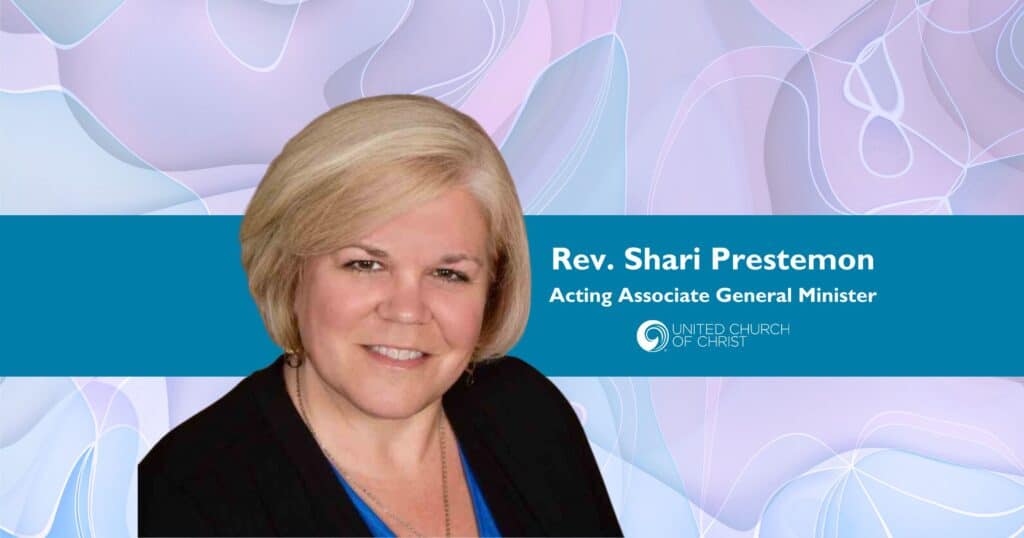 A new United Church of Christ national leader has been called. The UCC Board voted in a...
Read More