Corporate grants, church gifts, volunteers — all help people recover from floods
The United Church of Christ is using grants from the home-improvement chain Lowe's to help people recover from storm damage in Pennsylvania and Montana.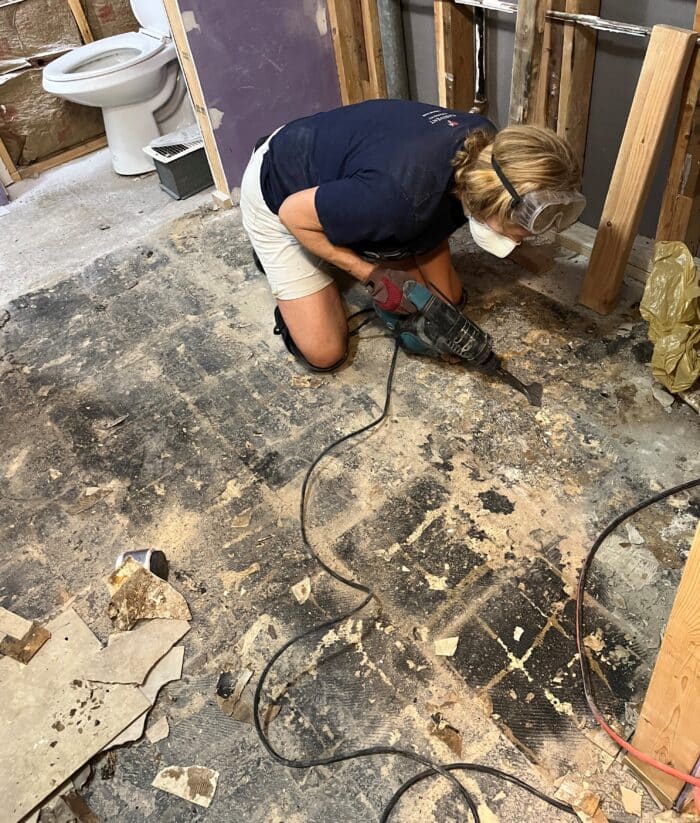 UCC staff and volunteers are working with local church and community groups to put the funds to work. The grants amounted to more than $25,000 in Philadelphia and $8,000 in Red Lodge, Mont. They're being used to replace storm-damaged doors, windows and more — supplementing government disaster funds and church gifts to help people keep rebuilding their lives.
In both states, the work is an example of the UCC's emphasis on long-term recovery after disasters. The process involves a network of regional Conference Disaster Coordinators, the UCC's national Disaster Ministries and Volunteer Ministries — and work with local partners to identify needs.
Flooding's 'unmet needs'
In Philadelphia's Eastwick neighborhood, work has been going on since August 2020, when Tropical Storm Isaias caused "devastating flooding," said Karl Jones. As disaster coordinator with the UCC's Pennsylvania Southeast Conference, he sits with colleagues from other religious denominations and community organizations around the Eastwick Unmet Needs Roundtable.
When disasters strike, such roundtables are gathered locally through a Long Term Recovery Group process. It's a practice outlined by a network the UCC belongs to — Voluntary Organizations Active in Disaster.
The Eastwick roundtable's roster shows the broad cooperation involved in recovery work. In addition to the UCC, its members represent:
Religious organizations, such as Lutheran Disaster Response, The United Methodist Church's Eastern Pennsylvania Conference, and The Salvation Army
Community nonprofits, such as the Eastwick Friends and Neighbors Coalition, Eastwick United Community Development Corporation and The Elevated Studio
Government representatives from the City of Philadelphia's Office of Emergency Management, Office of Sustainability, and Housing Development Corporation, and Pennsylvania's Office of Emergency Management
In Isaias' aftermath, the roundtable "identified 50 families who needed help with rebuilding of homes and replacement of heating and cooling systems," Jones said.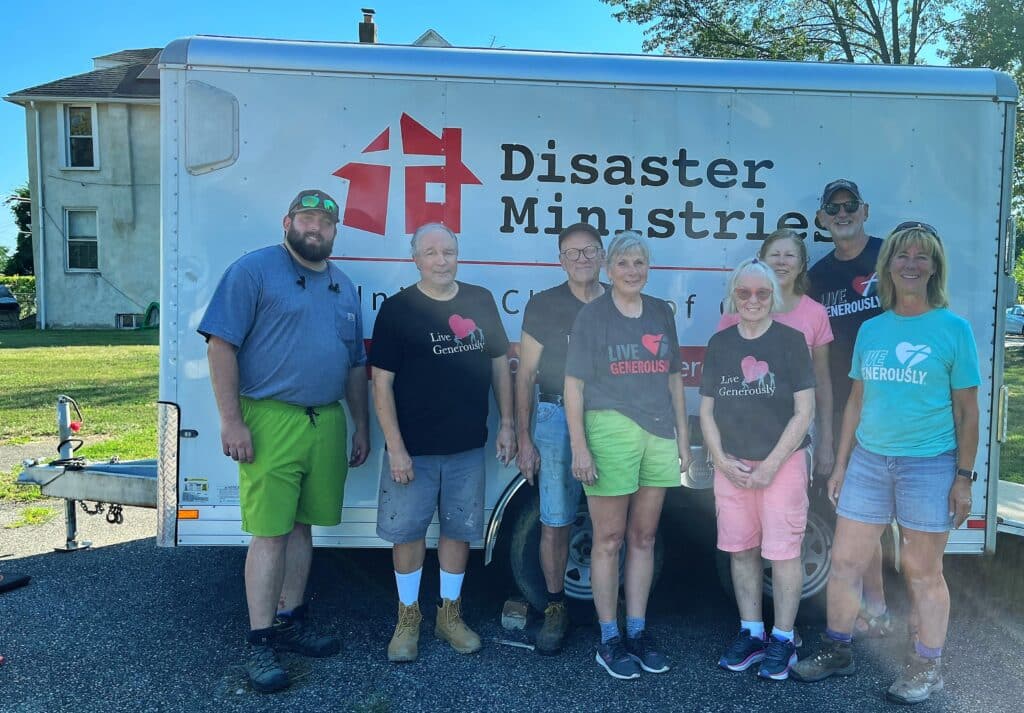 Gift of store credits
In early 2022, through VOAD, the availability of Lowe's grants caught the attention of Jones and Lesli Remaly, who serves with UCC Global H.O.P.E. as minister for disaster response and recovery. They applied. In June they received "$25,000 in Lowe's store credits and $3,500 for administration," Jones said.
"This grant is supporting the installation of doors, windows and garage doors for about 10 homes, which will go a long way to ensure that the remaining cases can be completed by the end of the calendar year," Jones said. "These doors and windows will be installed by volunteers skilled in general construction and carpentry, as well as those willing to learn."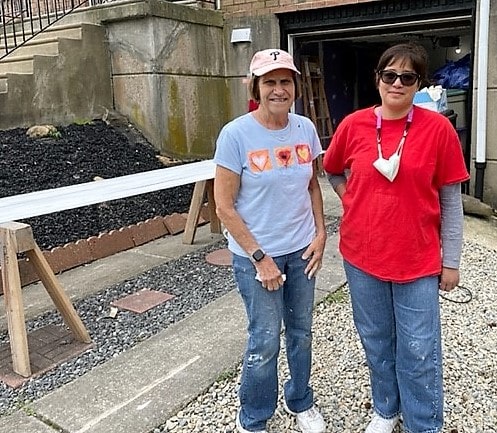 In all, since Isaias, "volunteers have contributed 4,000 hours to date" in Eastwick, Jones said. "Contractors have installed 26 air handlers and six hot water heaters, as well as repaired electric and plumbing in several homes."
The UCC is involved in the Eastwick work in several ways.
One of its leaders, Construction Coordinator Eileen SanPedro, is herself a an Eastwick resident. She is serving through UCC Partners in Service, which is also a program of the Global H.O.P.E. team.
"The UCC has provided grant funding and the services of four UCC Partners in Service," Jones said. "Salt and Light Community Church, UCC, has provided housing in their facility for the volunteers."
Yellowstone-area floods
The recovery grant in Montana — consisting of $8,000 in Lowe's gift card — came on Oct. 21. It's in response to June floods in and around Yellowstone Park. President Biden declared that storm a disaster on June 16.
In Red Lodge, not far from an entrance to the national park, Rock Creek overflowed, damaging homes, businesses, roadways, bridges and more.
Remaly said community participants in the Red Lodge area have been gathering to assess needs and strategies, including the use of available funds. The Lowe's grant resulted from an application by UCC Disaster Ministries and the Montana–Northern Wyoming Conference, in cooperation with the Red Lodge Area Community Foundation and the Carbon County Long Term Recovery Group.
Representing the UCC around those decision-making tables is the Rev. Pam Peterson, pastor of Red Lodge Community Church, UCC. She also serves as Montana–Northern Wyoming's disaster coordinator.
'Recovery takes many years'
Remaly said she appreciates corporate support as one of many sources of funding to help people recover from disasters like those in Montana and Pennsylvania. "Lowe's and Home Depot often offer grants for recovery, and in the last couple of years Lowe's has offered these grants through National VOAD member agencies," she said.
"Disaster Ministries is a National VOAD member and we were pleased to apply on behalf of these groups we have been supporting through the the efforts of Conferences and Conference Disaster Coordinators."
"Long-term recovery from disasters takes many years and is a very slow and difficult process for survivors," Jones said. "However, grants like this and the work of our volunteers rebuild homes and lives and bring hope into a community."
---
People can learn how to donate financially toward particular UCC disaster-response efforts here. Information on all kinds of ways to help in response to disasters is here. Disaster recovery work is also supported by gifts to Our Church's Wider Mission, One Great Hour of Sharing and The Annual Fund.
---
Content on ucc.org is copyrighted by the National Setting of the United Church of Christ and may be only shared according to the guidelines outlined here.
---
Related News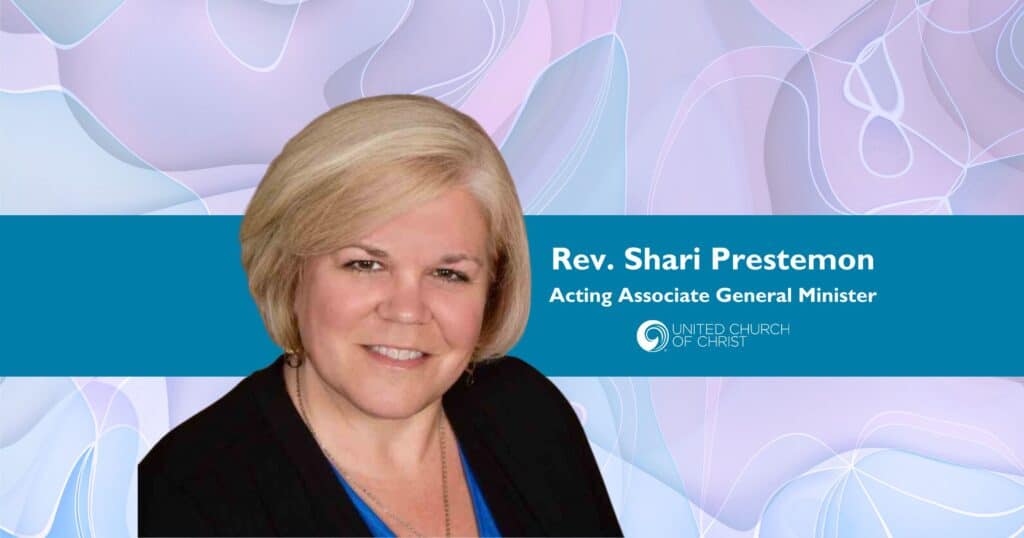 A new United Church of Christ national leader has been called. The UCC Board voted in a...
Read More