Church in 'liminal space': Virtual summit's opening worship examines shift in post-pandemic world
What is a "liminal space"? And what does it mean for churches in a world of online worship, global shifts and COVID-19?
Identifying this was the central theme throughout the Sept. 19 opening worship of the United Church of Christ's virtual summit, "The Space Between: The Emerging Church in a Post-Pandemic World." The Rev. Shernell Edney Stilley, summit chaplain and associate conference minister for the UCC New York Conference, led the half-hour, prerecorded service.
"Some of you may be asking yourself, 'What is the liminal space?'" Edney Stilley said in her introduction. "Quite frankly, it means something different for everyone."
The UCC originally planned to hold the summit as a hybrid event, with in-person gathering space in St. Louis. Yet the ongoing realities of the COVID-19 pandemic caused UCC leaders to pivot quickly to a fully online event — a reflection of the many shifts that have happened during the past two-and-a-half-years.
What church looks like now
Since March 2020, churches everywhere have dealt with the pandemic in different ways. Churchgoers have worshiped from couches and cars. They've tuned in for church via livestream or prerecorded video, on Facebook and YouTube. And they've participated in drive-through communion, outdoor Bible studies and Zoom-enabled choirs.
Now, church leaders are examining what church looks like as the world tries to emerge from the COVID-19 pandemic. More than 150 participants gathered on Zoom during the summit's first day. Many introduced themselves in the chat, coming from churches, Conferences and communities across the country, from California to Florida, Oregon to Ohio, and elsewhere throughout the United States.
Beginning with worship, they are digging into deep questions about the church's history, present and future.
'Not now, and not yet'
"What the liminal space looks like for me is the space between notes, or the improv between notes in jazz."
That's how the Rev. J.M. Triplett defined liminal space. Significantly, music is their framework. During the virtual worship, Triplett sang "Alpha and Omega," written by Erasmus Mutanbira, recorded in a sanctuary, before sharing their thoughts.
"It is the space where you have multiple places of destination: a place where you come from and a place where you're going," said Triplett, who serves as minister of innovation and technology at Salem United Church of Christ in Farmington, Mich. "And that space in between — the unknown, the exciting, the fearful, the anxious, the faithful space — that is the liminal space for me."
Salem's senior pastor, the Rev. Lawrence T. Richardson, also described the in-betweenness of this moment in history.
"The liminal space is, as Susan Beaumont says, a 'threshold' space," he said. "It's the space between 'not now' and 'not yet.' It's the space where things aren't familiar, and things are changing. And yet we don't know where exactly things are headed."
The Rev. J.J. Flag, pastor of Emmanuel Congregational Church in Watertown, N.Y., echoed this paradox.
"I would say, in theological terms, liminal space would probably be something that we would define as the 'already' and the 'not yet,'" Flag said. "The fact that God is love and has shared God's love with us, and yet the world does not reflect that all-consuming, all-encompassing, wide-reaching love, is evidence of 'already' and 'not yet.'"
Major shifts
The Rev. Josh Lee, co-pastor of the interdenominational Forefront Church in Brooklyn, N.Y., discussed how major shifts in Christianity have occurred about every 500 years:
The Protestant Reformation in the 1500s.
The Great Schism between the East and West churches in 1054.
The fall of the Roman Empire in the 5th century, which "completely shifted and changed the trajectory for Christianity."
And the birth of Christ and Christianity itself.
This moment, Lee indicated, could be the next major change.
For the Rev. Amy Johnson, UCC minister for sexuality education and justice, liminal space also has to do with the shifting of society — and some of the backlash to those changes.
"I think that this looks like an awareness and an increase in waking up to the beautiful diversity of the divine and the creation and the kin-dom of God," she said. "And when that happens it also looks like bodies reacting to those waking-up feelings and knowings with fear."
Because of this "waking up," Johnson said, those in power feel threatened and have increasingly attempted to "control bodies."
"And examples of this include that we are seeing an increase in restricting voting rights for Black and brown and Indigenous bodies to vote, to change the system," she said. "We're seeing an increase of an awareness about Black and brown and Indigenous and trans bodies being murdered by those holding state power."
Johnson also pointed to recent legislation that targets the LGBTQ+ community, as well as the overturning of Roe v. Wade and ensuing restrictions on reproductive health care.
'Never forget who you are, or whose you are'
In the face of catastrophe and major change, remembering the core of our faith and self-belief can help anchor us, the Rev. Yvonne V. Delk explained in the video.
Delk, the first Black woman ordained in the UCC, recalled a story about an earthquake that devastated a community. All the buildings, including the church, had crumbled.
"The only thing that was left standing was an altar," Delk said. "And the priest who was telling the story simply said this: 'Sometimes it appears that God turns everything upside down to reveal that which cannot be shaken.' That which has a core. That which can be an anchor. And, for me, when I find myself in that space, where everything is shifting around me in an amazing kind of way, it causes me then to have to dig deep inside of myself to find that which is core to my existence.
"It's like when our mommas and daddies used to say, 'Never forget who you are, or whose you are.' Those are core principles."
Many participants responded appreciatively to Delk's prerecorded words in the Zoom chat as they watched.
"Thank you, Rev. Delk!" wrote the Rev. Martha Koenig Stone, pastor of Henrietta (N.Y.) UCC. "You have been a symbol of that core for me since I was a little girl. Such a blessing."
"Oh, Yvonne Delk, it has been a long time since I heard your voice," added Monday's keynote presenter, the Rev. Jacqui Lewis. "Love it and you."
"Thank you, Dr. Delk, for the reminder of our anchors," said the Rev. Terry Yasuko Ogawa, area minister for the Southern New England Conference's Northwest Region.
Prayers lifted up in Zoom chat
During a time for reflection and prayer, a recording of "In the Bleak Midwinter" performed by the Rev. Tom Ryberg played over images of labyrinths and mazes. Ryberg is a UCC minister and musician.
A voiceover by Ellie Ryberg recited Isaiah 55:8-13: "For my plans are not your plans, nor are my ways your ways, declares the Lord."
In the chat, summit participants uplifted many prayers, including:
For those afflicted by COVID, especially the immunocompromised
For refugees in the United States and around the world
For all who are targeted by hate
For all creatures threatened and impacted by wildfires
For those working elections
For the vulnerable and suffering everywhere
For those who grieve what has been lost, and for those who are itching to move into discovery of the new
For children everywhere.
Looking ahead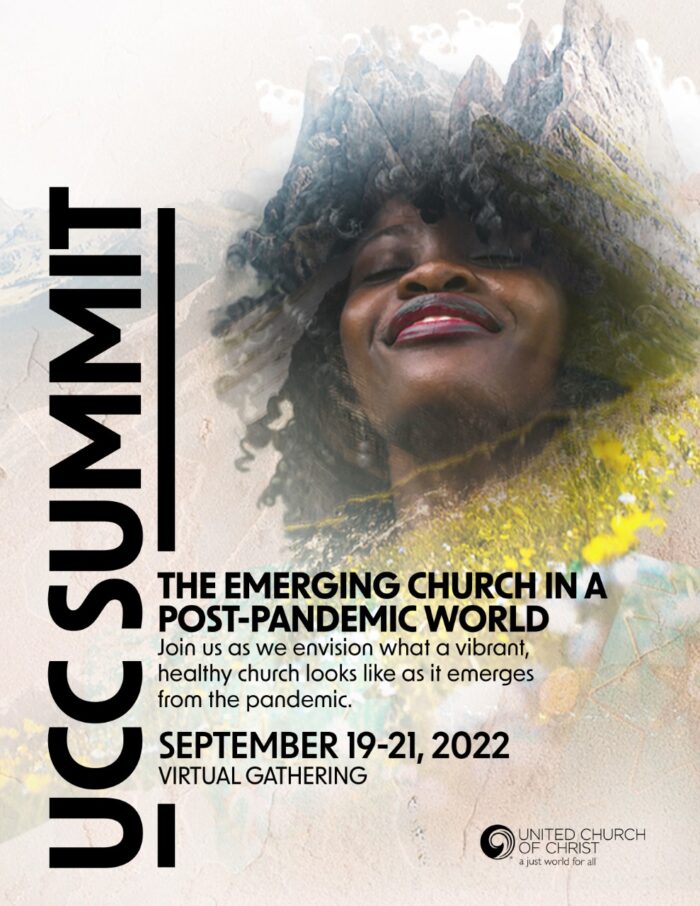 More music by Triplett bookended worship, as they sang "When Peace, Like a River (It Is Well with My Soul)."
"What a gift this glorious music is!" said Sherry Warren, UCC gender justice minister, in the chat.
In the recording, Edney Stilley — with a cosmic virtual background of stars and nebulae – exclaimed, "That singing that Rev. Triplett did was out of this world."
Finally, Edney Stilley reminded participants about contemplating the meaning of liminal space as the summit proceeds over the next two days.
"Day one led us in attempting to identify the liminal space," she said. "How do we know that we are inside of one? And what are the many ways that it can express itself in our lives? Well, hopefully, you have been able to tap into a little bit of how to identify your own liminal worship space so that the worship can be that much greater, with your participation tomorrow."
Afterward, the Rev. John Dorhauer, UCC general minister and president, remarked live on Zoom that the worship was "so spiritually grounding and enriching. And the music, as many have noted in the chat, absolutely spectacular."
The summit will continue Sept. 20 and 21 on Zoom.
---
Content on ucc.org is copyrighted by the National Setting of the United Church of Christ and may be only shared according to the guidelines outlined here.
---
Related News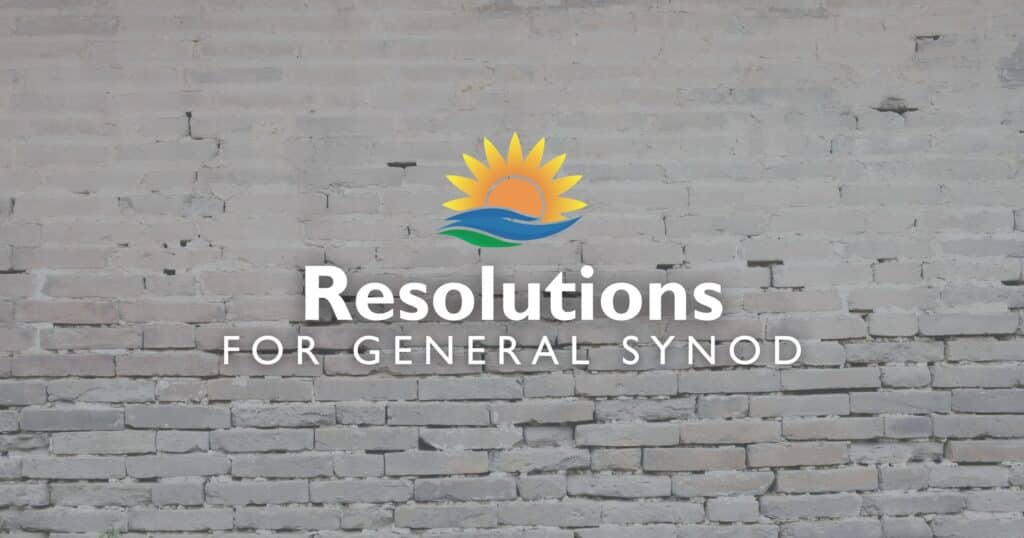 The 2023 General Synod of the United Church of Christ will consider 17 resolutions...
Read More