Youth and Young Adult Resources
Not 18? You can still make your voice heard!
Just because you're not old enough to vote doesn't mean you can't be involved in the elections. In fact youth voices are needed more than anything in politics. Throughout history, political leaders have looked to young people as a source of inspiration. Elected officials love to talk about what youth "want" or "need." In the elections, let's speak for ourselves.
There are a number of ways to get involved in the elections and make an impact on our country's future. Get together with your youth group and engage your local congregation and community. On this page you'll find ideas from the UCC's Our Faith Our Vote campaign on how you can get engaged!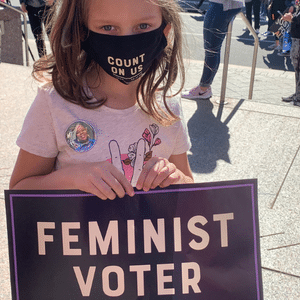 "Shout out, do not hold back! Lift up your voice like a trumpet!"

Isaiah 58:1
Registration Ideas
Just because you can't vote doesn't mean others shouldn't. Sometimes people just need to be reminded that it is their privilege and their duty to vote. Jog their memory and sign them up!
Set up a voter registration table before and after church.
Register people at church suppers, coffee houses and other events.
Go out into your community and register voters at the local shopping center, grocery store, fair, baseball game, etc.
Encourage your school administration to hold a registration drive or include voter registration cards with high school diplomas.
Plan a coffee house or a concert. Not only will this provide an opportunity for your buddy's band to perform in front of a live audience, it will provide you with a room full of people ready to register to vote.
In the weeks leading up to the elections, invite your congregation to a series of movie screenings. You can show fun elections related films or serious documentaries on issues you're interested in – However you want to do it! Set up a location, invite your congregation, pop some popcorn and get them signed up to vote!
Get Out the Vote
If you have a license, volunteer to drive individuals to the polls. You've finally got your license – put it to good use!
Organize or participate in phone banking or canvassing.
Volunteer to provide child care or to walk peoples' dogs while they vote.
Make signs and put them up around town reminding your community to go to the polls. Maybe even put an election day countdown outside your church!
Youth Ministries or Sunday School
Do you lead the youth in your congregation or teach Sunday School classes? Why not use that as an opportunity for discussion. Here are some sample questions to get you started.
Why do you think voting is important? Why do you think some people don't vote?
Who is running for office and what do you think they stand for?
How do you believe people should be treated in our society?
What things do people need to live a good life?
What are a few local, national, and international problems (that you see on TV or in the newspaper), and what can we do to help solve them?
What are some examples of public policies from that past that were harmful to people (e.g. slavery, the Holocaust, lack of voting rights for women and minorities)? What does our faith or ethics tell us about these policies?
What are issues being discussed in the campaigns that have moral or ethical dimensions (e.g. hunger, environmental protection and education)? Explain both sides of the debate.
What did Jesus say about taking responsibility for our society?
Can you name some New or Old Testament figures who were part of the political debate of their time? (Moses and the law, the prophets, etc.)
Activities:
Have a "Love Your Neighbor: Vote" poster contest in your church or community, or ask youth to create posters or fliers that inform their congregation and community about the upcoming elections.
Create an "investigating political reporter sheet" and have youth interview family, congregation, or community members with several questions: Have you ever voted? Are you registered to vote? Did you vote in the last election? Do you plan to vote in this election? Is it important we vote? If so, why? What issues concern you? Which presidential candidate do you think best represents your views? Why?
Become media watchdogs and examine election coverage. Use our Media Monitoring guide.
More Info and Helpful Links

Get Involved. Answer the Call to Action.
Questions? Contact UCC.
Jessica Quinn
Online Communications Specialist
UCCTakeAction@ucc.org