College Resources
College campuses are the ideal place for election engagement.
Colleges are natural places to discuss ideas and they bring together a wide variety of people to one central location. Campuses are home to people from a range of backgrounds and faiths. Every member of the campus community can become part of the UCC Our Faith Our Vote campaign.
To be most effective we suggest that you try working with the college presidents, dean of students, student leaders, chaplains, registrar, and employee groups in developing creative and effective ways to both encourage voter registration and increase voter participation. All of the people will have ideas to share and if your energy inspires them to get involved they will be able to help strengthen and broaden your efforts.
There may be other organization on campus registering voters, holding rallies and making phone calls to get out the student vote. If you have a group of UCC students or students of faith, it might be helpful to work as a group within a larger effort –  unless of course your group is the only one doing election work or is large enough to run a campus program of your own!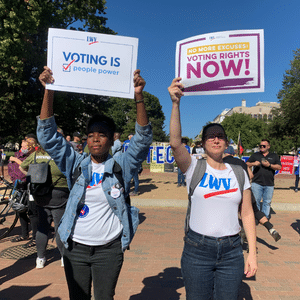 Want to get out the vote and get engaged on your campus? Keep scrolling for a list of ideas!
Voter Registration
Many college students are newly eligible for vote. Others might be registered at home but not in the state where they attend school. Students live in the area a minimum of nine months out of the year so some may want to register locally. Here are some ideas for voter registration:
Attach voter registration forms to course registration or set up a registration table by the registrar. If your school does online or phone registration, ask to add messaging encouraging all students to register and informing them of where they can do so. Be sure to coordinate with the registrar!
Include voter registration information in paychecks, with student loan disbursements, and course catalogs.
Work with the Dean of Students or head of student life to include presentations to students during orientation. There you can distribute voter registration materials and help new students get registered.
Mass mail registration forms to all students. Consider including faculty and staff!
Encourage faculty to discuss and distribute voter registration materials in class. Here's where having the support of the Dean or some Department Chairs will be useful.
Have a party! Invite a local band to play, sponsor an ultimate Frisbee tournament or get student life or campus ministry to sponsor a cookout. While everyone is gathered get them to register!
Set up a table outside the cafeteria, sporting events, concerts, plays, etc.
Go door-to-door in the dorms, or better yet, get Residence Assistants to help you! R.A.'s are typically required to host periodic social events with their residents. Ask them to do an election themed event and register everyone on their floor!
A few things to remember:
It's important that you have both federal and state voter registration forms on hand. Some people may register to vote locally, others may prefer to use their home address.
Encourage people to register locally – most students live in or around campus for nine months of the year for four years. They can establish residency and often stay close to school after graduation. They can vote where they live!
Include absentee ballot information with all voter registration material.
Even if you make registration forms available to everyone on campus, your work isn't done! You need to establish a system to collect all the completed forms. Set up secure drop boxes in high traffic areas or establish a campus mailbox the forms can be sent to.
Opening a Polling Place on Your Campus
If you are interested in opening a polling place on campus, you will have to begin planning well in advance of election day. Here's where having the involvement and the buy in of your college administration will enhance the success of the project.
Contact the local elections official and see what is required to operate a polling place on your campus. College campuses are ideal polling places because they offer ample space, usually have plenty of parking, and are accessible to handicapped people. Plus, opening a polling place will make it easier for people to vote between classes and will increase your voter participation.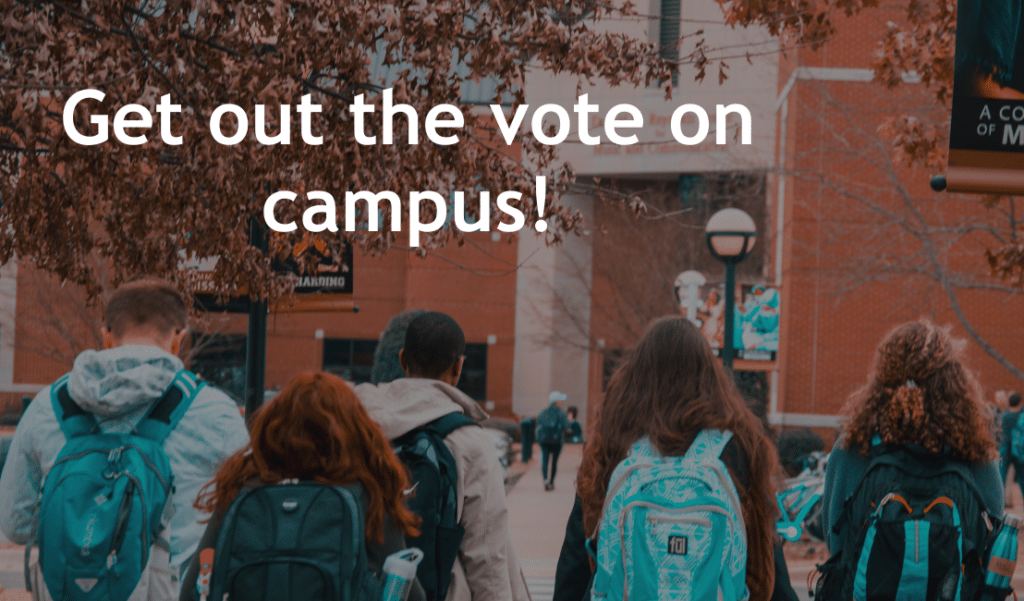 Absentee Ballots
Providing absentee ballots will increase voter participation significantly. Many students and even some professors may be registered to vote at their home address. You can help make it easy for them to vote by providing the address of the local election official so they can contact them to obtain an absentee ballot. You may want to create a form letter for people to use when requesting an application. Each jurisdiction has different laws and regulations for absentee voting, so each person should contact their elections office to get further information on when the applications and ballots are due.
Keep a list of people registered to vote at their home address. Contact them about three weeks before the election to be sure they've requested their absentee ballot, and again about one week before the election to be sure they have mailed the ballot back to the appropriate elections office. It may be useful to send campus wide email reminders or hang signs to remind those voting absentee. Get state-by-state absentee voter rules from Long Distance Voter.
Organize a Candidate Forum
Candidates for office at all levels love to visit college campuses. It gives them a chance to connect with young voters and be seen in an academic setting. Holding candidate forums helps open up the communication between candidates and their constituents and gets people interested in an election. Here's some ideas to help you get started.
Invite the candidates – Send an invitation to the candidates well before the event and follow up with a phone call. It may take time to find a date that will work for the schedules of the candidates in the race. Be flexible.
Plan the format – There are many ways to set up a candidate forum. Here are some comment formats: (1) Allow the candidates to give prepared remarks and have the audience ask follow-up questions. (2) Have prepared questions to ask the candidates on issues important to your community. (3) Pass out index cards to the audience to write questions and pass them in to be read. (4) Leave time at the end for candidates to give closing statements. Give candidates the same amount of time to make their closing remarks. Make sure to have your moderator thank the the candidates for their attendance and remind people of voting day and encourage them to get out and vote.
Publicize the event – Include brief notices in the newsletters of churches, campus groups, community-based organizations, and other groups related to the ministry of your UCC church or your school. Ask your campus radio station and other media sources to run public service announcements. Ask to be listed in calendars of events in the local newspapers. Display posters in high traffic areas.
Inform the press – Invite the local newspaper, campus media outlets and TV stations to cover your candidate forum or debate. This is a great way to get coverage of the issues to a broader audience. It also gives us a chance to show that your campus and UCC churches are engaged in the political process.
Further Guidelines (These may not apply to your school, but do apply to church sponsored events and non-profit activities):
Appearing at separate events – You are not required to have all candidates speak on the same date or at the same event. However, you must provide equal access to other candidates in the same race. No campaigning or fundraising should take place.
Limiting the number of candidates– If the number of candidates for particular office is too large to be practical during a forum or debate, you can limit the number of invitees provided that you adopt and consistently apply the reasonable and objective criteria for deciding between candidates.
Speaking as a non-candidates – Sometimes candidates who are public figures or are experts in a particular field outside of their candidacy are invited to appear at church-sponsored or school-sponsored functions. They are welcome to come and may be acknowledged just as any visiting dignitary might be, provided that they are not invited to use the occasion as a platform for their candidacy and do not mention the election or their candidacy.
Debate Screenings
Screening a debate is a simple way to get people interested in the elections. Arrange a place to view the debate (maybe a large gathering in the theater or a small group in your dorm or student center). Promote the event with posters, campus wide emails or a facebook invitation. If you can provide food all the better. Once every one is gathered, watch the debate and leave time at the end for discussion. It may be helpful to invite a moderator to keep things ordered and respectful. Screenings are great ideas for residence life staff who need to plan social events. They are also a terrific opportunity to get people to sign up to vote.
Voter Files
A voter file is a list of names, addresses, phone numbers, and party registration that is maintained by your local elections office. This is public information and you can purchase it for a nominal fee to use in your Get Out the Vote efforts. If you copy all the voter registration forms before you send them in to the elections office, you may not need to invest in the list.
Phone or Text Banking
Phone or text banking is the easiest and fastest way to contact people and urge them to vote. You will need a list of names, phone numbers, and a bank of phones. Call or text to remind people to vote and give them clear directions to nearby polling places. Typically, you will want to contact voters the night before the election and remind them that tomorrow is Election Day. This can be even easier on a college campus where most forms of communication – campus email, phone systems, a campus post office – are easily accessible.
Canvassing
Canvassing is walking through dorms or neighboring precincts, and knocking on doors reminding people to vote in the election. Canvassing provides a cheap and effective way to distribute voter education materials. Using your voting list, start walking through the neighborhoods and dorms knocking on doors of registered voters. When you approach the door, identify yourself and tell them why you are there (to make sure they remember to vote). Leave materials with them – including directions to the polling places and the voting hours.
Remember: Do not endorse a particular candidate or political party. You are not advising people how to vote. If you want to promote a particular candidate, sign up with one of the campaigns to engage in this activity.
In general, canvassing should not be done on Election Day, since you can reach more people faster with a phone call than knocking on doors. Canvassing is good activity for the weekend before the election as a last-minute voter education tool.
Public Announcements
Ask your campus radio and TV stations to broadcast public service announcements in the days before the registration deadline and the election, reminding people to vote. Put up table tents in the cafeteria, the library, and the student union urging people to vote. Make sure to list the date of the election, polling locations, and what time the polls open and close.
Voter Transportation
One of the most useful things you can do is provide voters a ride to the poll. Try to enlist the help of your campus transportation. Does your school have a shuttle? Does your university own buses or vans for transporting sports teams? See if you can get the college to pledge some time, vehicles and drivers. If not, maybe you can get together a crew of students who are willing to car pool. Arrange a meeting place and head to the polls. Make sure to publicize your transportation options.
On Election Day
Make yourself visible – This could range from standing on the side of the street with signs saying "VOTE," to leafleting the parking lots with fliers reminding people to vote before the polls close. Emails and table drops in the cafeteria can be helpful. Be creative!
Be a poll watcher – Some states permit representatives of nonpartisan citizen organizations to observe polling places. Contact your local elections officer to find out requirements your organization must meet to serve as poll watchers. Or sign up as a volunteer through Election Protection.

Get Involved. Answer the Call to Action.
Questions? Contact UCC.
Jessica Quinn
Online Communications Specialist
UCCTakeAction@ucc.org