'Without interrupting,' listen to the need for repair in church and society, webinar urges
The false theory that people from Europe are better than everyone else has caused centuries of carnage. Genocide, land theft and slavery were its results. The church is guilty of all of that — and of continued silence about it.
But the damage is not beyond repair. It will demand the hard work of telling the truth. In particular, it will require white Christians to listen deeply to oppressed peoples' stories, believe them, and then repent — actively.
Those were among the points made in a June 9 United Church of Christ webinar, "Reparatory Justice and Reparations: Truth-Telling, Conciliation and Healing."
The 90-minute video, now available at the UCC YouTube channel, set the stage for interactive programs that individuals and churches will be invited to delve into in the coming months:
Starting this summer and fall, Join the Movement Toward Racial Justice will become the successor of the UCC's four-year 3 Great Loves campaign. More details on that transition — and the new movement — will be announced at General Synod in July.
In 2022, an online "learning platform" — with the same name as the webinar — will debut at the UCC's Racial Justice Ministries web page. The Rev. Velda Love, minister for racial justice, described the platform as "an interactive, educational study guide" that will "address the many intersections of reparatory justice and reparations for the Christian church in the 21st century."
'Let's not fool ourselves'
Conference Minister Edith Guffey of the Kansas-Oklahoma Conference set the tone for testimonies and analysis that would follow from African American, Latinx, Indigenous and other perspectives. She noted that "study after study" has shown the continuing impact of racism on the lives of people of color.
"People have been telling the truth for some time, but people have chosen to ignore the truth," Guffey said. "When something is wrong, the first step to making it right is to tell the truth. The next step is just as important: ownership of the truth. Personal ownership of the truth leads to the possibility of repair."
And much is at stake, she said, when it comes to promoting that kind of ownership in the UCC. "Except for a handful, all of our members here in Kansas-Oklahoma are white. Our churches are located primarily in small towns, and most have not even started to engage questions of racial justice and equity.
"And let's not fool ourselves. Many UCC members in urban and suburban areas are also uncomfortable with difficult conversations about systemic racism and white supremacy. Truth-telling may be basic, but it is not easy. … It is going to be hard work, and it is going to be personal. But it's the only way that we will begin to move toward repairing the brokenness that is very real in our country. It is real in our communities, and, yes, it is real in our churches."
Reflection and action
Then came examples of truth-telling, from members of a group Love has formed to work on the new platform. Besides Love and Guffey, webinar speakers included: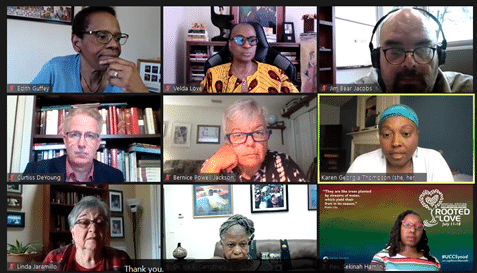 Also serving on the team are four other national UCC staff members: the Rev. Trayce Potter, Minister for Youth/Young Adult Engagement; the Rev. Monica Dawkins-Smith, Executive Associate, Wider Church Ministries; the Rev. Rebekah Choate, Global Advocacy and Education Associate;and the Rev. Brooks Berndt, Minister for Environmental Justice.
The webinar also planted seeds for study and action on what reparations and justice might look like. Jackson and Carruthers spoke, for example, of how not only churches but government and corporations might be held accountable. Hamlin discussed a bill currently in Congress, the "Commission to Study and Develop Reparation Proposals for African Americans Act" (H.R. 40).
'Asking you to do your work'
Love encouraged viewers to take advantage of more webinars, teach-ins and other resources that the working group will develop in the coming months. "We are leading this charge with you and not for you," Love told viewers at the end of the webinar. "We're asking you to do your work."
"The recovery of story will require that the always-speaking voices in society and in the church must quietly listen," Jaramillo said. "Without interrupting, listen to the stories of our siblings who have been historically oppressed. Make space for them to be heard. Listen. Listen. The truth will emerge. Believe them. Believe us. Imagine the glorious tapestry that will appear if we believe them."
---
Related News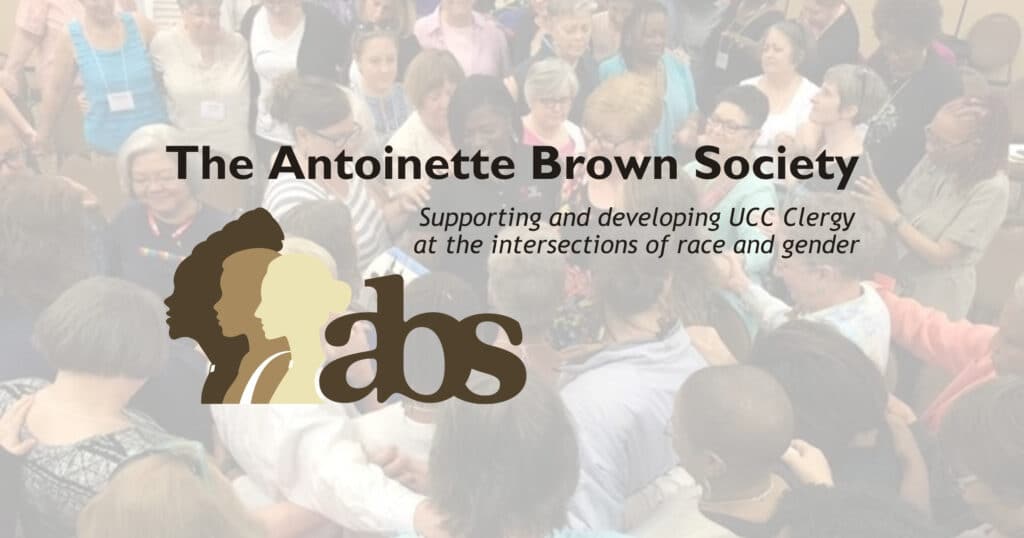 As Women's History Month wraps up, the Antoinette Brown Society is offering a limited-time...
Read More