WIC on Wheels
Serving community — mobile clinic reaches community isolated from WIC services
By Hope Watson

Sarah,* a young mother, was faced with an incredible challenge:
her nine-month-old daughter couldn't consume solid foods — or any food, for that matter — and as a result, the child wasn't growing adequately.
Willing to try anything, Sarah would feed her daughter new foods in the hope that her daughter's body would finally accept some type of nourishment. Time and time again her hopes were dashed.
Enter WIC on Wheels of Lancaster, Pa., a program sponsored by the Pennsylvania Department of Health. The mobile clinic brings WIC (Special Supplemental Nutrition Program for Women, Infants, and Children) directly to communities and offers services such as healthy foods, nutrition education and healthcare referrals.
The mobile clinic has been a godsend for Sarah and her daughter. It was there that Sarah was given a voucher to purchase Elecare, a lifesaving formula for her daughter.
Sarah's daughter has gained strength, and her sensitive stomach has become more agreeable to some foods with the help of the mobile clinic's nutritionist.
This is one of the stories of impact provided by Bread for the World. One Great Hour of Sharing has been a long-time supporter of Bread for the World and its mission to end hunger.
Image by Joseph Terranova, Bread for the World.
---
Related News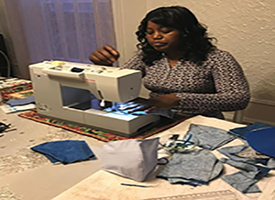 "It's so good making masks because it helps the community," said Sandra, a Congolese refugee...
Read More