An unexpected journey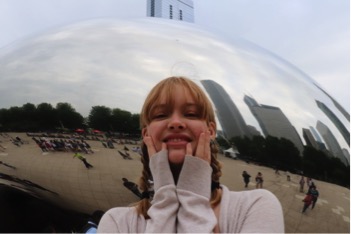 When I first decided to join Summer Communities of Service (SCOS), I must admit that I was wary. I was completely unsure of my spirituality, and I was very worried about dedicating myself to a summer full of exploring that. However, the benefits of being able to work with kids for two months during my summer highly outweighed the "costs" of working in Ellis Avenue Church and probing into my beliefs. After two months, however, my outlook has changed so much. I am now two weeks away from leaving Chicago for the SCOS debrief in Minnesota, and I have grown more as a person in this span of time than I originally imagined.
I've changed so much professionally, working in this church and with STRIVE, the non-profit tutoring and summer camp program ran through the church that the other intern, Thomasina, and I work with. Before coming to Ellis, my experience working with children had been volunteering daily at my former elementary school throughout middle and high school, where I only was able to see the kids one to two times a week, and during my Intro to Education class's field placement. While both were fantastic experiences, neither gave me the ability to have control over multiple classes.
Working with STRIVE and teaching in their Peace Camp and summer program has given me that opportunity. I teach with one to two people in each class (two a day) and the classes are our own to make. I have learned that while we think we may be more than prepared, we can walk into class and have everything we prepared thrown out of the window. I've learned to be flexible and find joy in the little things—coming up with four themes for a song after a forty-minute debate, the finishing of that song, and the silence of three kids writing about a superhero. I have learned that while goals are necessary, they must be loose. "I want my students to be able to understand tonal inflection to represent emotions" is great but if the kids don't understand their own emotions or what they are trying to convey, they're not going to understand tonal inflections. Working with the kids is a huge part of working with kids.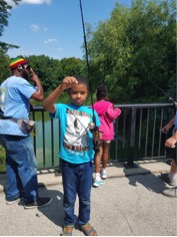 More importantly, I have grown a lot personally as well. First, what I consider to be one of my higher achievements, I have read and finished 10 books this summer, more than any summer since my freshman year of high school (I am currently a sophomore in college). More seriously though, I have grown in my relationships and in my religion. Ellis Church is a beautiful place to grow spiritually. I grew up, and still consider myself to be, Catholic. Every church I have ever attended has been staunchly conservative, with a majority white, middle-class population that has never really been open to the LGBTQ community, people of color, or people of other religions. Ellis has been completely different.
Here, there are people who live on the 58thfloor of a downtown apartment building with a lake view yet others who work two jobs, are putting themselves through school again, and have to have their kids live with someone else in order to do it all. Both people have just as much influence and as much of a role in the church life. Here, there are people who have always been Baptist, raised in the church, and others who have been raised Catholic, grew to love Buddhism while in the military, researched their Native American past, and now work in the Baptist church.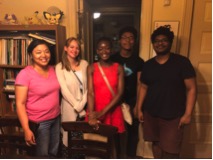 Some members of the church have lived in Chicago since they were born and some members have moved from small Southern towns or from Ghana and China. The ability to talk with people from so many different backgrounds has been wonderful for me because it shows how even though the Bible and Christianity has been used to defeat and hurt so many people for centuries, both still work to heal people with so many different problems and journeys today.
The spiritual sojourners have also been a wonderful opportunity to grow. At Ellis, we have met once a week for an hour and a half. The first 45 minutes to an hour are spent discussing chapters of a book (this summer, we read Breathing Spaceby Heidi Neumark and On Our Wayedited by Susan Briehl and Dorothy Bass), and the last 30 minutes are spent in two 15-minute one-on-one sessions with the two spiritual sojourner guides, one a University of Chicago Divinity School student and the other a pastor and therapist from another church close to Ellis Avenue. The open discussions that we have at the meetings have allowed me to understand more about my faith and Christianity as a whole. I have asked questions here that I was never comfortable to ask before in fear of being told that I wasn't being faithful enough. Going back home, I have more knowledge and confidence of asking the Catholic people in my life in order to understand that religious entity.
 I am so glad that I chose this internship. I was able to grow as a teacher and grow personally in a way that I would not have had I stayed at home working in fast food. I am incredibly thankful that the church allowed me to come into their lives as they have, and I am even more thankful to the spiritual sojourn guides for being so open and allowing me to ask questions and to be frank about what I think.
---
Related News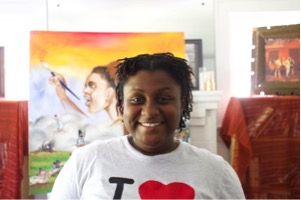 Being an intern at QC Family Tree via Summer Communities of Service has been one of the most...
Read More