Poor Peoples' Campaign
The Poor Peoples Campaign: A National Call for a Moral Revival is uniting tens of thousands of people across the country to challenge the evils of systemic racism, poverty, the war economy and ecological devastation. The United Church of Christ is a proud partner in this effort.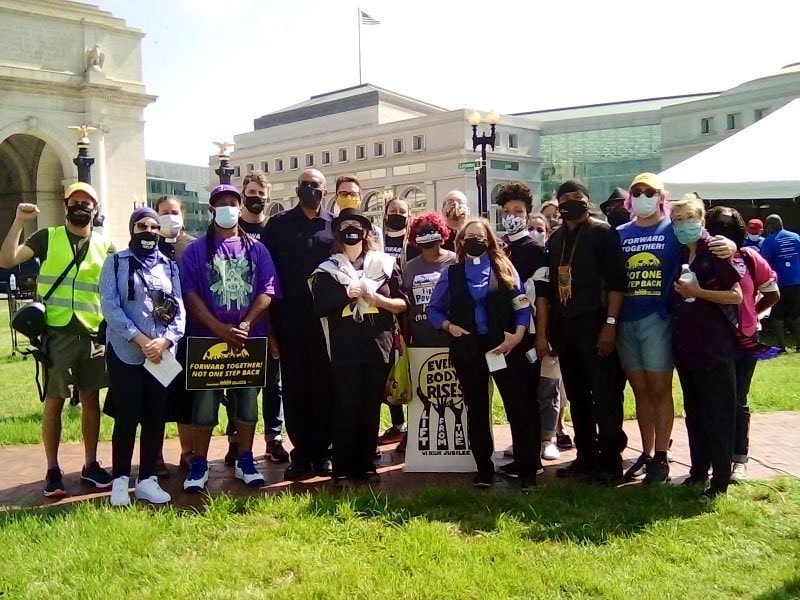 About
In 1968, the Rev. Dr. Martin Luther King, Jr. launched a Poor People's Campaign believing that people joining together could create, "a new and unsettling force in our complacent nation." Over the last several years, UCC members and congregations have been participating in the continuation of this work through the Poor People's Campaign: A National Call for Moral Revival. The campaign has united tens of thousands of people across the country to challenge the evils of systemic racism, poverty, the war economy and ecological devastation while centering the voices and experiences of poor, low-wealth, and vulnerable communities.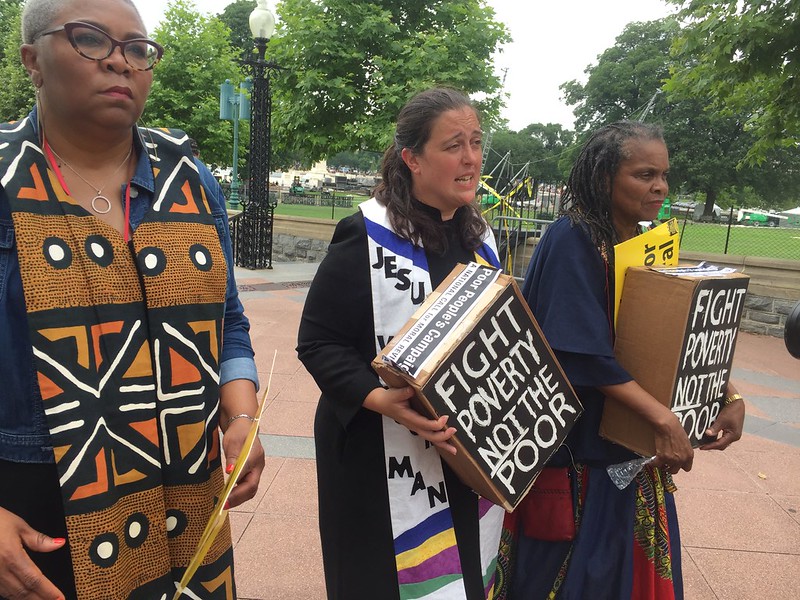 During the summer of 2018, poor people and moral witnesses in 40 states committed themselves to a season of direct action to launch the Campaign. What ensued was the most expansive wave of nonviolent civil disobedience in the 21st century United States.
In June 2019, the campaign convened over 1,000 community leaders in Washington, D.C. for the Poor People's Moral Action Congress, which included the largest presidential candidates' forum of the pre-debate season, the release of the Poor People's Moral Budget, and a hearing before the House Budget Committee on the issues facing the 140 million poor and low-income people in the nation.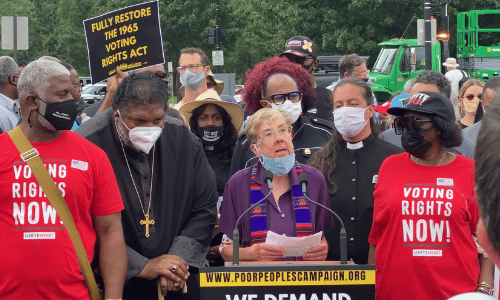 In June 2020, the Poor Peoples Campaign held a rally online – given the realities of the COVID-19 pandemic- with thousands of participants mobilizing to amplify the voices of poor and low wealth people in the 2020 elections.
In 2021, participants in the Poor Peoples Campaign worked tirelessly to support voting rights expansion and democracy reforms contained in H.R. 1, the For the People Act. Including engaging in nonviolent civil disobedience.
Join the 2022 Poor People's Campaign Mass Mobilization
For years, UCC members and congregations have been faithfully engaged in the Poor People's Campaign. And the work continues with even greater urgency. As march organizers have declared, "we assemble and march on June 18, 2022 because any nation that ignores nearly half of its citizens is in a moral, economic and political crisis." We won't be silent anymore! Join us in Washington D.C. or online on June 18, RSVP now!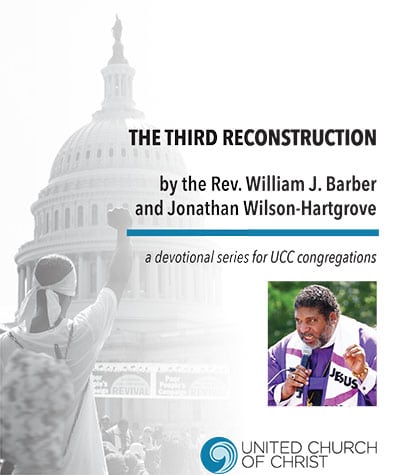 Invitation to Study
The Third Reconstruction: A Devotional Series for UCC Congregations
This devotional series is intended to be a compliment for UCC congregations and individuals as they reflect on the seminal book by the Rev. William Barber and Jonathan Wilson-Hartgrove, The Third Reconstruction. May this reflection inspire not only awareness but responsive action to bridge racial divisions and truly live out God's love by loving our neighbors.
40 Days of Action in 2018
May 14 launched the Poor People's Campaign 40 days of action and advocacy in state capitols and in Washington, DC. The 40 Days of Action featured public witnesses at more than 30 statehouses and the U.S. Capitol calling for voting rights protections, programs to address poverty, attention to ecological devastation and measures to curb militarism and the war economy.
Anecdotes from the 40 Days of Action:
Maryland:

In Annapolis, Md., clergy of the UCC Central Atlantic Conference joined people from all walks of life to speak out against what the Rev. Marvin Silver called "the distorted moral narrative of this country."

"When 44 percent of people in Maryland are poor or low income, and the income for the top 1 percent has grown 160 percent, while the income for the bottom 99 percent has increased a mere 26 percent, there's a moral crisis that needs to be addressed," the CAC Associate Conference Minister continued. "There were disabled people, clergy, people of faith, people not of faith — all there to bear witness and raise our voices. Eleven people, including two UCC leaders, were arrested for blocking traffic."
Iowa:

In Des Moines, Iowa, the Rev. Jessica Petersen, who serves Congregational United Church of Christ in Newton, organized a group of participants hoping to have a word with Gov. Kim Reynolds. Ten people were held by Iowa State Patrol officers for refusing to leave the capitol building. Petersen told the local paper her group is "calling for change in our nation's moral discourse."
Massachusetts:

In Boston, Mass. more than 300 people gathered to pray and sing on the statehouse steps. Three UCC ministers — the Rev. June Cooper of the City Missions Society, Rev. Cathlin Baker, pastor of First Congregational Church of West Tisbury, and Rev. Kelly Gallagher, Associate Conference Minister of the Massachusetts Conference — shared a call to "bring good news to the poor."

"Stories of impact from women who have suffered from inadequate services for PTSD, immigration and healthcare were interspersed with calls from communities of faith to come together and repair the breach dug so deep between us," Gallagher said. "Clergy and congregation members from many UCC churches across the state joined hands with ecumenical and interfaith siblings, and claiming faith in humanity as together we sang, 'Someone is hurting our people, and it has gone on far too long!'"
Minnesota:

In St. Paul, Minn. the Rev. Rebecca Voelkel, Executive Director of the Center for Sustainable Justice at Lynndale UCC in Minneapolis, led the prayers at the statehouse rally for a living wage. She said hundreds gathered there in the pouring rain, "because they are coming for the innocent and we are called to put our bodies in the way. We are here today at the Capitol because corporate interests are trying to pass pre-emption."

About forty of those advocates opposing pre-emption took action. Armed with signs which read "preemptive means poverty" they occupied the office of Rep. Pat Garofalo (R). He authored a bill designed to allow state law to pre-empt local community ordinances, taking away the municipality's ability to pass $15/hour wage laws or laws that protect sick time. Thirteen people were arrested, including two men from Lynndale UCC.

"As people of faith, as targeted communities and co-conspirator communities, we stand against pre-emption and for a living wage because we affirm the Creator's sacredness in humanity and in creation," Voelkel said.
Kansas:

In Topeka, Kans., 31 people were arrested outside the Kansas capitol. One of the group's organizers, Rachel Shivers of First Congregational Church in Manhattan, Kan., said, "It's not only tragic — but also immoral and unacceptable — that millions of people in the U.S. lack access to adequate, affordable healthcare and housing in one of the wealthiest nations in history. It's my personal conviction and commitment to use any power, privilege and resources I have to help lift up the voices of vulnerable groups of people who are suffering under oppressive practices and policies."
Denominational Press via UCC News
UCC Staff Blog Posts

Get Involved. Answer the Call to Action.
Questions? Contact UCC.
Please contact Jessi Quinn, Online Communications Specialist for the Public Policy and Advocacy Office, at quinnj@ucc.org.