New Poor People's Campaign urges churches, others to rally in D.C. June 20
Hoping to draw tens of thousands of people to a June 20 rally at the U.S. Capitol, a coalition of religious, labor and other organizations kicked off a Mass Poor People's Assembly and Moral March on Washington with an enthusiastic news conference Wednesday, Jan. 29.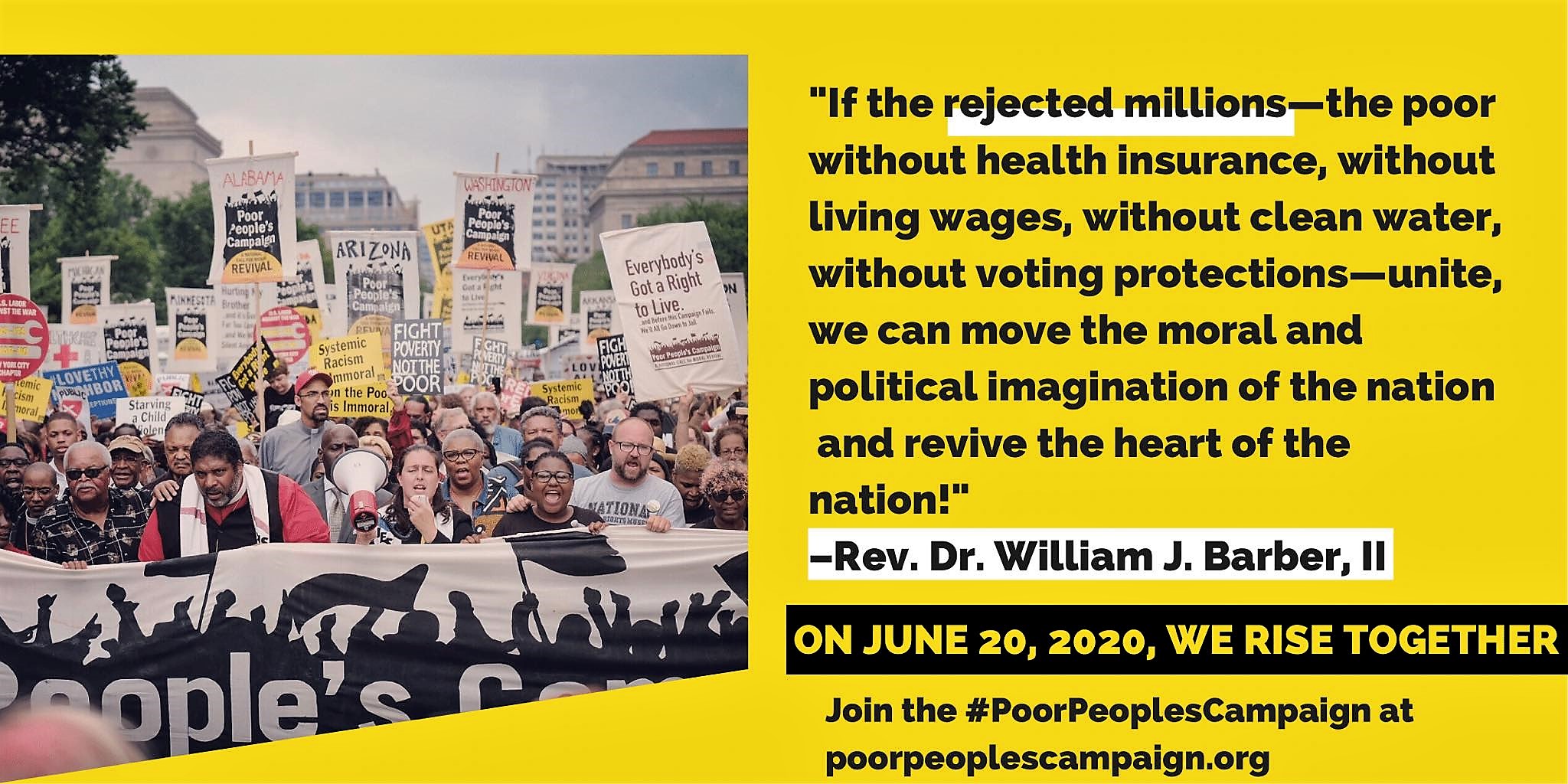 The United Church of Christ and 15 other religious denominations have endorsed the march, which is part of the larger Poor People's Campaign: A National Call for Moral Revival. Organizers see it as "drawing on the unfinished work of the Rev. Dr Martin Luther King Jr.'s 1967/68 Poor People's Campaign." Through nonpartisan political action and protests, the 2020 campaign aims to counter "the interlocking evils of systemic racism, poverty, ecological devastation, the war economy and our distorted moral narrative," said its website.
Held at St. Mark's Episcopal Church in Washington, D.C., the press event was moderated by the campaign's co-chairs. They are the Rev. William Barber II, a Christian Church (Disciples of Christ) minister and founder of the nonprofit Repairers of the Breach and the Moral Mondays movement, and the Rev. Liz Theoharis, a Presbyterian who heads Kairos, the Center for Religions, Rights and Social Justice.
"This campaign is made up of poor and low-wealth people from across the nation, where we know 62 million people make less than a living wage," Barber said. He held up a copy of the Poor People's Moral Budget, one of the campaign's key policy tools. An example of its findings, he said, is this: "If you cut our current military budget by half, $350 billion, we would still have more money in the military than China, Iran, North Korea and Iraq combined – combined! – and still be able to blow the world up 50 times. The reality is we have greed rather than grace controlling the money and the politics."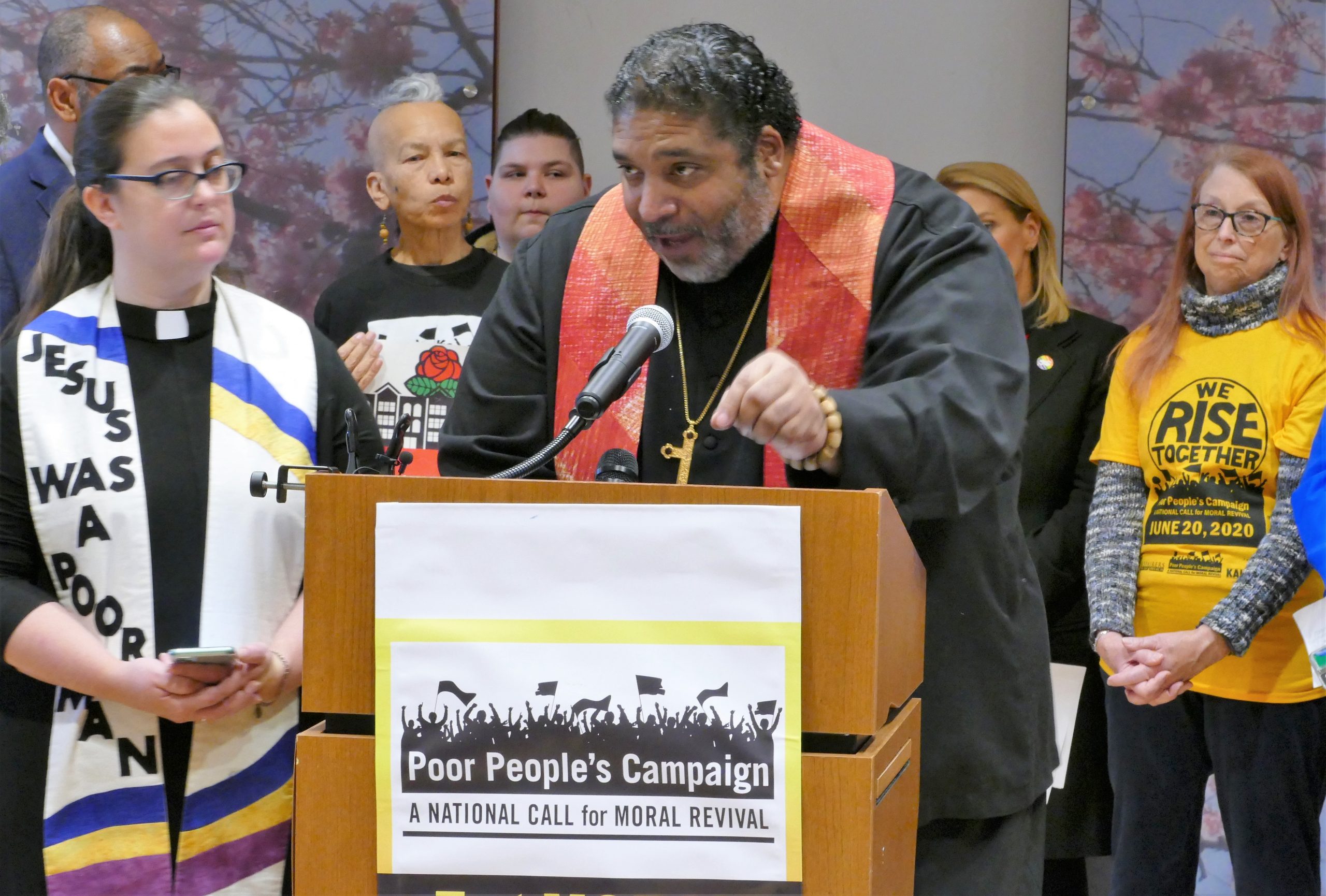 Cheers went up as 41 state coordinating committees were introduced, taking part by video from around the country. They are composed of people affected by racism, poverty, militarism and ecological devastation as well as advocates, organizers, and moral and faith leaders. Their work includes organizing delegations to the June 20 event, supporting each other in state and local policy battles and providing testimonies about poverty for use by the wider movement. "The excitement that you hear is that we have decided that it is time to stop mourning, but to rise together to fight for the soul of this nation," Barber said.
Those testifying Jan. 29 about the tragic effects of poverty ranged from a Vietnam veteran's widow from Kentucky, to a young Navy veteran expelled for being transgender, to a representative of an Indigenous people's collective from California, to union members from several industries. After each speech, those gathered at the news conference recited a unison chant: "Somebody's hurting our people. It's gone on for far too long, and we won't be silent anymore."
That chant and those themes continued that evening as campaign organizers and supporters gathered for further inspiration, marching along Pennsylvania Avenue to a "mass assembly" at Church of the Epiphany (Episcopal). "In the richest nation in the history of the world, we don't like to talk about the fact that above a third of our population is crippled by poverty and low wealth," Barber said in a sermon. "Republicans racialize poverty and too often Democrats run from poverty, or try to come up with some pseudonym, some way of talking about poverty without saying the word – like, 'those who are striving to enter the middle class.' No! Some folk are poor and low-wealth!"
Congregations and individuals wishing to join the June 20 march or take part in campaign activities already underway can visit its website to sign up, find a ride and housing information, connect with a state committee, receive updates or attend one of 15 "We Must Do M.O.R.E." tour stops scheduled around the country between now and the march.
"The Poor People's Campaign is just the kind of spiritually inspired movement that this moment in history demands," said the Rev. Traci Blackmon, UCC associate general minister. "It offers serious proposals that can change the narrative about wealth and poverty in this country – and change lives. I hope thousands of UCC members will register for the campaign, get on buses and join us at the Capitol on June 20."
---
Related News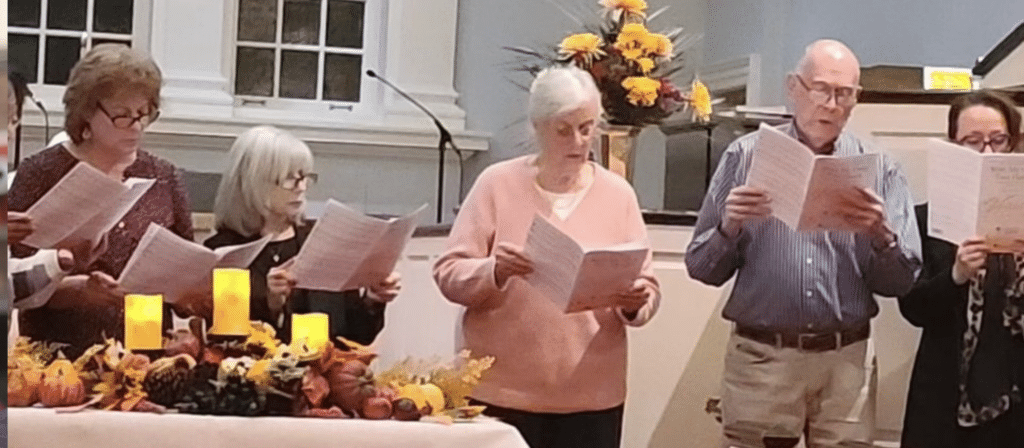 Many United Church of Christ congregations across the country participated in interfaith...
Read More