Understanding the Issues
Doing justice, seeking peace and building community are central to the identity of the United Church of Christ.
We invite you to explore the breadth and depth of the UCC's justice work. Join us in building a stronger faith-based movement for peace, justice, equality and inclusivity. Our work is rooted in the teachings of scripture and the policies of our General Synod.
Children & Education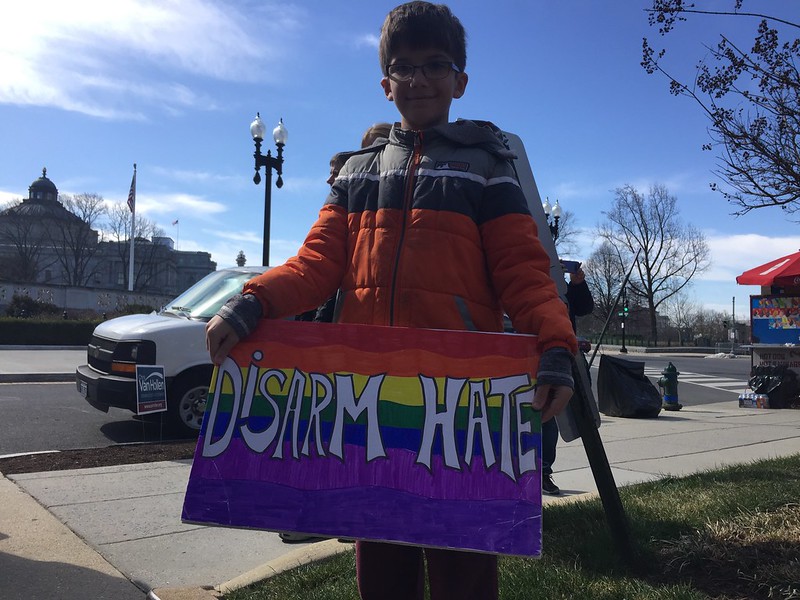 Children have the right to develop spiritually, intellectually, physically, emotionally, socially, and culturally, and to live in conditions of freedom and dignity. Learn about our work addressing child poverty, bullying, access to education and more.
The United Church of Christ has spoken prophetically to name poverty and racism as among the primary causes of injustice in our nation's schools. Learn more about the UCC and public education justice.
We affirm that sexuality and spirituality are intricately connected and that both are gifts from God. Learn about our curriculum, Our Whole Lives, which addresses relationships, health and behavior in the context of our faith.
Civil & Human Rights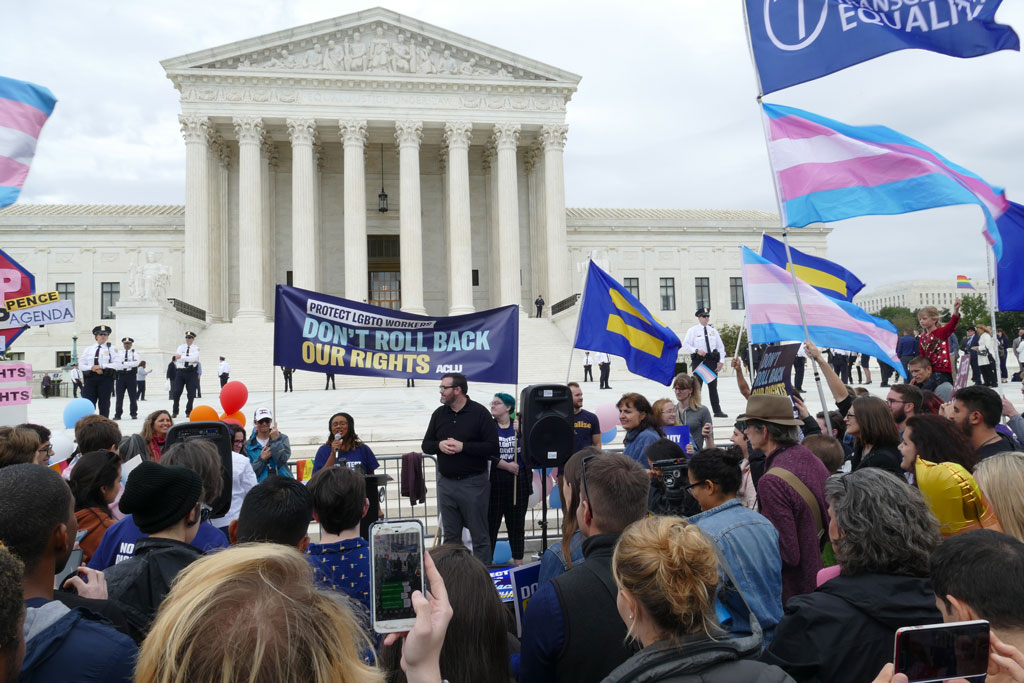 Civil & Human Rights
Justice cannot be achieved unless the rules for governing the democratic process are fair to all, yet voter rights have been significantly undermined in recent years. Learn about the UCC's work to defend and protect voting rights, and join the fight! 
Deeply connected to the dialogue about the criminal justice system and the pressing need to address the reality of mass incarceration are issues at the core of our faith tradition. Learn about the UCC's work in criminal justice and find resources to get involved.
The United Church of Christ has worked for more than 20 years to end the plague of gun violence in America. Find out how you can get involved in the work of advocating for sensible, responsible gun policies. 
The United Church of Christ calls on members, congregations and various settings of the church to engage in education about the issue of trafficking in persons and advocacy efforts to end this criminal and abusive practice.
We have a moral responsibility to walk alongside immigrants and welcome them to be part of our church, no matter their immigration status. Find resources on the UCC stance on immigration, ways to take action and more.
The UCC plays an active role in welcoming resettled refugee families to our cities, neighborhoods, and churches. Learn more about this work and how you can be involved.
The message of love and compassion, justice and peace are at the very core of the life and ministry of Jesus. Learn about the UCC's LGBTQ+ ministries, what it means to be an Open and Affirming congregation and more.
For 50 years, the United Church of Christ has been a leader in the fight for media and technology that is more accessible and accountable to local communities. Learn about OC Inc. and the ongoing fight for media diversity.
Economic Justice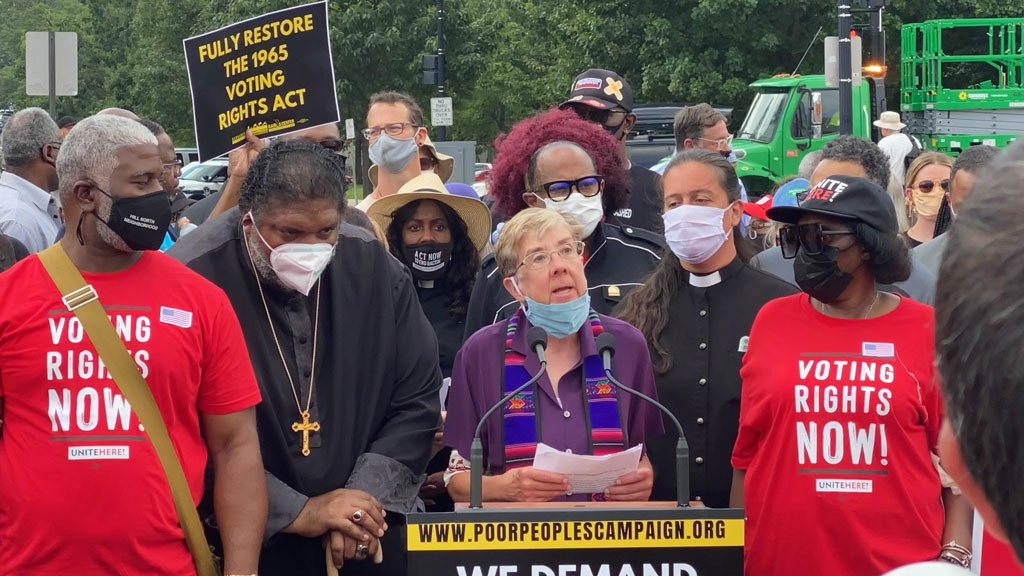 Economic Justice
Too many people today are hurting. Poverty stunts lives. Rising economic inequality thwarts opportunity and creates insecurity. Join the UCC's Economic Justice Movement and take action to support those on the margins and those at risk.
Do justice with your money, faithfully examine your relationship with financial institutions and find out about financial alternatives to big banks
Congregation-based community organizing (CBCO) is community organizing rooted in faith bodies that come together in answer to God's call to love our neighbors, stand with the marginalized, and work with God for a more just society. Learn more.
Growing inequality is not the inevitable consequence of globalization, technological change, an aging population, or anything else. Learn more about economic inequality domestically and globally.
In 2009, General Synod XXVII approved a resolution that established the Economic Justice Covenant Program. Learn about the program designed primarily for local churches but adaptable for the needs of other settings.
Learn about our work towards a world where everyone has sufficient, healthy and culturally appropriate food. And where those who produce and prepare the food are fairly compensated, respected and celebrated.
Our nation can eradicate poverty. The Church must be a leader in this work. Learn about our work with the Coalition on Human Needs, the Poor People's Campaign, and more about how poverty intersects with so many of the issues we work on.
Privatization is turning over traditional public services to not-for-profit agencies or for-profit companies or contractors. Learn more about the concerns surrounding privatization and why we, as people of faith, should care.
A good tax system reflects our values. Learn about the UCC's advocacy for tax justice and our past calls for changes to the tax system.
Environment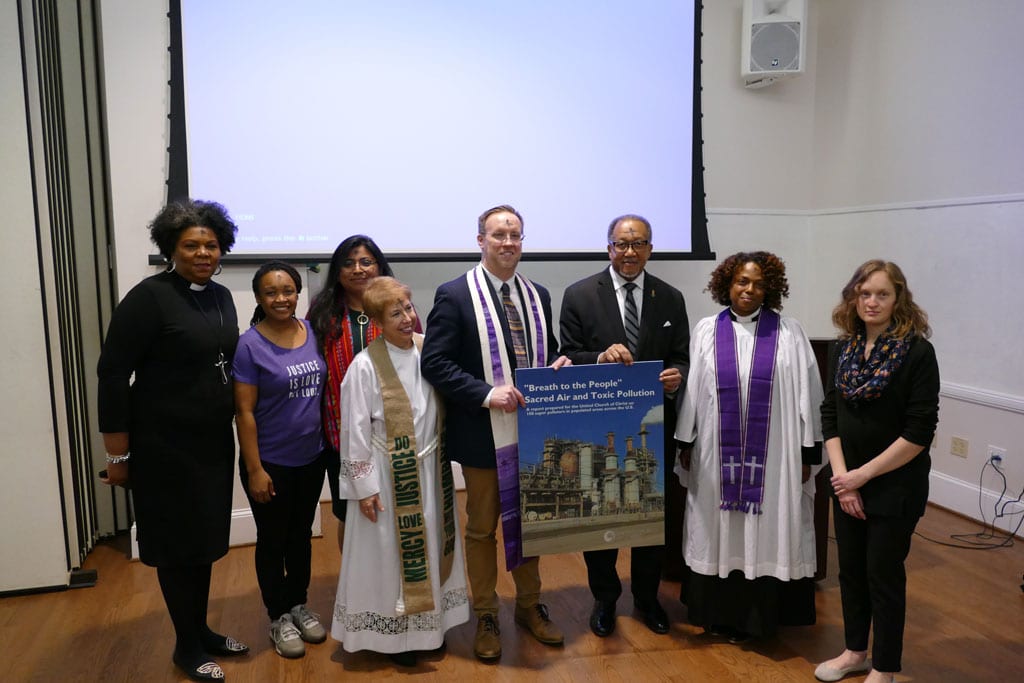 Environment
The UCC has long played an active role in advocating for environmental justice. Learn about our historic engagement, how to become a Creation Justice Church, sign up for our newsletter The Pollinator, and more!
One way we can be good stewards of God's creation is by working to make our church buildings carbon neutral. Find resources for helping both congregations and individuals become carbon neutral.
Learn about the intersections between racism and the climate crisis, and why it is important that we take a full picture approach in working towards environmental justice in our nation and our world.
In 2013, the United Church of Christ became the first denomination to pass a resolution endorsing both divestment from fossil fuel companies and other strategies such as shareholder activism. Learn why this is important and how we divest.
On the whole, faith communities have been stronger at responding to man-made disasters than preventing them. Learn about the growing dangers before us and the consequences we face if we do not take action.
Mountaintop removal is any method of surface coal mining that removes a mountaintop or ridgeline. Learn about the devastating impact of mountaintop removal, and how to get involved to end the harmful practice.
What do you need to know about space debris? Why should people of faith care? What can you do to get involved? Answer these questions and more.
The struggle of the Standing Rock Sioux Nation and its allied water protectors against the Dakota Access Pipeline stands as one of the most significant causes of our time. Find updates, related articles and action steps here.
Global Concerns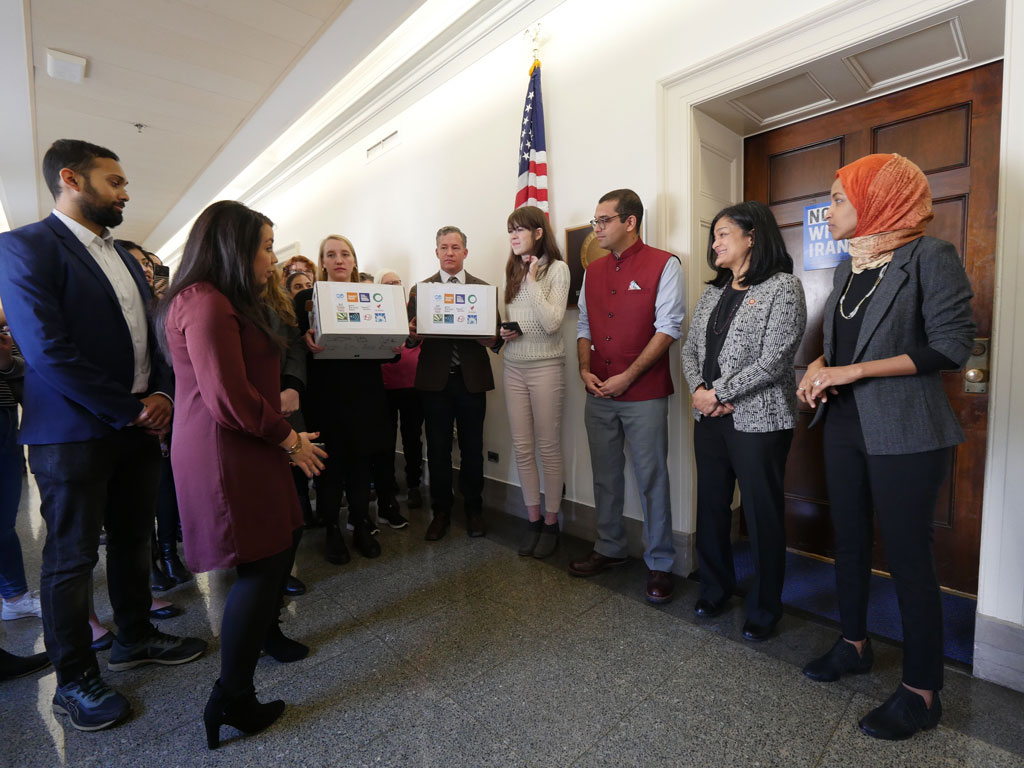 Global Concerns
Learn about fair trade, economic globalization, debt and the UCC's stances and role in the conversation.
Learn about the UCC's engagement with our partner, Global Ministries, on the conflict, find resources to help understand the history of the issue, and learn about ways to take action for a just peace in the region.
A place of diverse peoples, cultures and ecology, Colombia is tragically also home to the longest – running internal armed conflict in the Western Hemisphere. Learn about our involvement with the Days of Prayer and Action for Columbia.
Jubilee USA Network is an interfaith, non-profit alliance of religious, development and advocacy organizations working to address the structural causes of poverty and inequality in our communities and countries around the world.
Global Ministries is a joint witness in mission between the Christian Church (Disciples of Christ) and the United Church of Christ. Learn about the work with global and local partners for justice, reconciliation and peace.
Health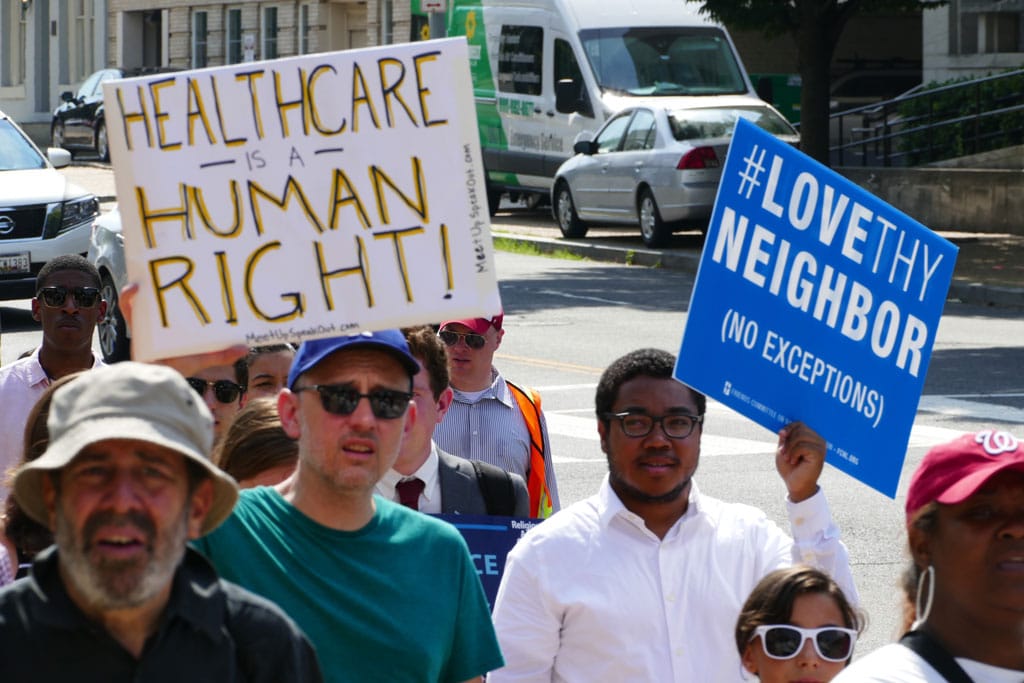 Health
Learn about the UCC's Health and Wholeness Advocacy team, and the multitude of issues they address.
For more than 35 years the United Church of Christ has advocated for health care as a right and a priority for all people. Find resources and information to join this continuing work.
Why are people struggling to obtain quality care and what can you do about it? Your congregation is invited to help reframe the dialogue around health to include how we move toward health equity for all.
The UCC HIV and AIDS Ministry creates resources for education and prevention, participates in public policy advocacy, and provides assistance to congregations and other settings to build and develop HIV/AIDS programs.
The United Church of Christ Mental Health Network works to reduce stigma and promote the inclusion of people with mental illnesses/brain disorders and their families in the life, leadership and work of congregations.
Faithfully Facing Dying is a six-week study guide offered as a resource for this delicate dialogue and intended to assist churches, associations and conferences, in studying the range of choices that surround our understanding of death and dying.
The UCC Wellness Ministries Network (formerly the Faith Community Nurse Network) aims to promote health ministries in congregations and communities.
Just Peacemaking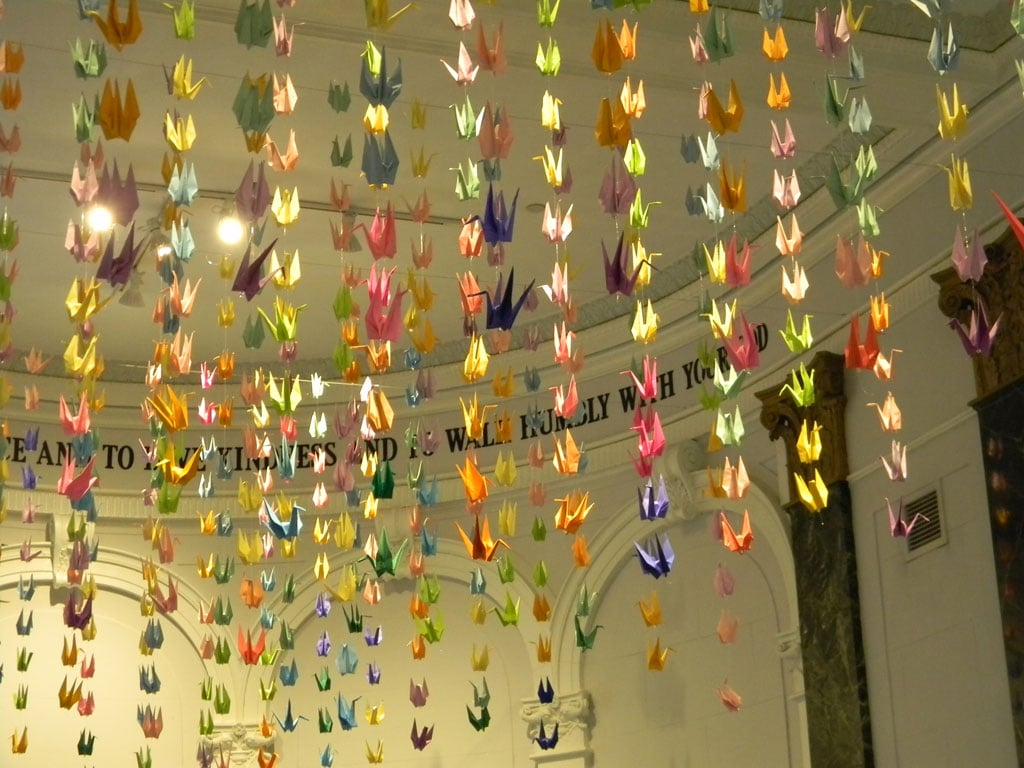 Just Peacemaking
For 30 years, the Just Peace Church pronouncement has inspired a grassroots movement of UCC congregations committed to naming and boldly proclaiming a public identity as a justice-doing, peace-seeking church.
The 13th General Synod called on congregations of the UCC to mark the Sunday preceding September 21 (which the United Nation recognizes as the "International Day of Prayer for Peace") as Just Peace Sunday.
Learn about the United Church of Christ's vocal opposition to the development, possession, testing, and use of nuclear weapons throughout our history, and how you can get involved in the work.
Drone warfare contradicts our value for peace, blurs lines between civilian and combatant, distorts covenants between nations and peoples, and pushes our nation toward a constant state of war.
The National Religious Campaign Against Torture (NRCAT) mobilizes people of faith to end torture in U.S. policy, practice, and culture. Learn more about our involvement and participation with NRCAT
Racial Justice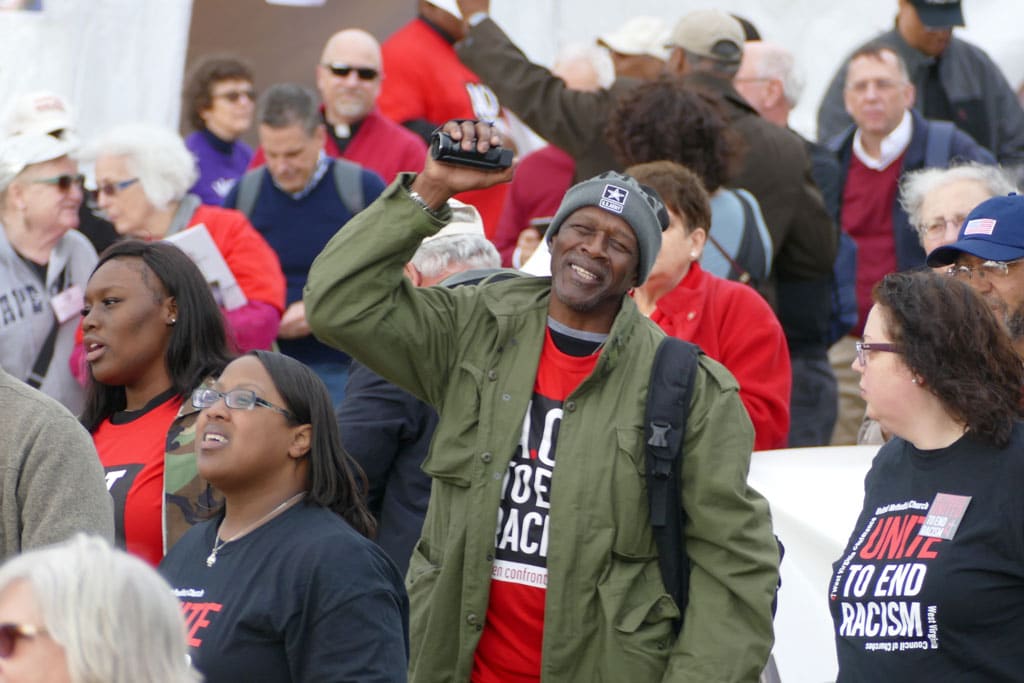 Racial Justice
Everyone is invited to begin, continue, and remain on the anti-racism journey. Take advantage of the opportunities to engage in anti-racism workshops, teach-ins, educational webinars, and online resources.
It is important that we work to understand the intersections of racism and the many other justice issues we are concerned about. How does racism intersect with issues like poverty, voting rights or environmental justice?
The study guide and accompanying resources debunks and corrects myths that claim Europeans and European descendants are a dominant culture and that their assigned skin color, white, makes them superior over people groups who are not European.
In Isaiah, God speaks directly to God's people, offering a way forward: "remove the yoke from among you… offer your food to the hungry and satisfy the needs of the afflicted." The language these days for this work is "reparation" — actions taken to "make amends, offering expiation (atonement), or giving satisfaction for a wrong or injury". Learn how the UCC is working toward reparations, at both a local and a national level.
White Privilege: Let's Talk—A Resource for Transformational Dialogue is an adult curriculum from the United Church of Christ that's designed to invite church members to engage in safe, meaningful, substantive, and bold conversations on race
Women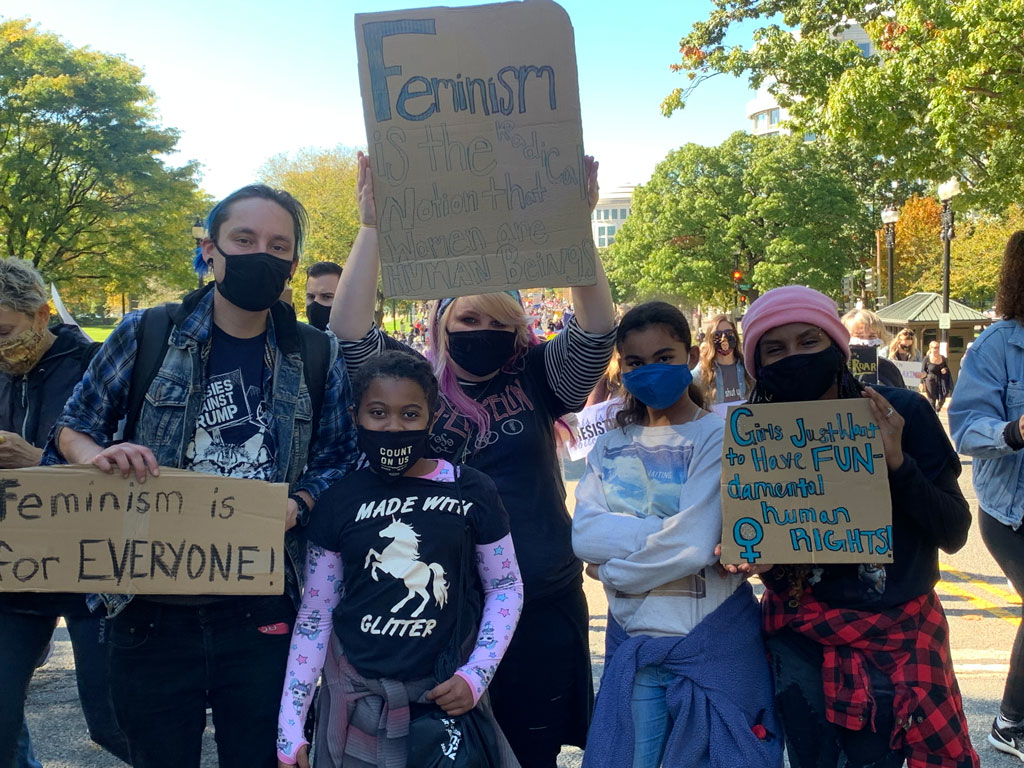 Women
From being the first Christian denomination to ordain women, to advocating to end slavery, to working to expand education, to the fight for the right to vote, the UCC has joined with women on the frontlines. Learn about our history seeking justice for all women.
We don't often think about the words we use – but we should. Learn about the United Church of Christ's long history of promoting awareness about gender-inclusive language and official policy for our publications.
Learn about the UCC's historic support for reproductive health care access, the challenges to access, and ways you can take action and get involved.
The church must be a safe place for victims of sexual and gender-based violence to share their stories and seek support. It is our responsibility to help end domestic violence.
Worker Justice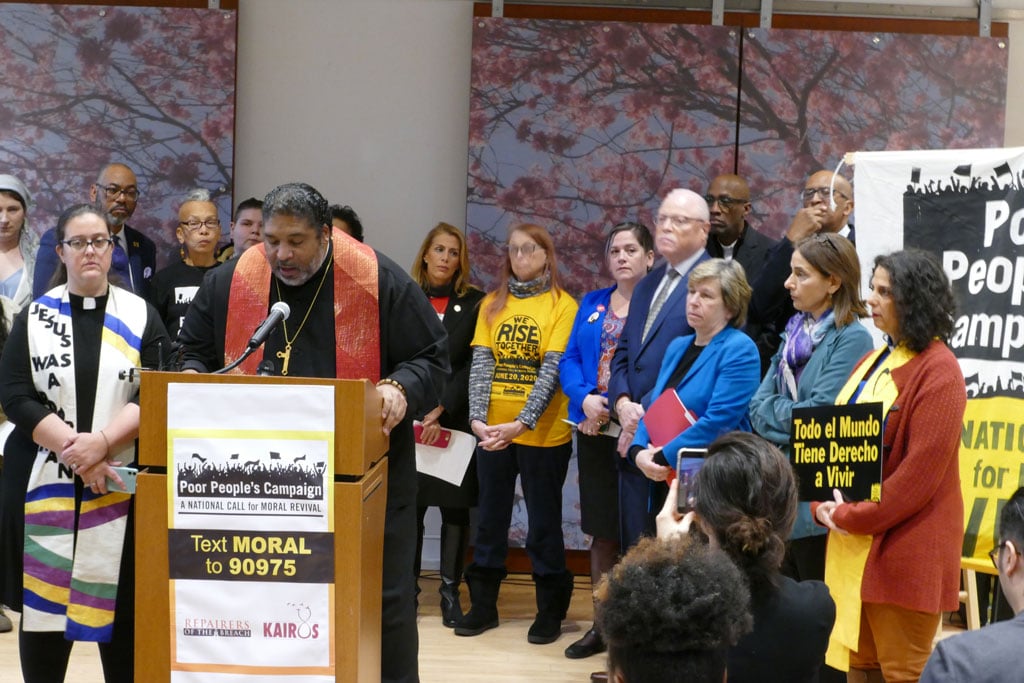 Worker Justice
Unions and workers' rights are as important today as at any time in our history. And in the face of weak laws, hostile employers, an uninformed public, and a largely indifferent media, the voice of the Church is critically important.
A job should lift everyone out of poverty, not keep them there. Learn about low-wage jobs and how we can lift them into living-wage ones.
Learn about what sweatshops actually are, why they are harmful, and how you can join the work to end the practice.
God's reign does not stop at the door to the workplace. The church must also be in our offices, factories, stores, farms, schools, and all the places where people work. Join the fight for a living wage, end wage theft and labor trafficking, and more.