UCC Disaster Ministries supports Hurricane Michael recovery in six FL counties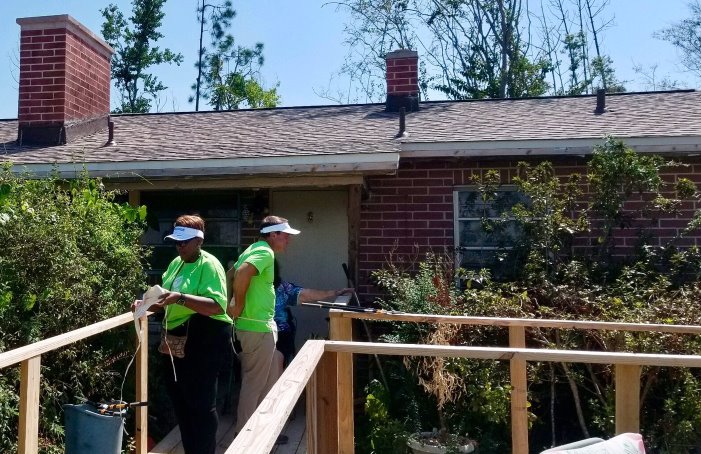 $5,000 seed grants from UCC Disaster Ministries will go toward costs for three Hurricane Michael long-term recovery groups in the Florida Panhandle – Liberty (County) Strong, Gadsden (County) Strong and the North Florida Inland Long-Term Recovery Group (Jackson and Calhoun Counties).
UCC Disaster Ministries is also supporting recovery in Bay and Washington counties, Fla., including with recruitment of volunteer work teams.
Community-based LTRGs help guide disaster survivors through the recovery process, including mobilizing available resources such as FEMA and SBA grants, insurance payouts and personal financial resources. LTRG case managers look for the unmet needs, prioritizing the most vulnerable survivors, including elderly and disabled residents. Other functions include fundraising, construction and volunteer management, with the goal of stretching resources to help as many people as possible recover.
"Many residents still have blue-tarped roofs that leak when it rains," reported Liberty Strong. "Still others are struggling to feed and clothe their families while trying to pay for repairs to their homes."
Hurricane Michael made landfall as a Category 5 storm Oct. 10, 2018, northwest of Mexico Beach, the most powerful hurricane on record to hit the Florida Panhandle.  
Bay, Washington, Liberty, Gadsden, Jackson and Calhoun counties were among counties that suffered extensive damage from Michael's heavy rain, high winds and extreme storm surges. Needs include repairing and rebuilding homes – along with spiritual or mental health services, especially for those whose homes have been completely destroyed and are still in need of suitable housing.
A $5,000 seed grant from UCC Disaster Ministries will go toward start-up office supplies and outreach to volunteers and partners for the long-term recovery group Liberty Strong, formed to address the needs of Liberty County, Fla., residents resulting from Hurricane Michael last fall. 
Another $5,000 seed grant is for use by the North Florida Inland LTRG, working in Jackson and Calhoun counties, to assist individuals and families with such unmet needs as roof repairs, mold mitigation, demolition and new construction.
Photo courtesy of Rebuild Bay County, of volunteers restoring a home
---
Related News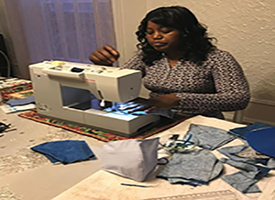 "It's so good making masks because it helps the community," said Sandra, a Congolese refugee...
Read More