UCC offers grants, check-ins, other tools to groups immersed in refugee resettlement
Dozens of congregations across the United Church of Christ are focusing ministries on Afghan refugees. They are taking them in, resettling and sponsoring them — or trying to discern how they can best offer support. In turn, Global H.O.P.E.'s Refugee and Migration Services is working to support those churches as they establish relationships with their new neighbors.
Global H.O.P.E., part of Wider Church Ministries, is offering seed grants to UCC organizations for Afghan refugee resettlement. The Rev. Irene Hassan, minister for refugee and migration services, is also organizing phone check-ins, virtual meetings and webinars to answer questions and provide the tools church members need to better support families in their care.
"All of the programs I'm offering are based on popular requests," she said, referring to planned boundary, trauma, and cultural trainings scheduled in February and March.
At least 55 churches so far
Hassan, who stepped into her role just days before the Taliban took over Afghanistan on Aug. 15, 2021, immediately jumped into finding ways to support churches that want to connect with and resettle incoming refugees flooding into the United States.
She said that as of today, about 55 UCC churches in 17 Conferences "are actively hosting one or more Afghan families, often in ecumenical or interfaith coordination with other denominations." Those are churches which have been in contact with her office. She believes there are many more, including an exponential number that have helped families in resettlement through supply-chain functions and other partnerships. Hassan would like to set up a data collection system to better track the work the denomination is doing to support Afghan refugees — as she works to support it.
"The outpouring of love and support from across the United Church of Christ for refugees, particularly from Afghanistan, is inspiring," said Josh Baird, leader of the Global H.O.P.E. team. "We knew there was a strong desire among congregations for supporting refugees and asylum seekers. Yet we could not have anticipated how rapidly that ministry would expand. In her first six months, Irene has focused on building relationships with conferences and congregations and delivering training and resources to support them as they increase their ministries of welcome."
Her first month on the job, Hassan created a toolkit for welcoming and advocating for Afghan refugees, and quickly followed that with a September virtual training session for churches serving Afghan families. Since then, she's connected with the quickly multiplying number of congregations looking to add refugee outreach, support and sponsorship to their ministries.
Monthly info sessions
On Tuesday, Feb. 8, Refugee and Migration Ministries is holding its next monthly meeting on trauma and informed care. These hour-long gatherings take place on Zoom every second Tuesday of the month from 6 to 7 p.m. ET. This month's topic: "Safe Requests for Storytelling with Vulnerable Persons." The Rev. Noel Andersen, director of community organizing for Church World Service, will talk to participants about ways to safely decide if and how to ask a person who has experienced trauma to speak out about their experience. Taize meditation will be offered after his presentation for participants to practice internalizing the topic introduced. Interested persons can access the Tuesday meeting here.
A scheduled monthly check-in for congregations engaged in Afghan resettlement will take place Thursday, Feb. 10. As Hassan said, "We want to provide an opportunity for churches that are engaged in Afghan sponsorship to check in and share resources with each other." The meeting, from 4 to 5:30 p.m. ET, will also offer a 20- to 25-minute boundary training to help churches prioritize goals and address challenges. Examples of topics include:
How do you approach hesitancy in finding a job?
How do you respond to families asking for things that might be beyond the scope of what your church is committed to offering?
Interested people can take part in the Feb. 10 meeting here.
Learning about Ramadan
Every Wednesday in March, Refugee and Migration Ministries will help churches plan ahead for Ramadan, the Muslim holy month that many of their new guests will observe. The virtual meetings, from 7 to 8 p.m. ET, will address ways churches can help sponsored families adjust to their first Ramadan in a new country and culture. Ramadan begins April 2.
"Many churches who are hosting Afghan families and other Middle East or African refugees will need some training and awareness around Ramadan," Hassan said. She said the four-week series "will create space for churches to prepare for behavioral changes in their sponsored families, connections to local mosques, sensitivity to trauma incurred by the first major holiday in a foreign land that doesn't recognize it," and more.
Understanding Ramadan, she said, "will be essential for maintaining a good relationship with sponsored families as well as increasing the families' ability to integrate successfully into their communities."
She also encourages churches to connect with their local refugee office around planning community Iftar dinners for their clients during this holy month. The Wednesday meetings in March will be available here.
Refugee Justice Sunday
The UCC is also sponsoring and participating in a Church World Service conference March 4-6 on widening the welcome for families resettling in the U.S. Registration and additional information for the "Together We Welcome" Conference can be found here.
Hassan is now looking ahead to the United Nations' World Refugee Day, June 20, and planning materials churches can use for Refugee Justice Sunday, June 19.
"The United Church of Christ has stepped up in a major way to say yes to opening their hearts and homes to vulnerable persons from Afghanistan," Hassan said. "It's been a joy and a privilege for me to witness so much overwhelming love take place in our denomination."
Bookmark the Refugee and Migration Ministries page and sign up for updates on additional information on webinars and other resources.
---
Related News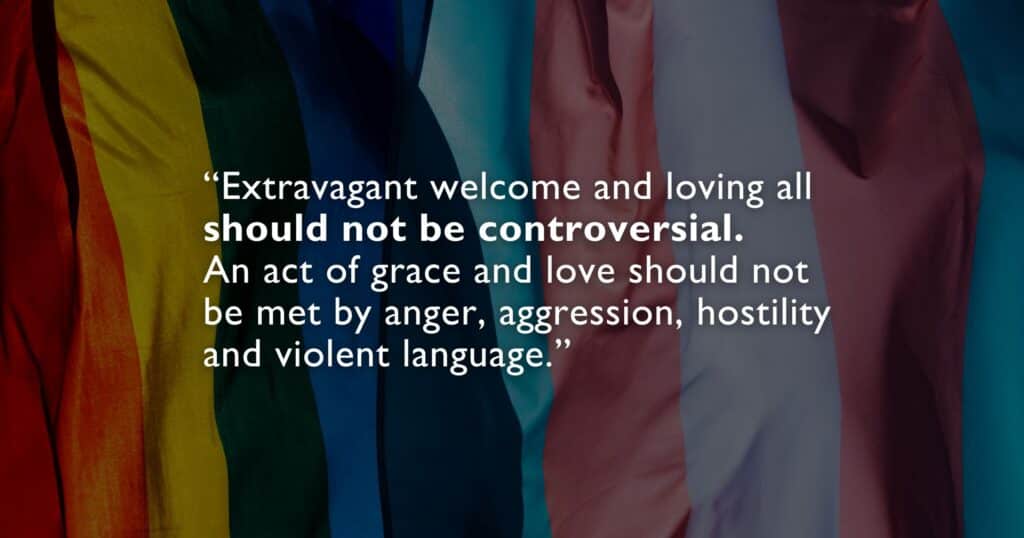 The United Church of Christ National Officers and the Conference Minister of the South Central...
Read More