UCC ministries call for solidarity, support in East Palestine during Holy Week
Two months have passed since the Feb. 3 train derailment in East Palestine, Ohio. Efforts to clean the site of toxic chemicals and address resident concerns persist. Just this week, the federal government filed a lawsuit against Norfolk Southern railroad to address the environmental damage caused by the incident.
In response to the area's need for continued, long-term support, the United Church of Christ has released three actions for solidarity and support. These actions come in a collaboration between the UCC's National Setting, Heartland Conference and Living Water Association.
Heartland disaster response
Members of the Heartland Conference Disaster Response Team, including Conference Disaster Coordinator Kevin Gehres, traveled to the East Palestine area in late February, delivering 118 cases of water in their disaster trailer. They visited Mount Olivet United Church of Christ, located about ten miles from the crash site in North Lima, Ohio.
"In meeting with members of Mount Olivet, they shared that they had supported folks from East Palestine during the initial evacuation with blessing bags, water and gift cards," Gehres said. Two of the church's congregants were among those evacuated from the area soon after the derailment.
The Heartland team also drove to East Palestine to view the damage.
"We found burnt railroad cars still present, crews working to continue to clear debris, Environmental Protection Agency crews monitoring water quality in the creek that runs through downtown and news crews present," Gehres said. "Conversations with local folks focused on needs for water and air purifiers for homes, water testing sites and emotional and spiritual support."
Since then, the disaster team has turned attention toward becoming an ecumenical partner in the long-term recovery process, he noted. As part of this work, the Heartland Conference has established an East Palestine donation link where Gehres said people can "support these long-term recovery efforts and services."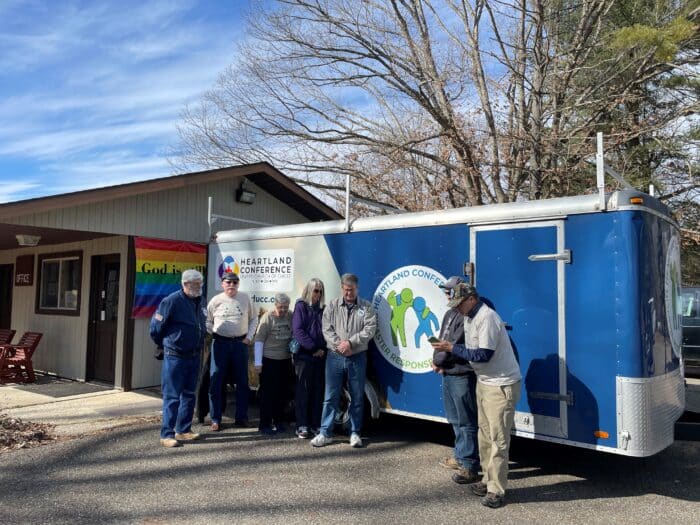 'Ministry of presence'
Disaster response teams have a term for events like the East Palestine train derailment that have more direct human causes: technology-caused disaster.
"The UCC Wider Church Ministries, Global H.O.P.E. through Disaster Ministries, is offering specialized care and support from our years of experience with tech disasters with human causes," said Lesli Remaly, UCC minister for disaster response and recovery.
She has been collaborating with Conference disaster coordinators and local pastors who are partnering with local faith- and community-based leaders in East Palestine. They are continuing to work on recovery and offering a ministry of presence "long after the cameras and politicians have left," Remaly explained, "when advocacy, funding and legal support will be critical."
"We will focus on families who are most vulnerable and will need additional help and resources to return to a safe, sanitary and secure community," she said. "As we partner with the local community, we are learning more about these needs of the families. Through this ministry of presence in disaster response and recovery, we offer an important approach as disaster leaders witnessing to our faith through service."
Actions in solidarity
The Rev. Brooks Berndt, UCC minister for environmental justice, worked with these and other Conference, Association and disaster leaders to offer three actions people and congregations can take to support long-term recovery:
Congregations holding a moment of mission, prayer or action during church services, with a resource for church leaders;
Donating through the Heartland Conference to support local long-term recovery efforts and make available spiritual and emotional support services;
Engaging in the UCC's Office of Public Policy and Advocacy action alert to urge that members of Congress call for measures to improve railroad safety and fund recovery needs in East Palestine.
"As we are reminded on Maundy Thursday during Holy Week, Jesus gave us a 'new commandment,' that we love one another. By this, people will know that we are disciples," Berndt said. "These three actions are offered as ways to embody love as we seek to respond as faithful disciples to the plight of those in East Palestine."
The full list of actions and resources is available here.
---
Content on ucc.org is copyrighted by the National Setting of the United Church of Christ and may be only shared according to the guidelines outlined here.
---
Related News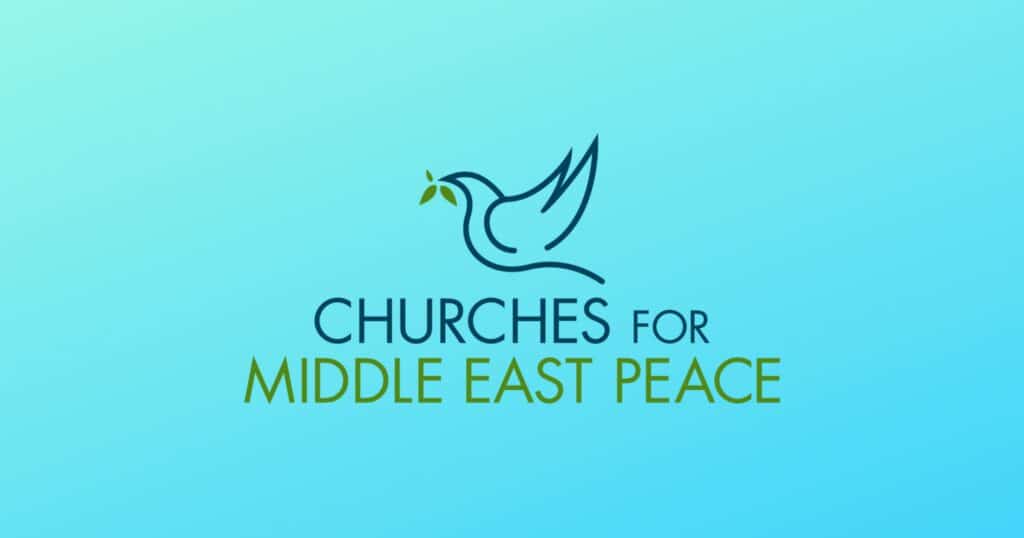 The following statement was issued Dec. 2 by Churches for Middle East Peace (CMEP), of which...
Read More