UCC D.C.-area churches wipe out $9 million in medical debt in four states
Eight United Church of Christ congregations in the Washington, D.C., area joined together and changed the lives of more than 7,800 households in four states.
The churches teamed up with the UCC national setting and the Potomac Association of the Central Atlantic Conference to abolish more than $9 million in medical debt in Delaware, Maryland, New Jersey and West Virginia.
Several pastors gathered in Bethesda, Md., on the steps of Westmoreland Congregational UCC Tuesday, June 29, to share this great news.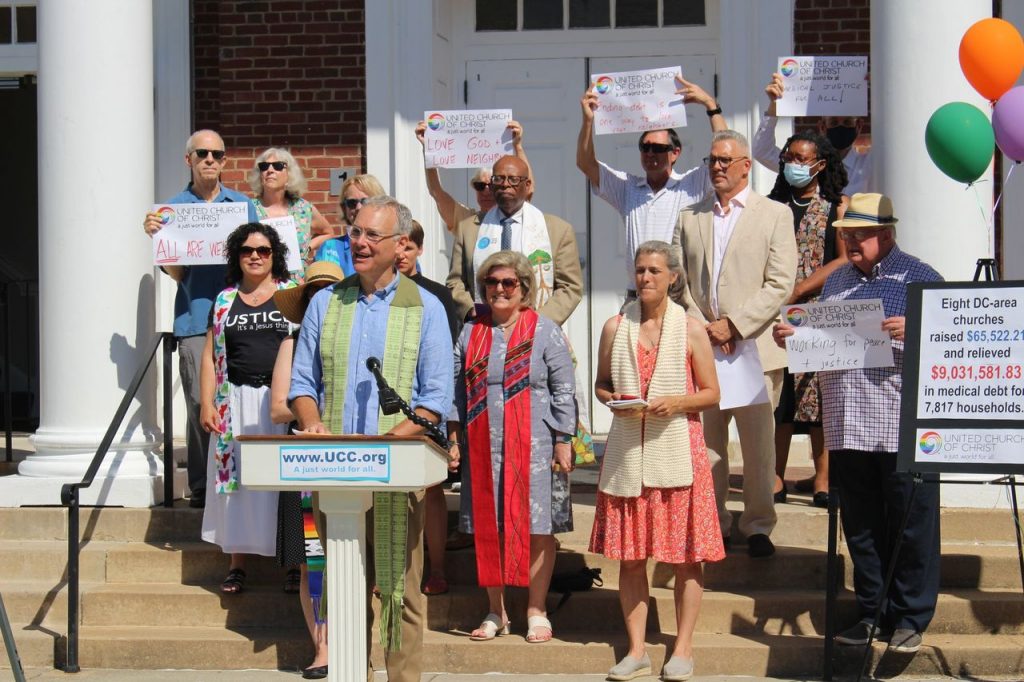 Financial gifts came from 92 individuals, the Potomac Association Justice and Witness Committee and the UCC national ministries. More than 7,800 households across 87 counties in those four states will soon be receiving letters telling them that their medical debt has been forgiven.
"Millions of Americans families are weighted down with medical debt," said the Rev. Tim Tutt, Westmoreland UCC's senior minister. "Imagine a person who 'got well' thanks to a surgery and hospital stay but still owes huge bills they can't pay. That person can't feel fully well. They may have to forego healthy groceries, rent, or other needs to pay for a past sickness. The financial burdens they carry due to medical debt continue the pain and trouble."
$65,522 raised; millions relieved
The church donors raised $65,522.21 to help people in that position and sent it to the New York-based nonprofit RIP Medical Debt, which bought up debt for pennies on the dollar in April.
The purchase wiped out $9,031,581 in medical debt for 7,817 households. The average amount forgiven per household was $1,155.38.
Specific criteria were used in the buy. Qualifying debtors were those earning less than two times the federal poverty level; in financial hardship, with out-of-pocket expenses that are 5 percent or more of their annual income; or facing insolvency, with debts greater than assets.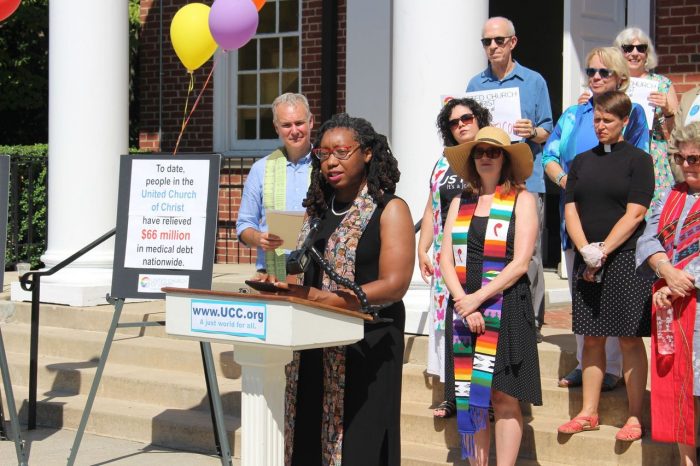 "Though places are opening, we are still in a pandemic where families are struggling to make ends meet and to recover from job loss, financial hardship, and stress that comes with trying to attend to it all," said the Rev. Sekinah Hamlin, UCC minister of economic justice who joined the pastors in Maryland for the announcement. "The gift of debt abolishment allows them to breathe and makes real the Jeremiah 29:11 godly vision of 'a future and a hope.'
"Medical debt still is the leading cause of U.S. bankruptcies. … Health care is a human right and no one should be penalized because they are too poor to be well. We must continue to push for universal health care. Until then, we must protect consumers with medical debt from abusive debt collection practices. God's vision is for every family to have a future and a hope."
Churches contributing to the campaign were Christ Congregational UCC, Silver Spring, Md.; Cleveland Park Congregational UCC, Washington; First Congregational UCC, Washington; Hope UCC, Alexandria, Va.; Little River UCC, Annandale, Va.; Rock Spring Congregational UCC, Arlington, Va.; UCC of Seneca Valley, Gaithersburg, Md.; Westmoreland Congregational UCC, Bethesda, Md.
'Huge justice issue'
"Our church was excited to participate," said the Rev. Ellen Jennings, pastor of the Cleveland Park congregation. "This is such a huge justice issue for so many people, most especially those with lower incomes, who are not eligible for Medicaid or Medicare. One of our members, who has mental health issues, has faced major difficulties with medical debt specifically due to the inequities involved with mental health care coverage.
The "1 to 1000 ratio" of RIP's debt-buying power was a big plus at Cleveland Park, Jennings said. "In fact, one of our members was so moved, they put up a $25,000 match to encourage others to give."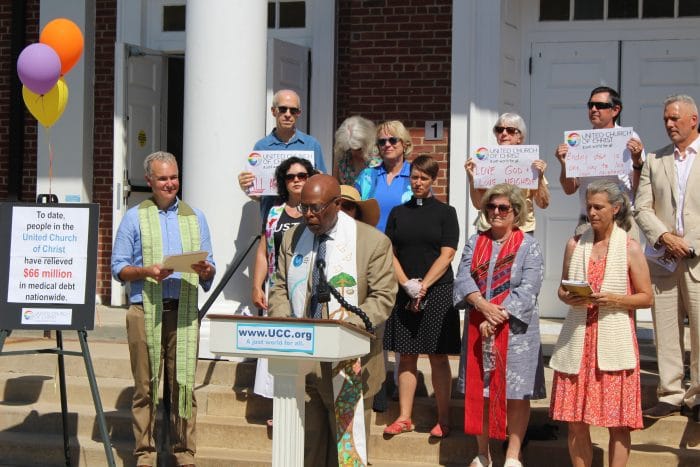 "These congregations exemplify the commitment of the United Church of Christ to compassion, equity, and justice," said the Rev. Freeman Palmer, Central Atlantic Conference Minister. "They are relieving the burden of medical debt for far too many in the D.C. metropolitan area and for others living in this country. This is the Church – changing lives."
UCC total now $66 million
To date, $66 million in medical debt has been abolished by United Church of Christ.
The UCC's medical debt project began with a 2019 buy in Chicago, where church donations abolished $5.3 million in debt for 5,888 families on the city's South Side.
In January 2020, the effort moved to St. Louis, where $12.9 million in medical debt was eliminated for 11,108 households in that city and St. Louis County.
Last June, nine California congregations in the East Bay Area wiped out $7.4 million in medical debt for 3,539 households across the state.
In October, a collaborative effort by 122 United Church of Christ congregations, four Associations, and more than 100 households in the Southern New England Conference abolished $26.2 million in medical debt in two separate buys. Recipients were families in seven states in and around New England and first responders across the country who benefit from RIP's Helping COVID Heroes Fund.
In November, gifts from 20 United Church of Christ congregations in the denomination's Kansas-Oklahoma Conference, plus several individuals and church bodies, abolished $5.2 million in medical debt in those two states. More than 3,200 households benefited from that buy.
A sixth buy is in progress in the Southwest Conference UCC.
Following Jesus
The campaign continues through the summer of 2021, reaching low-income Americans in each of the UCC's geographic regions. A seventh buy will benefit people in the denomination's Southern Region.
The UCC is also using it as an opportunity to draw attention to what the Rev. Traci Blackmon, associate general minister, calls "the unconscionable cost and profiteering of health care in the United States and their devastating impact on families."   
"Jesus healed people. Helping to pay off medical debt for people in need is one way that we, as Christians, as UCC'ers, may follow in the Jesus way," Tutt said. Paying off medical debt helps ease financial, emotional, and mental pain. That's healing."
---
Related News
On a recent trip to Palestine and Israel, the Rev. Allie Perry was part of a delegation that...
Read More