Talitha Koum: The UCC Newsletter for Women, Girls and Their Allies
Volume 1, Issue 4, October 2023
Hello! Thanks for opening Talitha Koum, the newsletter for women, girls, and their allies from the National Ministries at the United Church of Christ. As Minister of Women's and Gender Justice on the Gender and Sexuality Justice Ministries team, I joined in a team visioning retreat recently to create our newly formed team's mission and vision. The five of us shared our goals and how we envision our work, and when all of your artistically derived visions for the work are so similar, it shows that you are heading in the right direction to bring justice to more of God's beautiful and diverse family on earth. You can tell I never took an art class beyond 8th grade, but hopefully you see the love and sincerity which I put into my rendering of our team's work in the picture below.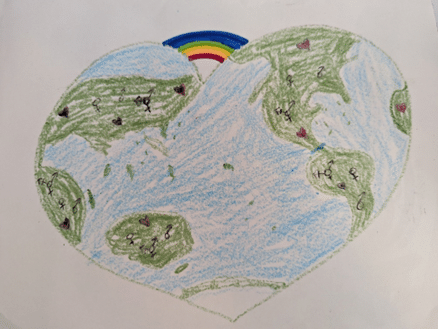 Some of the exciting things our team has planned for the coming 18 months include self-care events online to lead us into spiritual grounding and spiritual self-care practices, advocacy trainings, and the beginnings of a leadership development program specifically for women and our trans and non-binary siblings.
Within our Gender & Sexuality Justice Ministries retreat, we collectively offered our personal theological and ethical commitments to our shared work. As we grow the offerings of Women's & Gender Justice, I continue to find purpose and wisdom from SisterSong's Reproductive Justice framework. Their framework offers a definition of Reproductive Justice as "the human right to maintain personal bodily autonomy, have children, not have children, and parent the children we have in safe and sustainable communities." This framework holds me personally and provides grounding in our shared work together. I have been working for a while with our UCC Resolutions and clarifying my stance on reproductive justice (RJ). I believe that in my role, I need to define my own work on RJ. In doing so, I have linked our guiding resolutions to the concepts defined by SisterSong. You can read more about this below in the Leaders Arising section.
Engendering Spirit Education Series
Within the next two weeks, Engendering Spirit will have new episodes available on Frontline Faith. In this episode, several folks from around the nation talk with me about their experience of watching the Barbie movie, and themes and thoughts that have stuck with them since their viewing. Did you love the movie? Hate it? I would love to hear from you and would be thrilled to record more conversations about your experiences of Barbie, pop culture phenomena in general, and other political/social/cultural issues that intersect with faith and/or gender. Let me know when you want to talk! warrens@ucc.org
NEWS FLASH! They did not have a big bus, but they sure are Reproductive Justice Rockstars! I am talking about Nicole Morino (center below) the Ohio Field Organizer for Catholics for Choice, and Rev. Terry Williams (right), Faith Organizer for Faith Choice Ohio, who are currently touring Ohio and raising awareness about Issue 1 on the Nov 7 ballot. Together they share their vast knowledge about moral messaging a reproductive justice (RJ) framework, and they will be on Engendering Spirit to talk about RJ, ballot initiatives, and how people of progressive faiths can better speak to the access, need for reproductive healthcare, and refute the Dobb's Decision.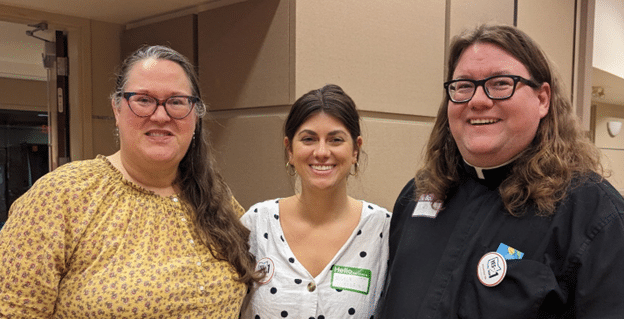 Spirit-Led Leadership
Knowing our history can be a useful tool for the work ahead with Reproductive Justice. Using my personal grounding in SisterSong's foundational vision, I have mapped how we as a denomination have responded faithfully with General Synod resolutions to bodily autonomy. This list is only a partial presentation of the many resolutions that support the RJ framework; Titles are linked to the text of the resolutions.
Twice a year I invite you to read a book with me that addresses the experiences of women or that are influenced by gender. You might want to do something similar in your congregation, association, conference, women's group, or with friends. Once I have read the book, too, I record a video podcast in which I interview people about the book and their experiences of that topic. If applicable, there will be an additional resource of a discussion guide to use in your group or to have a conversation with yourself. Please use this resource in whatever way works for you!
Our first book is the new release from Pilgrim Press Fat Church | Claiming a Gospel of Fat Liberation by Anastasia E.B. Kidd. (Available at https://www.thepilgrimpress.com/products/fat-church-claiming-a-gospel-of-fat-liberation-kidd). I interviewed the author along with Dr. Virginia Ramseyer-Winter, Director at Center for Body Image Research and Policy at the University of Missouri. Rev. Amy Johnson, UCC Minister for Sexuality Education and Justice joined the conversation. The book discussion video is available free of charge on the Frontline Faith Resource Sharing Platform (https://frontlinefaith.org/), where you will find other offerings for use to expand your understanding of topics at the intersection of faith and gender.
Rather than focus on an individual or group who are taking strides in leading in our congregations, I thought I would provide some direction in how one may lead in their own congregation on the topic of Reproductive Justice (RJ). The best advice I have heard in my short tenure with National Ministries is to "link your work to our resolutions." Since I started in July 2022, I have had RJ work front and center, consulting with congregations across the nation and clarifying our goals with partner organizations and our D.C. Office.
How this manifests into action is through my work with organizations such as Planned Parenthood Action Fund, Auburn Seminary, Catholics for Choice, Religious Coalition for Reproductive Choice, and so many others who are all organizing to push back against Christian Nationalism through a joint effort in D.C.; Consulting with and supporting the work of individual congregations and associations to prepare constituents for upcoming elections that include ballot initiatives about abortion and other reproductive healthcare needs; Encouraging congregations and secular organizations to adopt Our Whole Lives curriculum, or SACReD's RJ curriculum, as decision-making tools for determining appropriate action at the local level while fulfilling an enormous need.
These connections are not the only ones that could be made. I encourage you to look through our new search engine for all of our past Resolutions to learn about the numerous ways we are called to care for bodily autonomy across all intersections. Many would argue that every resolution we have ever passed as the United Church could be viewed through a lens of reproductive justice. I would argue this point and add that the intersectional nature of the RJ framework is a critical piece that speaks to all of us about autonomy, safety, identities, families, and communities. We must recognize and dismantle the oppressive systems that attempt to control our human right to bodily autonomy as they intersect and enmesh with racism, sexism, ableism, classism, and other forces of oppression. My hope by making these connections is to focus my work, assist congregations in understanding RJ work in the specific context of their own communities, and partner with organizations that are leading this work nationwide so that we have more collective energy to advocate and serve.
God-Centered Action
This month I want to lift an action that was organized by United Church of Christ's Gender and Sexuality Justice Ministries to celebrate National Coming Out Day. A special online worship took place on October 11 and featured award-winning drag queen Flamy Grant and Rev. Jes Kast who led us in celebrating all of God's wonderfully made humanity. See more in this article from UCC News, and keep joining us as we love OUT LOUD.
Christ-Driven Connection
I wonder what the changing of seasons was like in Jesus' experience of his homeplace on the eastern edge of the Mediterranean Sea. Did Jesus ever see a deciduous tree change in a dazzling array of colors and drop to the ground? Was Jesus experience of the landscape more of date palms and dessert plants? What did Jesus think of the rare snow he must have seen in Galilee? I ponder these things as I watch my own landscape in northeast Ohio take on the colors of autumn and I harvest the last of the tomatillos as their heavy branches dry and bend down from the weight of so much fruit. Nature has always spoken to me, even as a young child who was much more comfortable running through pastures and playing in the pond than I was sitting in an itchy dress hearing about Jesus in Sunday School. In autumn I am especially attuned to nature and its cycles. Fall calls me to be more inward looking, perhaps readying myself for Advent, and the darkened wait for Christmas to bring joy and celebration. Some questions that guide me as we close in on the end of another year:
What gifts has nature bestowed upon me this wondrous year?
What does my body tell me as the days get shorter and the darkened evenings longer?
What does my spirit long for as I witness long shadows of the sun's hovering on the horizon?
Where is God speaking to me, and of what? Am I still enough to listen?
What are your practices this season? I would love to hear about them. warrens@ucc.org
See also:
Witness for Justice Human Trafficking: An Affront to God
Witness for Justice: Do Not Be Conformed to this Age or #DecolonizeIsNotAMetaphor
Sexual, Domestic, and Gender-Based Violence
---
Related News
Recently, I have been disturbed by the growing erasure of Thanksgiving as a legitimate holiday...
Read More