National Coming Out Day service 'a balm' for the queerly made soul
The United Church of Christ's inaugural Queer & Wonderfully Made worship service held on National Coming Out Day was a celebration of love and support for the queer community.
The service, broadcast virtually on the evening of October 11, was led by a variety of familiar UCC faces, including Rachael Ward, team lead and minister for Gender & Sexuality Justice Ministries. The Rev. Yinessa Romero and the Rev. Marilyn Pagan-Banks of Encuentros Latinx provided a bilingual Scripture reading, and the Rev. Katrina Roseboro-Marsh, executive director of the Open & Affirming Coalition, provided a queer celebration prayer.
'For the next generation'
The Billboard chart-topping queer Christian artist Flamy Grant performed two songs, "I Am Not Ashamed" and "Good Day." Introducing "Good Day," Grant recalled her journey toward affirming her place within the church "long before Flamy was born."
She said she was asked to share how she reconciled her faith and sexuality during a church gathering.
"I listened as every single person in that room shared a little bit of themselves, and the thing that everyone had in common was that the reason they stayed with the church — it was for the next generation. For the kids growing up in the church."
Blessing one another
Ward was pleased by the turn-out, with over 300 people registered and more than 100 attending live.
"What a showing of love and support for our queer community," Ward said. "The diversity of our wider church shined through from east to west and beyond. Your loving blessings to one another via the chat made my heart sing. Love is louder when we love OUT LOUD. When we can come together to create spaces like Queer & Wonderfully Made and invite one another into shared collaboration, the veil tears further and heaven on earth emerges more.
"May each of our queer siblings know that we love you and you are a blessing created by God."
Some of the several blessings offered within the webinar's chat included:
"For God will command angels concerning you; to guard you in all your ways. On their hands they will bear you up, so that you will not dash your foot against a stone."
"Blessings for all of those still not ready to come out. We love you too!"
"You are a blessing for exactly who you are. You are beloved for your sacred existence. You are seen and known by the creator of the universe. You are seen and known by us here in this holy moment."
'All of you belongs'
The Rev. Jes Kast, pastor of Faith United Church of Christ in State College, Pa., provided the sermon. She introduced herself as a lesbian-queer-femme rooted in the "long and rich history of femmes and butches." She invited everyone to take a deep breath.
"This is a place where you don't have to hide pieces of who you are," Kast said. "All of you belongs here. Let your whole-body rest and take up space and come and find nourishment."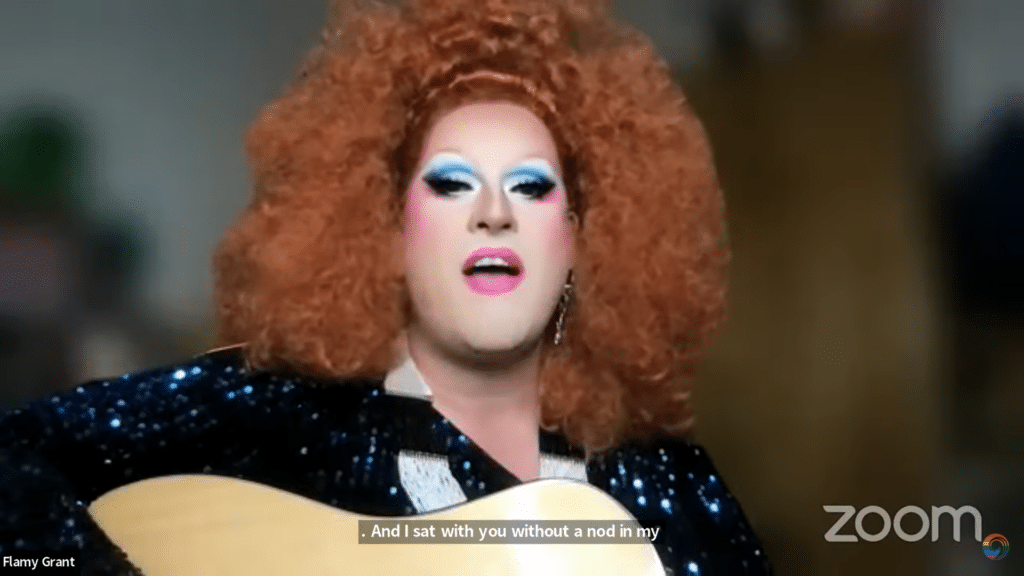 Kast drew parallels between Jesus calling Lazarus to come out of the tomb and being fully present to coming out as queer.
"When I was coming out, my friend Alexis, an amazing UCC pastor, took me out to lunch and said, 'Let your community help you take off the bandages of heartache and fear, and like Lazarus let us help you come out in new life,'" she recalled.
She assured those not ready to come out that they are loved and welcome.
"Each of us are at such different places in our coming out journey," she said. "There is no right or wrong way to come out. It's never too late to come out. And you don't owe anyone an explanation if you don't come out."
'Sacred, seen and celebrated'
A queer blessing was offered by UCC Chaplain Shellie Brook, who said, "Queerly beloved ones. You are sacred, seen and celebrated at the table of our Savior who creates space for all AND in the heart of our God, breathing with and within you by the power of the Holy Spirit. Let your light shine. So, sing it: 'this is my story, this is my song praising my Savior all the day long!'"
Ward noted that National Coming Out Day matters deeply for the queer community as a marking moment of celebrating queerness.
"For many, their journey toward coming out may still be in process or they may be in a space where coming out doesn't feel safe," they said. "Being able to declare boldly and out loud that each person is made in the image of God – beloved and wonderfully made – is a gift of our faith which calls us to tend to one another."
Content on ucc.org is copyrighted by the National Setting of the United Church of Christ and may be only shared according to the guidelines outlined here.
---
Related News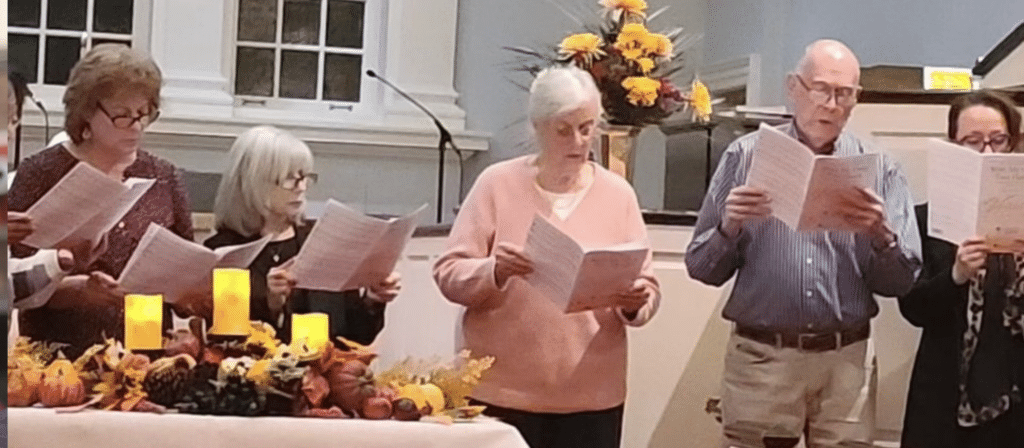 Many United Church of Christ congregations across the country participated in interfaith...
Read More