Shoppings Helps Children in Refugee Camp
A Syrian refugee stands in front of a
clothing shop in Mafraq, Jordan.
(Photo by Ammar Awad/Reuters)
The term "Retail Therapy" is often defined as shopping with the primary purpose of improving the buyer's mood or disposition. It is often seen in people during periods of depression or transition.
Whether there is any truth that retail therapy works, some children in a Syrian refugee camp found getting out of the camp to shop for and buy new clothes brought a sense of joy, hope and satisfaction.
The Orthodox Initiative, supported by One Great Hour of Sharing, distributed summer clothes vouchers for Syrian Refugees in one of the camps. It had a highly positive effect on both the adults and the children. The excitement of leaving the camp to go to the store and choose something new to wear was a unique experience for many of the children. They simply have not had the opportunity to leave the camp or to go shopping, like children in our western culture.
After returning to the camp following the shopping experience, one young boy approached a staff person of the Orthodox Initiative. He said "I am ready if you want to take my picture." He was so pleased to be wearing a new outfit and sport shoes.
Hana, a six-year-old girl, asked her mother to find out when the staff who brought the vouchers to the refugee camp would return on their next visit. Her mother later reported, "Hana kept her new clothes untouched because she wanted to wear them for the people who made it possible for her to have them."
The need for new summer clothes goes beyond looking or feeling good. As the temperatures rise, adults and children must be covered by the right fabric, and have enough hats and other items for their protection from the sun and comfort in the heat.
Living in the refugee camps makes life difficult. Learning to be properly protected from desert environmental elements help the refugees stay healthy.
---
Related News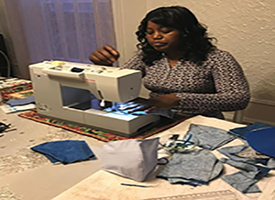 "It's so good making masks because it helps the community," said Sandra, a Congolese refugee...
Read More