Right Before Your Eyes: Alaska and Climate Change
Thirty-three years ago, we visited various tourist destinations including Denali National Park, Exit Glacier near Seward, and the quaint fishing village of Homer. Our trip this year, with adult children in tow, sought to revisit these areas in hopes of sharing the beauty and wonder we had discovered years ago. Although time constraints prevented us from revisiting Homer, we were able to re-visit some old, familiar places. Sadly, we discovered Alaska simply wasn't the same.
During the summer of 1990, my wife and I traveled with friends to Alaska for a month-long exploration of this incredibly beautiful state. It was a trip of a lifetime which looms large in our memories. On the occasion of our thirtieth wedding anniversary, we recently returned to the "Last Frontier."
The summer of 2023 has been saturated with events fueled by the increasingly destructive impacts of climate change. Stories of floods, fires, historic rains, and smoke-filled days have dominated the airwaves. Yet, for most of us, those stories seem far away. On some level, climate change remains "over there," "out west," or "up in Canada." But as we learned on our trip, Alaska doesn't allow for such illusions.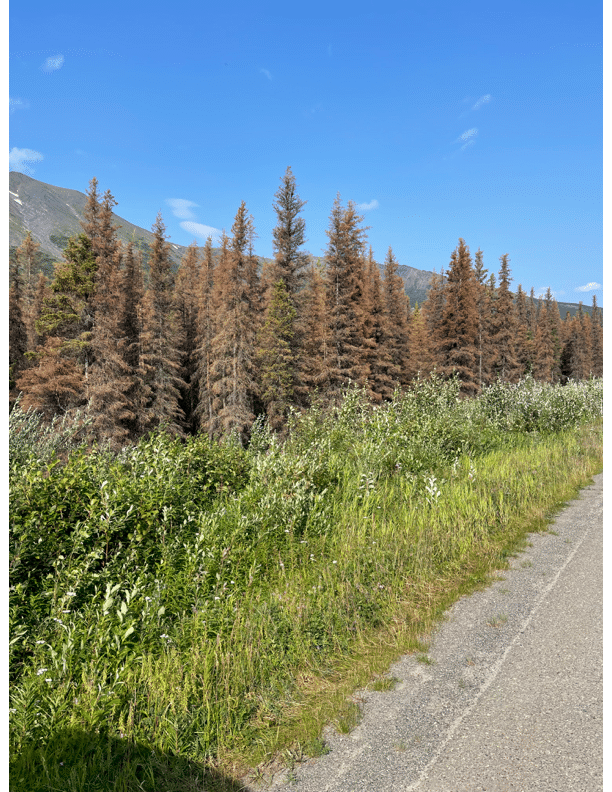 Our initial sobering experience this summer came while driving from Anchorage to Denali National Park. Traveling north and appreciating the beauty of the mountains in all directions, we began to see larger and larger swaths of dead Spruce trees. Located as they were in an otherwise gloriously green and lush landscape, these brown and shriveled patches of forest were startling.
Upon arrival at the Denali Visitors Center, we asked park rangers about the trees. Spruce beetles, native to Alaska, have now migrated and attacked the spruce forests in and around Denali National Park. Longer, warmer summers have allowed these beetles to travel further north than ever before. These warm months, coupled with less frigid winters, helped create conditions whereby the beetles shortened their life cycles from two years to one, thus doubling their reproductive ability and destructive activities. U.S. Fish and Wildlife Service ecologists are watching for where the Spruce beetles might strike next.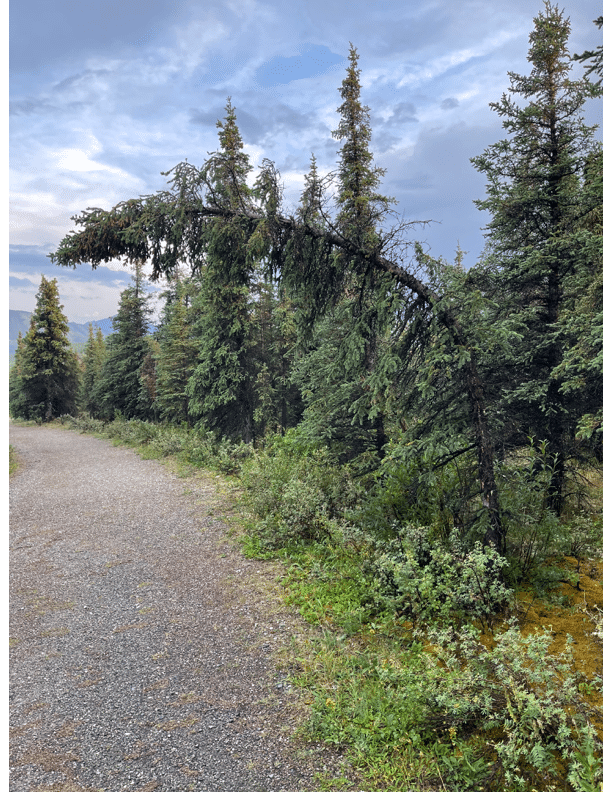 While camping and hiking in the park, we no longer saw as many dead trees. Yet, we now encountered what local Alaskans call "drunk trees." These are trees whose root system is no longer anchored by permafrost that once allowed them to grow straight and tall. As permafrost thaws, the soil around it erodes, sinks, and buckles, causing trees to appear "drunk" prior to their impending death. With this widespread melting, many trees simply can't hold themselves up any longer. To see these trees, bent over like wilted flowers, is almost surreal, and deeply disturbing. Trees dead and dying are not the Alaska we remembered.
For our final two days in Denali, we had hoped to revisit Wonder Lake where we had camped and encountered the overwhelming beauty of Denali Mountain three decades earlier. Getting to Wonder Lake requires a 92-mile bus ride on the only road which takes visitors deep into the park's interior. Since at least the mid-2010s, the National Park Service has been trying to patch and repair the Denali road as it sunk, buckled, and eventually succumbed to rockslides, mud, and shifting soils caused by the melting of the frozen under layer. Geologists have now identified more than 100 unstable areas along the road corridor. For the past two summers the road to Wonder Lake has been closed at the 43- mile mark, and its reopening is now scheduled for 2026. Some locals wonder if it will ever reopen.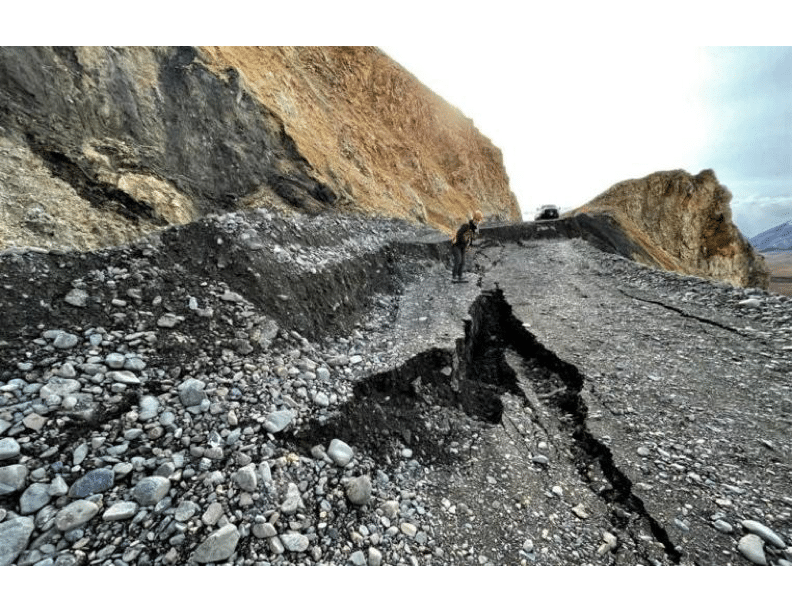 Our final stop this summer was at Exit Glacier near Seward. This iconic and accessible glacier is a once-in-a-lifetime experience for many tourists. In 1990, Exit Glacier was a quick and easy walk to its termination point. Not anymore.
Since measurements began in 1815, Exit Glacier has receded (melted) on average 43 feet a year. Beginning in 2010, when it receded 135 feet, it has been receding more with each passing year. In 2022, 900 feet of the glacier was lost. Exit Glacier, and glaciers around the world, are melting before our eyes.
Alaska remains an incredibly beautiful and inspirational place. We are grateful to have experienced it twice and to have allowed for our children to see it too. But this year's trip left us anxious and off balance. The disruptions fostered by human caused climate change are, in Alaska, front and center. Like a tragic car crash we pass on the interstate, it's hard to look away.
There was a time when climate change and its threats seemed off in the distance, an issue to worry about later. The overwhelming evidence of the past few years and the undeniably eerie scenes we witnessed in Alaska reveal a global tragedy unfolding in real time, right before our eyes. It is a situation which demands a global effort never before seen in human history.
The clock is ticking and time is running out. Alaska, in its beauty and distress, has made that clear. 
The Rev. Thomas I. Warren is the Pastor of Peace United Church of Christ in Greensboro, North Carolina.
---
Related News
On October 13th, a delegation of UCC laity and clergy are scheduled to deliver more than 7,000...
Read More