Refugee Work in Thailand
There are nine main refugee camps supported by The Border Consortium (TBC) all situated in relatively remote locations close to the Burma/Myanmar border in four western provinces of Thailand. Another small camp in Wieng Heng, Chiang Mai Province provides shelter to around 540 displaced people from Shan State.
Support to internally displaced persons (IDPs) and others in rural areas affected by conflict spans a wide geographical area from Shan State to the Tanintharyi region. Assistance includes cash transfers for impoverished civilians, small grants to communities for recovery and rehabilitation initiatives, and food assistance to IDPs in camps next to the Thailand border.
The nine main camps in Thailand vary greatly in size, from the largest, Mae La, with around 43,000 inhabitants, to Ban Mae Surin, with around 2,800 people. In June 2014, the total population of the camps (Verified Caseload) was 118,917 persons. At the time of print of the June 2015 report, the refugee population supported by The Border Consortium in its nine camps was anticipated to decrease to just over 85,000 inhabitants.
In 2005, the Royal Thai Government gave approval for resettlement opportunities to be offered to camp residents. Since then, over 96,000 people have been resettled to third countries. The great majority have gone to the United States. Other destinations have included Australia, Canada, Japan, Finland and the Netherlands.
There are many programs associated with the camps. The Shelter Program seeks to build the refugee communities' capacity to ensure safe and adequate housing for their households, while offering related livelihoods opportunities as part of TBC's preparedness for return strategy.
Another program, skills development, focuses on assessment of shelter needs, concrete construction techniques, bamboo growing and treatment, production of roof leaf thatch, as well as understanding natural resource management. It also aims to reduce the demand for externally procured materials and to promote cooperation with surrounding villages for the sustainable use of natural resources.
In the second half of 2013, great efforts were made to upscale bamboo planting activities in seven out of nine camps and in total, 16,000 trees and bamboo plants were planted.
Largely due to significant funding reductions and commodity price increases, in late 2013 TBC needed to implement changes in the food rations for refugees, including a reduction in the standard monthly ration alongside the introduction of need-based ration categories. Ration levels were maintained for children and vulnerable households, and monthly rice rations increased for households deemed 'Most Vulnerable.'
TBC has introduced Community Managed Targeting (CMT) which gives the refugee community a more direct role in managing the provision of food. The CMT model involves working with communities to establish criteria to identify the households that are either food secure or insecure. This is achieved through a transparent process driven by and agreed upon by the community.
CMT is a new initiative that has raised many new questions, as it requires the refugee community to take on a new role in managing their food supply and providing aid on the basis of need.
Overall experience of the process so far suggests that the CMT model has much potential. Yet the changes have also raised anxieties and concerns among some in the communities, including some camp officials. As a result, in some camps the timelines for implementation set by TBC were not met and work on the process is ongoing.
Half of the funding for the 2015 budget for The Border Consortium was given the US government, according to its January-June 2015 Programme Report.
The Border Consortium is supported by One Great Hour of Sharing, a Global Ministries (United Church of Christ and the Christian Church Disciples of Christ) partner.
(This story was written by The Border Consortium and is found on their website.)
---
Related News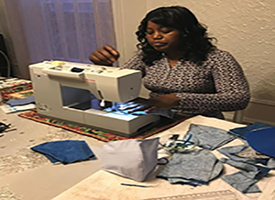 "It's so good making masks because it helps the community," said Sandra, a Congolese refugee...
Read More