UCC helps Nepal villages recover quake-damaged water systems
In Nepal's Dhading District, community members complete installation of their new water catchment tank, to collect water from the spring below their village.
In Nepal, last year's two powerful earthquakes damaged or destroyed many communities' water collection and distribution systems. They even moved or emptied many underground water sources as the earth shook and shifted.
UCC Disaster Ministries has helped many communities repair or replace their water systems. The program's Executive Zach Wolgemuth, who just returned from a 10-day visit to Nepal, tells the story:
"Most rural communities in Nepal get their water from underground springs that have been there for centuries. Communities have been built around these water supplies high up in the hills of Nepal.
"In many communities, the 2015 earthquakes actually shifted those water sources, so that existing wells went dry from one day to the next.
"That was the case in a small village high in the mountains of Dhading District, which I visited earlier this month. Before the earthquakes, the water source was located above the community, captured in a tank and gravity-fed to several communal locations where people could get water for washing, drinking and cooking.
Water is pumped up to the original tank, which gravity-feeds clean water to the community.
"But then the earthquakes dried up that water source. Villagers found a new water source, but it was below the community. The people were forced to climb more than half a mile down very steep, narrow, muddy behind the mountains to collect the little water they could haul, painstakingly, back up to the village.
"Working with our local ACT Alliance partner, UCC Disaster Ministries installed a new tank to capture water from the new spring, and piping and a pump needed to lift the water 275 feet vertically to the former tank, which, fortunately, survived the earthquakes with little damage.
"We gave financial support for materials, and community members provided volunteer labor to install the equipment. We also supported community training in how to maintain the new water system, and in budgeting for electricity for pumping water twice daily to refill the upper gravity tank.
"The community is collecting a small amount of money from each family to help offset the cost of electricity for pumping the water, plus a little extra for sustainability in case repairs are needed. The community is excited about its new water system and appreciative to not have to spend most of the day carrying minimal amounts of water in treacherous terrain."
Read more about the UCC's Nepal earthquake response.
Support UCC Disaster Ministries' International Emergency Relief Fund.
---
Related News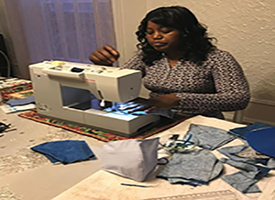 "It's so good making masks because it helps the community," said Sandra, a Congolese refugee...
Read More