Peace in the Middle East
The saying, "Peace in the Middle East" has been around for years. It has been used in prayers, as a hope for the future, but most often it is thought of as the solution to the many horrific and often politicized acts taking place in the Middle East.
Today, through the Forum for Development, Culture and Dialogue (FDCD), men, women and youth are participating in peacebuilding and conflict resolution activities around Lebanon.
One program, Lebanon, a Better Image (LBI), is equipping young people by training them in tools like organizing meetings, public speaking strategies, or discussions of developing social immunity against extremism.
Events in Iraq and Syria have been catastrophic. Violence, religious extremism, hatred and brutality have become the norm. In response to these dreadful circumstance, FDCD focused on activities of peacebuilding through developing a culture of nonviolence, dialogue and conflict resolution and empowering young men and women to be trained and equipped to face such challenges. FDCD workshops, initiatives and encounters focused on how youth are instruments of peace in their communities, how they challenge the hatred speech, and how women and youth can be part of decision making in this context. Participants of the FDCD activities learned about building a culture of peace and nonviolence and how youth can join hands and work together to rebuild what was destroyed and create the new identity of the Middle East.
Our gifts to One Great Hour of Sharing help to support FDCD programs. They mentioned in their 2016 Newsletter that some of these accomplishments would not have been possible without the great support of FDCD's partners. Thank you for your support.
---
Related News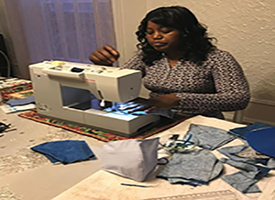 "It's so good making masks because it helps the community," said Sandra, a Congolese refugee...
Read More