Monica Returns to Timor
    Staff with child
In the four years Tom and I were away from Lospalos, Timor, because our mission assignment ended, life continued for us and for the people. In our return to mission work, I found the staff still in place carrying on their duties at the Imanuel Clinic. They were checking for malaria and tuberculosis and seeing patients every day.
Patient numbers were about half of what they were in 2012, when we left, and the prenatal care and nutrition programs had ceased. There were only a couple tuberculosis patients being treated now compared to 27 in 2012. On top of this, the funder of the clinic was planning to reduce the support unless the work changed from providing direct patient care to a community health promotion model. So our mobile clinic care outreach program began.
We took the mobile clinic to a remote village where only 9 of the 24 local families use a toilet, while the others still do their daily business in the nearby trees. This is commonplace in Timor, right along with diarrhea and intestinal worms. The help we will give to this community is to provide new toilets. Our hope is to have a lasting impact by helping in the sanitation department.
The clinic staff are getting to know the families here. This staff member measures the arm
   Hand-washing station
circumference of a child in Sorolua to check for malnutrition as part of the initial public health survey we did. We want to demonstrate that our clinical work is not simply doling out vitamins or antibiotics, but spending substantial time teaching patients about nutrition, from breastfed babies to adults with anemia. We are teaching patients daily how to decrease the spread of infections through hand hygiene. Imagine your doctor telling you to wash your hands often when your child has diarrhea or a runny nose, when you don't have running water in your house.
"Our hope", says Monica, "is to have a lasting impact by helping in the sanitation department." One Great Hour of Sharing supported the work of Monica during her initial term in Timor as a missionary. Monica and Tom Liddle now are self-funded Global Ministries missionaries in Timor.
Visit our webpage for more OGHS Stories.
Or support our work now and make your gift today.
---
Related News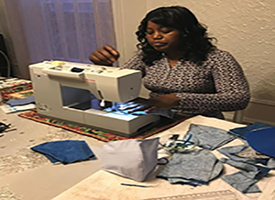 "It's so good making masks because it helps the community," said Sandra, a Congolese refugee...
Read More