HIV/AIDS
Swaziland has the world's highest HIV prevalence rate at 26% among people aged 15-49 years old, and a high estimated HIV incidence rate of 3%, meaning that of every 100 HIV negative persons in Swaziland, 3 will become infected with HIV every year. The sources of infection among children aged 14 years and younger include mother to child transmission, sexual abuse, or children engaging in sexual activities at an early age. Of infants born to HIV positive mothers, 21.5% are HIV positive.
Various studies show that it is not poverty per se that drives the epidemic, but rather income inequality which is high in Swaziland. Other contributing factors include cultural norms. From a cultural perspective, men have a large degree of control over women. Values and norms uphold men's privileges and have tended to constrain women's autonomy. Sexual violence and gender based violence are serious human rights and public health issues which affect women and girls of all ages.
HIV and AIDS have made children "primary care givers" as they care for their dying parents and are exposed to contracting the virus themselves. As a result, these children are often battling malnourishment and stunted growth. After the death of parents, a child's chance of attending school is halved. Bleak futures are created when communities are cut down by high incidences of AIDS: the next generation is left without education or skills; children suffer intense emotional stress from watching their parents die and also the stigma associated with HIV and AIDS; and they are more at risk of being abused, exploited or discriminated against. In addition, orphans sometimes lose property they inherit from parents to uncles, aunts and grandparents. This is a great advocacy issue.
In response to the growing HIV/AIDS epidemic in Swaziland, the Kukhany'Okusha Zion Church Youth Department has an annual conference to educate their constituents on HIV/AIDS. They form accountability clubs, and create messaging that will promote awareness. Ms. Siphiwe Hlophe, co-founder of Swaziland for Positive Living, and a presenter at the conference, discussed the urgency for communities to work together in fighting HIV/AIDS. The largest target group for HIV/AIDS prevention is the faith community because the church is filled with youth. Studies show young people are the hardest hit by the pandemic. Hlophe provided basic information on HIV to help youth understand how it is transmitted. She strongly recommended HIV testing for young people 12 years and up.
The day ended with each church regional youth council agreeing to establish teen clubs that will provide opportunities to discuss topics related to HIV, such as family planning, sexually transmitted diseases and gender roles. They also agreed to pursue steps for sensitizing community leadership on children's rights.
One of the stated goals of the conference was to contribute to the reduction of HIV prevalence through prevention care and advocacy and integrating these in all sectors.
In the Global HIV/AIDS Epidemic, the Rev. Michael Schuenemeyer, United Church of Christ executive for health and wholeness advocacy, reports that "We are at a crucial point. If we do not double our efforts to eliminate HIV/AIDS, the disease could return in full force knocking out any progress that has been made in the fight against HIV/AIDS." According to UNAIDS, 36.7 million people were living with HIV in 2016, up 3 million from the year prior. Tens of millions of people have died from HIV since the epidemic began in 1981.
Currently, there is an accelerated movement to end the AIDS epidemic by 2030, called Fast-Track. Its goal is to have 90% of the people living with HIV to know their status, 90% of the people who know their status to receive treatment, and 90% of those on treatment to have a suppressed viral load so their immune system remains strong and the likelihood of their infection being passed on is greatly reduced by 2020. By 2030, the goal is to have those same categories reach 95-95-95, up from 90. The goal also calls for 500,000 and 200,000 fewer infections (by 2020 and 2030 respectively) and Zero Discrimination.
Find out more at:ucc.org/ucan.
Visit our webpage for more OGHS Stories.
Or support our work now and make your gift today.
—Submitted by Marco Cable, executive, Global Ministries
Africa Office and Michael Scheunemeyer, UCC executive,
Health and Wholeness Advocacy
---
Related News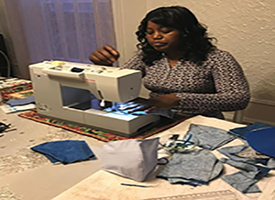 "It's so good making masks because it helps the community," said Sandra, a Congolese refugee...
Read More