Don't miss out on your $250 UCC Matching Grant for CWS Kits!
Don't miss this budget and mission stretcher! There are still 60 UCC Disaster Ministries Matching Grants available to UCC churches and other UCC groups that raise at least $250 in cash and/or in kind to assemble Church World Service Kits and Clean-Up Buckets.
Members of the denomination can assist hurricane and other disaster relief efforts by pre-assembling various kits that are warehoused by CWS, ready to be shipped at a moment's notice when the need arises.
"For families that have lost everything, CWS Emergency Clean-Up Buckets and other CWS Kits are more than just relief supplies, they are an expression of love and symbol of hope for the future," said Zach Wolgemuth, UCC Disaster Ministries executive. "It's energizing to see our congregations and other groups engaged in hands-on ways, reaching out to people they will likely never meet."
This is the fourth year UCC Disaster Ministries has offered the matching grants. The ministry will fund participating and qualifying congregations up to $250 per congregation on a first-come, first-served basis until the grants are all spoken for.
Click here for more information and to apply for your $250 grant.  Not a UCC congregation?  Partner with a UCC congregation near you!
---
Related News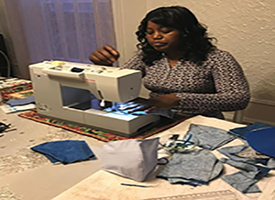 "It's so good making masks because it helps the community," said Sandra, a Congolese refugee...
Read More