Collective Efforts to Keep Girls in School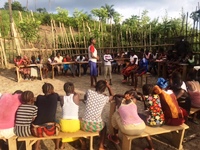 Nia Sullivan runs a girl's Safe Center and Boys and Girls Club in the Mathora village, Sierra Leone. Safe Centers provide girls with an after school support group that is focused on keeping girls in school and eliminating child marriage, female genital mutilation, and teenage pregnancies. They also discuss topics related to health, hygiene, goal setting, and self-love. The Boys and Girls Club function to empower young people to reach their full potential. Nia and her coworker, Assiatu, monitor the programs by creating weekly lesson plans, daily activities, and organizing outreach events. They hire community leaders to serve as mentors who meet with the students twice a week. They come through the approval granted by the village chief.
In Mathora, the attendance of both the Safe Center and Boys and Girls Club programs slowly began to decline. One of the main issues contributing to the decline was the attitudes that some of the parents were not supportive of their children attending the group sessions.  This lack of support was linked to parental expectations for their children to provide family support and assistance afterschool. Girls are typically involved in preparing dinner and caring for siblings.  Unable to help with sales during school hours, children make their way to the streets to sell goods that will produce income for their families. These tasks often consumes most of available time after school. Convincing families in Mathora to allow their children to regularly attend the after-school programs has been challenging. The students selected to attend the Safe Center and Boys and Girls Club were chosen because of life circumstances that include poverty, Ebola-related loss of parents, and teen motherhood. Many of the students were at risk of dropping out of school.
Complications with paying school fees, was another prevailing issue that many Sierra Leonean families encountered. When families couldn't pay the fees, students were suspended from school which reduced the likelihood that children would continue their education. While easy to understand the parent's frustration, it is difficult to balance the need for children to gain an education with their families' expectations for the children to earn money that helps sustain their families.  These concerns lead many parents to withhold their support and motivational influences necessary for their children to thrive in the programs.
To gain a better understanding of the situation in the Mathora village, Assiatu and Nia planned to discuss their concerns with Chief O'Bai and Shekudeen, one of the Safe Center mentors. As a sign of hospitality, Assiatu and Nia were greeted with limes and coconuts grown in the village, and other dishes. They discussed with Chief O'Bai his concerns about the decline in overall attendance of girl's in the local schools. He shared the strengths of the community members and ways those strengths could promote attendance in schools and in the weekly after-school programs.
The presence of Chief O'Bai, and his support of the educational initiatives resulted in community members now seeing the programs as credible including collaboration with local organizations in the Tonkolili district to help families afford the school fees. The support of Chief O'Bai created a positive change in Mathora helped girls remain in school.
The increased attendance continued from that moment, and as a result, today many of the girls are inviting their friends and sisters to join. Learning from Chief O'Bai shaped the way Assiatu and Nia work in other communities. They now regularly meet with different chiefs to discuss issues concerning children and the activities being planned. They now join the community's efforts in developing positive and sustainable solutions for their concerns.
Nia Sullivan serves as a Global Mission Intern serving with Council of Churches, Sierra Leone, Girls Access to Education Program (GATE). Her appointment is supported by the United Church of Christ and the Christian Church (Disciples of Christ).

---
Related News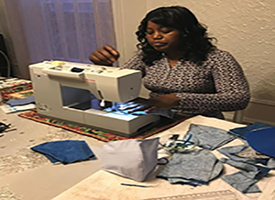 "It's so good making masks because it helps the community," said Sandra, a Congolese refugee...
Read More